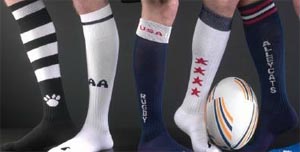 Lonati, world leading machine builder for single and double cylinder hosiery machines for men's, women's and children's socks and pantyhose, will be exhibiting brand new machine ranges at ITMA 2011 this September.
The Italian hosiery machinery giant, which is currently producing around 1600 machines per month, will to show its GL series single cylinder machines for men's and children's socks, the LA series for pantyhose and a new series double cylinder machines.
Amongst the new generation of machines, Lonati says the spotlight will be on: the LA04JS pantyhose machine which has specially designed cams and needles suited to the manufacturing of cotton and natural fibres pantyhose; the LA02MJ pantyhose machine, with 6 selection units for 6 colour fashion socks; the LA08MJ, with 8 selection units, 2 each feed, for fashion colour patterns and inlaid patterns; and the LAST model which has been specially designed for terry-fabric leggings with textured yarn and elastomeric on 70 gauge needles.
A special dedicated corner at the Lonati stand will be reserved for the company's medical pantyhose knitting machines which produce surgical-medical, compression-medical and wellness products manufactured with the single and double cylinder LA45-60ME, L544MEDICAL, and BRAVO NL MEDICAL machines.
Lonati's GL616F/H model with external robot for automatic linking will also be on show at ITMA. The men's single cylinder sock knitting machine has been successfully all over the world and especially in Italy, Turkey, Brazil and Russia. Other exhibits include the 4 feeds classic linking GL455F/H, the "flipping dial" automatic system GL544A and GL544MEDICAL machines.
"During ITMA Barcelona we will take the opportunity to introduce the new version of GL625 (open toe) and GL625F/H (toe linking), 2 feeds 5 colours totally redesigned machines, manufacturing 2 feeds socks with 3D patterns," says Lonati sales director Sergio Del Re.
Lonati's classic series of double cylinder machines with 1 /2/3 feeds for derby, derby­ links and jacquard in 3 colours has also been further updated by adding devices for medical manufacturing on some models.
"Besides, we will be glad to introduce a new double cylinder machine with a new technology with mono-actuator selection instead of the classic "bolt-cam", leading to less textile's parts, higher speed and reciprocating heel without pickers for reversed toe and tucked link," adds Sergio Del Re.
"Last but not least, the motor is now placed in the bearing column of the machine, thus avoiding mechanical coupling with consequent energy saving."
This article is also appears in...