Responding to the needs of sports enthusiasts who are willing to embrace the idea of replacing traditional, heavy, specialised footwear with a lightweight, safe alternative, a European start-up called Skinners Technologies has developed a vegan and barefoot friendly concept, which is designed to offer a portable, comfortable, protective solution for a range of activities.
The company ran a Kickstarter campaign this summer to fund the new patent-pending production technology, and has succeeded in raising US$ 654,557 on the original goal of $10,000 in 44 days, with almost 10,000 people supporting the project.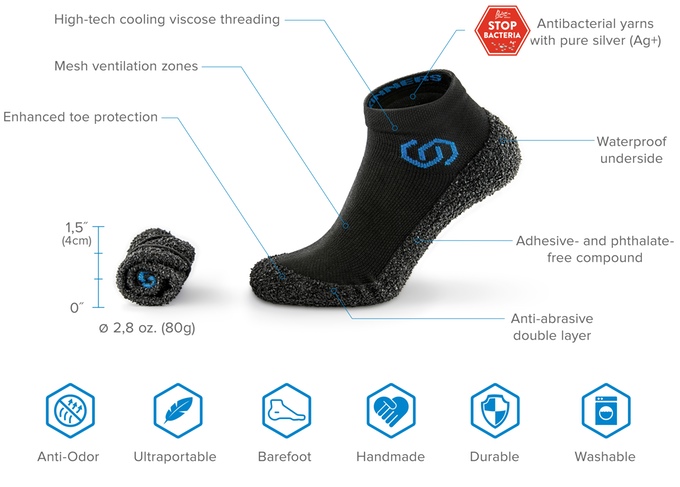 Petr Prochazka, the company's founder and CEO, is excited about the achievement. "Even in our wildest dreams we could not imagine it," he said. "But after the Kickstarter finished and we celebrated, the next day we got back to work. And we haven't stopped until now."
Ultraportable footwear
Branded as "revolutionary ultraportable footwear", heavy-duty Skinners are coated in a dual polymer waterproof plastic and feature an odour-resistant Lycra infused upper that are designed to make them both comfortable and functional. Made with silver yarn, Skinners are also said to offer antibacterial properties. One of the main selling points of the new product is the portability and ease to pack when travelling. The socks are also machine washable.
According to the manufacturer, Skinners are not a full-time replacement for shoes, however, they are durable enough to protect feet from broken glass. "It's our special abrasive resistant compound combined with patented manufacturing process that is quite delicate that makes these socks resistant to cuts and friction. Even a 1°C change in a room temperature may affect the final properties of the product," explained Mr Prochazka.
The company started mass production in autumn. With manufacturing based in Central Europe and materials being imported from various European locations, including Sweden, the company is operating through direct online sales, though it plans to expand to the shelves of the outdoor shop chains. "Thanks to Kickstarter we already shipped Skinners to more than 84 countries. Most went to USA but you can also find exotic destinations like Bahamas, Seychelles, Kongo, Malawi or Saint Christopher, and Nevis, in the Caribbean Sea," said Mr Prochazka.
The company will be exhibiting at the upcoming ISPO Munich trade fair, which will be held from 5-8 February, presenting the latest products from the fields of Outdoor, Ski, Action, Sportmode, Performance Sports, Textilien, Health and Fitness, and Sourcing.
Barefoot socks
The popularity of the barefoot footwear has reached its height a few years ago, and has since then resulted in a number of designs embracing the concept of barefoot-style shoe concepts for walking, running and sports. Rubber-based Vibram Fivefingers have been on a market for a while, proving popular with athletes. Leading brands including Nike have also embraced the idea of making footwear more minimalistic, with the company launching its Nike Air Zoom Elite 8 running shoe with lightweight, highly responsive cushioning and ultra-thin outsole in 2015.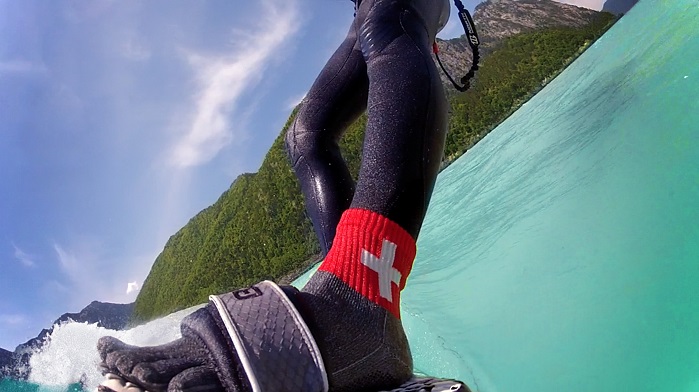 Also in 2015, Swiss Barefoot Company launched a Kickstarter to fund mass production of the company's FYF sock, which stands for Free Your Feet and is designed to be a sports sock and shoe all in one. The socks are made with 46.5% super-strong Dyneema fabric, which is typically used by rock climbers in their ropes and is said to make the socks tear and abrasion resistant to protect the wearer's feet. They are designed to fit the wearer's feet like a glove, but unlike Skinners, they have individual digits for the toes. They have also been treated with hydrophobic material, while rubber dots on the sole are have been added to provide good grip.
As compared to Skinners Technologies, the company puts more focus on sport and outdoor applications, rather than comfort and leisure activities. "We wanted to create a product that helped athletes regain a natural barefoot feeling within their favourite sport."
Since the Kickstarter campaign, the company has set up and scaled up a highly-automated mass production, based in the EU, and is now shipping worldwide from warehouses in the US and EU, mostly through direct sales. The company is now looking into opportunities of using coloured Dyneema yarn for future product developments, according to Philip Fifi Bachinger, co-founder of the company.
Going barefoot
Both Skinners Technologies and the Swiss Barefoot Company cite scientific research conducted by doctors and physicians, which points to the health benefits of going barefoot. Developed in cooperation with medical experts in orthopaedics and podiatry, Skinners aim to address the problem highlighted by the studies – arch problems caused by weak foot muscles and tendons, which are not inherent but are acquired as a result of our lifestyle.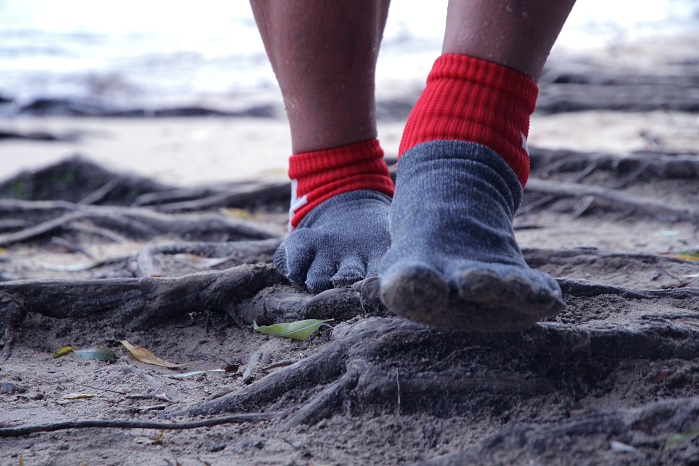 Published in PM&R, The Effect of Running Shoes on Lower Extremity Joint Torques study compared the effects of running barefoot and in conventional running shoes on lower extremity joint torques and concluded that "increased joint torques at the hip, knee, and ankle were observed with running shoes compared with running barefoot". The Swiss Barefoot Company also refers to the research that suggests that walking barefoot can help adults with posture and back problems while increasing natural endorphins in the brain.
Original designs
Meanwhile, a number of other brands have also attempted minimalist, high-tech footwear, following the hype around barefoot all-in-one socks and shoes. Vivobarefoot, a London-based company, has worked with the leading modern and indigenous shoemakers to develop a patented, ultra-thin, puncture resistant sole allowing for maximum sensory feedback. According to the manufacturer, when feet are given plenty of room to flex and splay, they gain the chance to re-align and re-strengthen. Otherwise, when constrained by the footwear, natural strength and flexibility can be lost over time.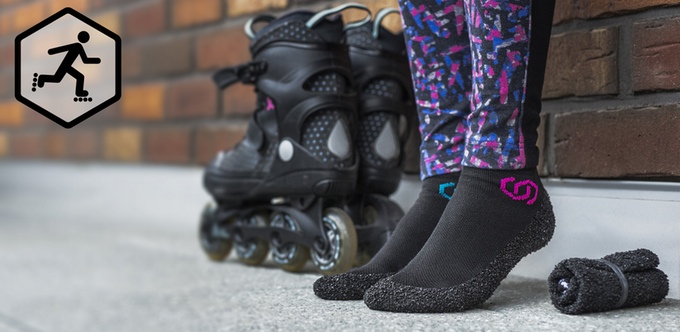 Also inspired by indigenous people, 01M-OneMoment designed affordable shoes, which are made from 100% biodegradable raw materials, and look like slim-fitting, low-cut, thin overshoes, except to wear without shoes.
Another company, Gost Barefoots, specialises in the development of outdoor protection products made of stainless steel chain mail for sports and leisure, preferably in natural environments. It developed PaleoBarefoots, made from strong, durable and flexible, almost jewel-like stainless steel chain mail, designed to protect the foot, whilst allowing it to feel temperature, moisture and ground contours.