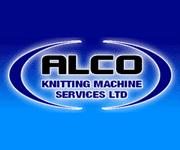 ADVERTISEMENT
Alco Knitting Machine Services Ltd. is a U.K. based company that specialises in the sales of spare parts and servicing of Monk and Bentley Cotton fully-fashioned knitting machines.
Alco was formed in 1996 By Alec Corah following 45 years service at S.A Monk, later known as Monk-Cotton International. Alec began work as an apprentice fitter and progressed his way through the company firstly onto the outside staff servicing the machines, then as sales and service manager and finally becoming the company Managing Director and having the responsibility of the day to day running of the business.
Many of the contacts Mr Corah made during his time with SA Monk and the Monk-Cotton Group gave Alco the start it required, and today the business has no doubt some of the best contacts and customers throughout the world. These customers have helped to establish Alco as one of the top companies of its type worldwide which has the pleasure of supplying its services to many of the top names and manufacturers in knitwear.
Since Alec's retirement from the day to day running of the business, his son John now heads the company, whose members have over 110 years experience in this industry. Like Alec, John worked at Monk-Cotton then left the UK to work in partnership with Simonazzi Marino Srl, which, prior to its closure in 2002, was the best known Italian fully fashioned knitting machine re-builder and spare parts supplier. John returned to the UK to assist Alec in the family business, and much like Alec, he is continually finding new contacts and clients both in the UK and throughout the rest of the world.
After much hard work in the last few years Alco has moved from a small workshop and storage facility, to its current and very versatile unit allowing us to continue to improve, manufacture and supply quality spares. Alco's main business is supplying spare parts to a worldwide market and, with many of its previous competitors closing down, there is now a greater demand for spares and service.
Our new premises allow us to produce and keep stock of a vast array of both new and used spares for all types of machines. The company is very export orientated and has customers located throughout the world, in Western and Eastern Europe, the Far East, Central and South America and throughout Northern and Central Africa.
So if your requirements are for fully-fashioned, V bed or any other machines and you require assistance please do not hesitate to contact us.
We look forward to hearing from you and help deal with your requirements.
Kind regards,
John Corah
Company Director
Contact details:
John Corah
Tel: +44 (0) 1623 75 40 20
Fax: +44 (0) 1623 75 40 21
This article is also appears in...