1st August 2011, Barcelona
Speakers announced for LYCRA fibre MOVES forum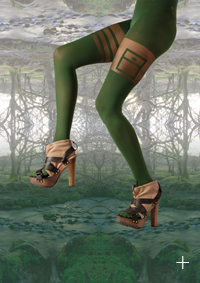 Invista, owner of the Lycra fibre brand, has announced an impressive line-up of top industry speakers who will take part in the second edition of its unique leg wear event titled 'LYCRA fibre Moves' in Barcelona, on 29 and 30 September 2011.
The event aims to bring around 250 textile industry professionals to the Mediterranean city "to offer them an experience that will stretch the imagination and provide insights into future leg wear industry trends."
This year the speaker line-up will include some of the most influential figures from the global leg wear industry and beyond.
Dave Trerotola, president of Invista Apparel, Serge Vigouroux, Executive Vice President, Marketing Business - Invista Apparel and Geoffrey D. Hietpas, Invista Global Marketing Technology Director will share their points of view and expertise with international clients and media in addition to introducing the audience to new developments of the company's best-known brand, Lycra fibre.
Invista says the event will also offer attendees a privileged overview of industry trends for the next five years as leading apparel experts discuss the future of the global legwear sector: Nerino Grassi, founder and president of Golden Lady, Italy; Yu Ze, General Manager, RIME, China; Seiya Saito, famous leg wear designer and Creative Director at Atsugi, Japan. They will be joined by top industry consultant Shirley Anne Sherriff from Opus Business Consulting, United Kingdom.
A key focus of this year's event will be innovation and Invista has confirmed the participation of Ken Morse, Serial Entrepreneur, Visiting Professor at ESADE Business School, and Founding Managing Director of the MIT Entrepreneurship Center.
He is also a member of the United States of America National Advisory Council on Innovation & Entrepreneurship recently created by Secretary Locke and President Obama. "Morse will provide thought provoking insights, delivered with his uniquely engaging style, into the challenges of achieving continuous innovation in the face of rapid change, and the storm of global competition," Invista said today.
In addition, Charles Hayes, IDEO Practice Lead in Consumer Experience Design for Asia, will share his point of view on how design can be a driver for innovation. Hayes, based in Shanghai, is a senior brand strategist, who works across a number of industries to foster client relationships and deliver innovation through world-class consumer experiences.
Pierluigi Berardi, Global Segment Director - Legwear at Invista said: "The 'LYCRA fibre MOVES' forum is Invista's commitment to the leg wear industry, following the success of the first edition in 2009 in Verona. After two years of extensive investigation and exploring the upcoming trends of our sector we are now ready to share our findings with all our customers along the value chain in an event that is going to be an inspiration for everyone."
"LYCRA fibre MOVES will stretch the imagination of all the attendees allowing them to think of ways to improve their businesses and navigate the future of the industry. In addition to that, it will offer a unique chance to meet professionals from all around the world, generating networking opportunities during the two-day forum," Invista said.
LYCRA fibre MOVES will be held at the World Trade Centre in Barcelona on 29th and 30th September 2011. It will coincide with ITMA 2011, the world's most established textile and garment technology exhibition. Consuelo Bañon, European Marketing Director - Legwear at Invista, added:
"We are delighted to be able to offer our customers and media this unique opportunity to come together in Barcelona, to discuss the future of the industry with such an illustrious group of expert speakers and we hope the event will offer a fulfilling experience to each one of our guests".
Invista will have an important presence at ITMA for the first time ever this year. In line with the launch of the fibre and yarn chapter at the exhibition which is celebrating its 60th anniversary this year, the company will be showcasing innovations and new product developments for all apparel segments (intimate apparel, swimwear, legwear, ready-to-wear and sports).
Invista will also use the event to communicate its key sustainability messages and projects. According to Denise Sakuma, Global Director Brand and Communications for Invista Apparel, "Invista is pleased that ITMA is recognising the importance of fibre development in this way and we believe that our participation in this event will be a positive experience both for Invista and ITMA."
ITMA organiser, MP International"s Chief Executive Officer Sylvia Phua said: "A global brand name synonymous with innovation, Invista will be a welcomed addition by our participants. We are gratified to have their presence on our show floor as we have just created the fibre and yarn sector to complete the sourcing experience of our visitors. For the first time, ITMA visitors will not only be able to buy machinery, they can also explore an interesting range of raw materials that can help increase their competitive advantage."
This article is also appears in...