The sixth edition of SPINEXPO New York, the capsule version of the leading trade fair for spinners and knitwear based in Shanghai, presented yarn and knitwear collections for Autumn/Winter 2015/16 at the Metropolitan Pavilion July 15 – 17.
The fair featured 85 exhibitors, including 25 sweater manufacturers; many are part of vertical operations or operate in partnership with spinners. This offering is unique to SPINEXPO, and is enhanced by the scope of the trend and concept area, developed in association with Sophie Steller Studio, which highlights the yarns and knitting capabilities of the exhibitors.
Positive Indicators
The mood at the fair was one of new-found confidence, with exhibitors who are at the top of the game in their sectors, including the world's finest dyers, spinners, and knitters of cashmeres, mohairs, wools, cottons, fancy blends, and technical yarns.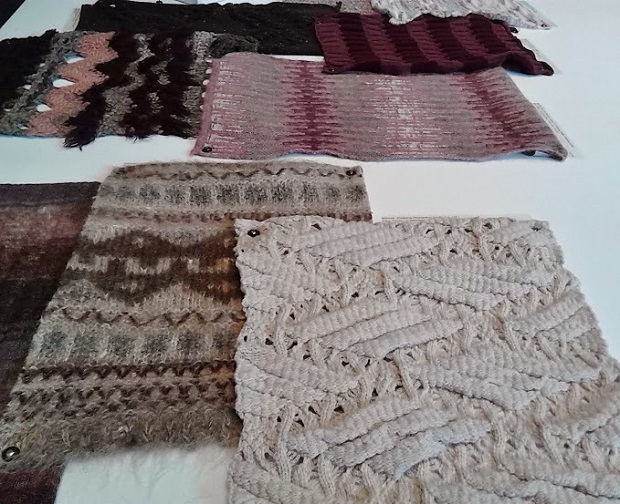 With sweaters and knitted accessories the stars of the catwalks, exports of high-end Chinese yarns and knitwear are up. According to Australian Wool Innovation, wool knitwear exports from China were up 5%, with an increase in value of 8%, in the year from March 2012 to February 2013.
The positive trend was confirmed by several of the exhibitors. Max Ng, senior manager for sales and marketing at Novetex, called the current season "one of the best in five years." US business has grown across all sectors for Südwolle Group, which spins a large percentage of its yarns at its Zhangjiagang Yangtse Spinning facility, according to Hans von Schuh, managing director for sales. The Group recently opened a distribution centre in North Carolina.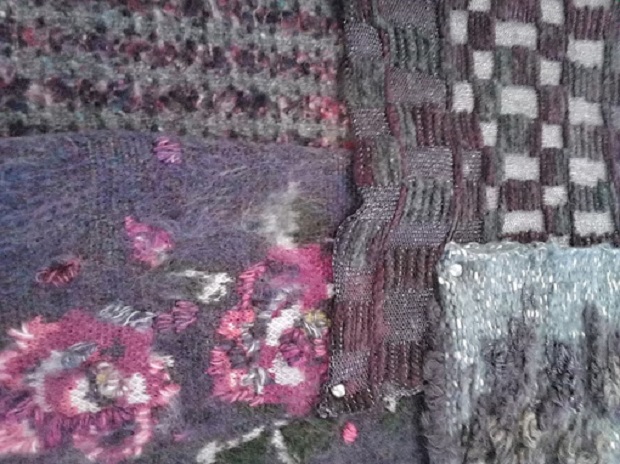 "The exhibitors are confident that business is coming back in the US, and they cannot afford to stay away from this show," commented SPINEXPO's director Karine Van Tassel.
Sensing the Motion
The trend forum, entitled "Sensing the Motion," explored "living life on the move," according to SPINEXPO's creative director Sophie Steller. Structures were driven by novelty yarns, surface interest, and sculptural knitted textures such as thick cables, embossing and quilting. Nep yarns, slubs and twists, and brushed surfaces brought a new perspective to artisanal, folkloric, and romantic patterns.
"The growth of internet and catalogue business requires products to be more visually tactile," explained Steller.
There was an active wear orientation to 18-gg knitting, with garments were teamed to sportive knitted footwear created by the Mali Chen Shoe Factory, manufacturing in China, Taiwan, and Vietnam. The ever-pervasive denim trend was re-interpreted by Steller and her studio in a collection of couture knitwear featuring embellishments, foiling, and printing techniques.
Beyond sweaters
The concepts were reflected in the offerings at several of the exhibitors. At Südwolle's YIM™ division, a new yarn called Wallaby, a 60/1 blend of 87% Merino wool/13% nylon, was spun specifically for warp knitting, ideal for active wear mesh constructions. The 18.4µm wool is also Total Easy Care.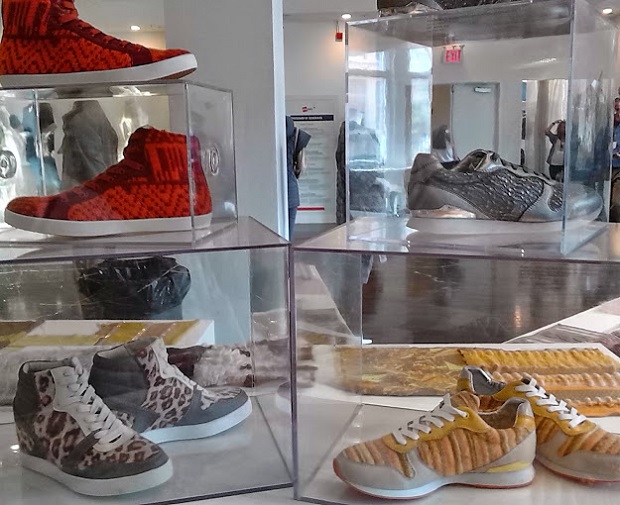 At PT Jaba Garmindo, Indonesia's largest knitter, functional yarns such as THERMOLITE®, COOLMAX®, and Outlast® were incorporated into fashion knitwear. A chic range of knitted "sweatpants" perfectly captured the sport luxe trend.
The company continues to add capabilities to differentiate their knitwear, such as 18-gg knitting, digital printing, and new washes and dip-dyeing. "The lines between knitting and fabric finishing are being blurred," confirmed Felice Gunawan Beckman, R&D director and US representative for the company.
At Lai's Knitters, needle punching and burn-outs were used to create tactile brushed, lace, and woven effects on sweaters knit in mercerised merino or mohair. At Speed Apparel, knitwear created by Japan's World Group in raw white cashmere on Shima Seiki WHOLEGARMENT™ machines was offered for garment-dyed programs.
Mélanges dominate cotton spinning
Denim inspired an exciting range of cotton yarns at Esquel Specialty Spinning. The environmentally-friendly yarns use non-indigo reactive dyes in a range of blues, and the washed-down look is achieved through spinning. Slubby, uneven heather or space-dye effect yarns were stand-outs as well.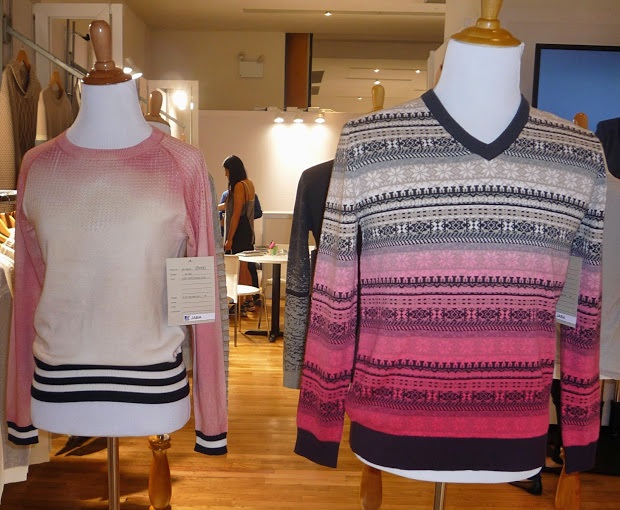 Vertical manufacturer Esquel Group grows its own Pima and organic cotton to combine in blends with MicroModal® and TENCEL®; or with Superfine Merino, cashmere, yak, and silk. Senior manager Choy Hui Shun also sees the company's functional cotton blends using THERMOLITE® or COOLMAX® as increasingly important.
Novelty heathers, space-dyed effects, nep yarns, and denim looks were also key at Huafu Top Dyed Mélange Yarn Company, where demand for novelty yarns has surpassed requests for ubiquitous grey heather, according to Tina Lee, deputy general manager of marketing. Rayon blends providing a soft, drippy handle were also trending.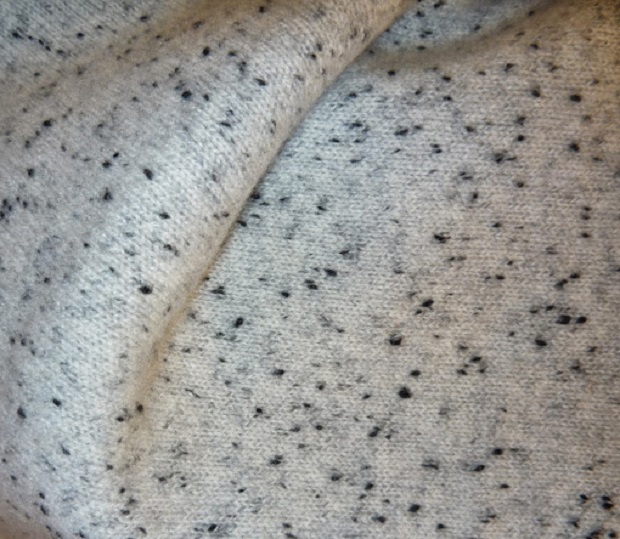 Mélange cottons created by spinning regular cotton with modified fibres were the highlight at BROS Eastern Company. The EcoFRESH™ fibres are treated with Dow's cationic reagent, giving them a higher affinity for dyes, without adding salt and alkali to the dye bath. The EcoFRESH™ yarns exhibit better dye uptake which lessens the amount of dyestuffs required and reduces effluents; and require lower dyeing temperatures and a shorter dye cycle, eliminating the use of fixatives.
Luxury yarns
Soft, softer, and softest was the overall impression at the luxury spinners. Renowned cashmere and merino wool suppliers included Ningxia Zhongyin and its Todd & Duncan brand; UPW (Guangdong United Progress Wooltex) with its new emphasis on cashmere; Biella Yarns by Südwolle, whose latest creation is 100/2 Nm Pearl in 15.5 µm TEC wool; Zhejiang Xinao Textile; Jiangsu Lugang Science & Technology Company; Hebei Wilson; Hebei Hongye Cashmere, Jiangsu Xinfang Science & Technology Group; and Ningbo Zhongxin Wool Textile Group.
"Cashmere continues to do really well," claimed Ningbo Consinee's creative director Jane Sked; their 2/26 Nm cashmere is featured in a large range of shades including six neons and twelve Donegal nep versions. Yarns for heavier gauge knitting have a "milled, vintage, menswear" quality with a beautiful hand feel; and a new blend of 65% baby wool/25% yak/10% cashmere offers the touch of cashmere at a lower price.
Based on mohair, Top Line's fantasy yarns featured brushed, milled, mousse, pom-pom, or felted looks. With the price of South African mohair on the rise, alpaca offered an alternative in blends with cashmere or wool. A collection of hand knitting yarns with novelty textures such as Dreadlock, Poodle, Pirelli, Cobweb, and Shaggy were inspired by traditional knitting. "Hand knitting is very much on trend," said Sked.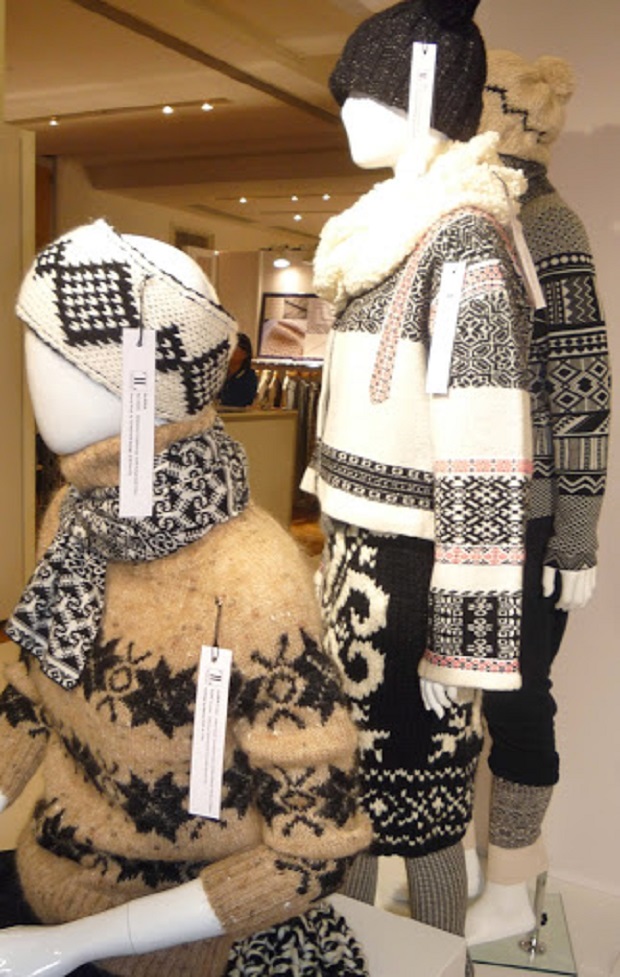 Nep yarns were also important at Novetex, which was also promoting yak as an alternative to mohair and alpaca this season. Senior manager for sales and marketing Max Ng explained that the angora boycott has driven up the prices of mohair and alpaca, in some cases by as much as 30%.
At Armonia division of Jiangsu Lugang Science & Technology Company, "Light Fluff," a bend of kid mohair and superfine alpaca, was a best seller; along with brushed and felted merino blends, bouclés, and matte/shine effects.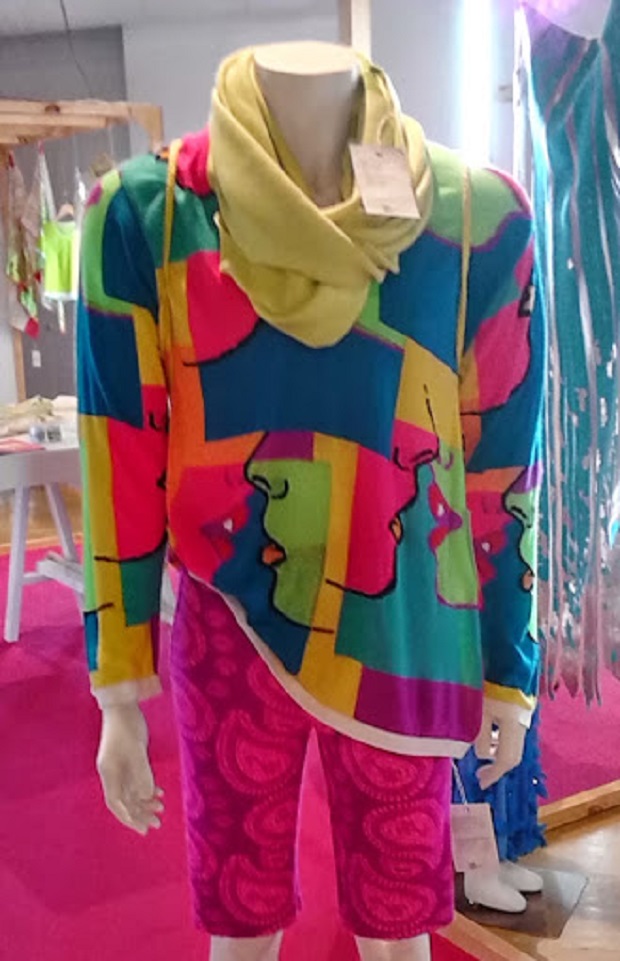 Warm, fluffy yarns were beautifully contrasted with hints of shimmer in Angelina fibre by Meadowbrook Inventions, or in new super-soft dyeable Lurex twisted with rayon. Winning Textiles' rayon-based collection of colourful and sparkling novelty yarns, including lily structures and Lurex fibres, was a crowd favourite.
The wool boycott
Spinners were not overly concerned with PETA's recent condemnation of sheep-shearing practice and call for a wool boycott. Quality spinners such as Südwolle, Consinee, Novetex, and UPW confirmed the care taken to source their wool and other animal fibres directly from their own or certified growers, rather than on the open market.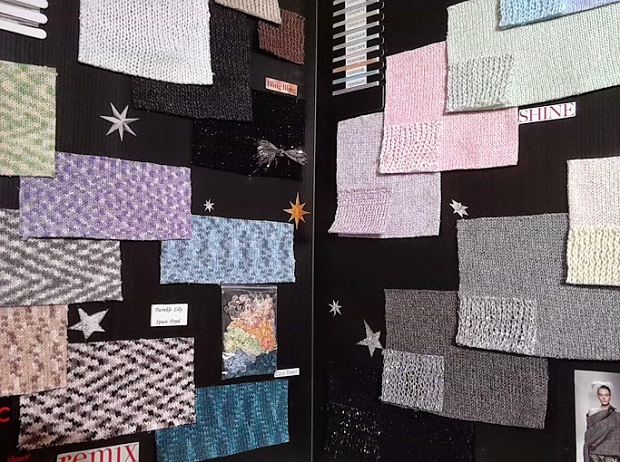 "Cheap wool comes from cheap farms. A happy farm creates good wool," commented Novetex' Ng.
Future shows
According to the organisers, plans are in work for a larger venue for next year's New York show. The 24th edition of SPINEXPO Shanghai is scheduled for September 2 – 4, 2014.