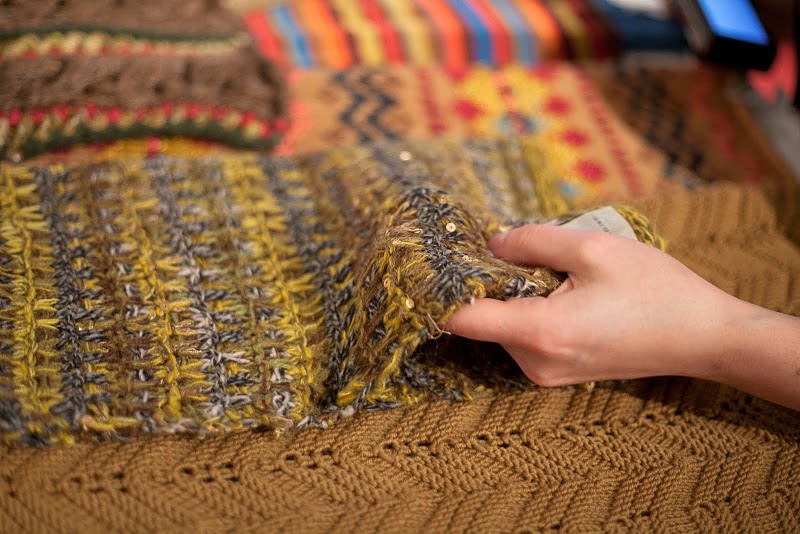 Debra Cobb reports from New York
The third session of SPINEXPO New York, exhibiting textile fibres and yarns for knitwear, circular knitting and weaving, triumphed over a typical New York July heat wave with an inspiring range of trends for Autumn/Winter 2012. Held at the Metropolitan Pavilion/Altman Building July 18 - 20, the show featured 85 exhibitors from 12 countries, and attracted over 1500 visitors.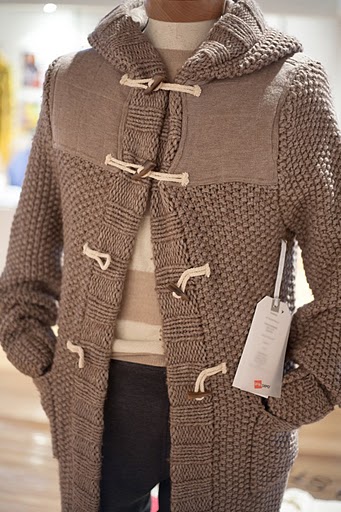 Mixing traditional cashmeres, wools and mohairs with alternative fibres such as alpaca, silk, hemp, bamboo, yak and even paper, yarn spinners employed new levels of creativity in an attempt to meet the challenges brought about by price increases and fluctuating sourcing patterns. "Last year it was all about design, and this year it is all about the yarn," commented knitwear design consultant Sophie Steller, coordinator of the show's trend forum.
The season's trends juxtaposed coarse and fine gauges, cozy brushed surfaces with pearly lustre, and rustic tweeds with shimmering metallics, all in yarns that were light weight, airy and extremely soft. Chanel influences were much in evidence, along with techniques providing special colour effects, such as space-dyed heathers, painted yarns and sweaters, and top-dyed blends; and chunky yarns and gauges were the story of the season.
"The market is changing," observed Karine Van Tassel, the show's director, "and the Chinese spinners are focusing more on their own domestic market." As a result, European spinners are becoming more creative and service-oriented, she believes. Bruce Cameron, sales director for cashmere spinner Todd + Duncan, reported the company has been running "flat-out" since mid 2010. At Belda Llorens, spinner of fibre-dyed open-end viscose and blends, Jorge Mataix commented "We did our job and now have a better position-retailers are moving production back to the West, where we can supply quick-turn fashion."
Thriving Through Differentiation
Price increases throughout the fashion supply chain are driving differentiation, and it all starts with yarn. At Huafu Top Dyed Melange Yarn, retailers were looking for colour effects as well as new fibres, according to a company spokesman. Huafu offered specialty heathers such as "Snow Heather" with recycled cotton, and a space-dyed slub heather called "Creek." The company has also expanded into blends of cotton with Tencel or wool.
Many of Bros' new developments featured a vintage look, from a recycled neps yarn to "Gravel" yarn with a visual graininess created by multiple top shades; to "Ceramic" with a wool mélange appearance, and "Denim Look" using top-dyed yarn to create a range of wash-down effects, said to be less costly than true indigo.
At Filatures du Parc, the "Ecologic Collection" relied on reclaimed fibres from recycled wool, cotton and acrylic garments to create colourful chiné and mélange yarns. Alchemy's "Yarns of Transformation" utilized a hand-painting technique; paint is applied and worked into hanks of wool or silk yarn, creating "subtle migrations of tones" in analogous colours.
"Life Meets Art" was the motto of Kamful Llimited, where a hand-painted technology for knitwear has been developed. The patterns have a soft hand and good colour fastness, and include beautiful space-dyed and Missoni effects. The company is capable of knitting and painting some 30,000 pieces monthly.
The Importance of Craft
The growing interest in DIY, hand-crafted and one-off fashion was highlighted in trend seminars from ESP New York/Nelli Rodi and Trend Union/Li Edelkoort, who focused on mohair yarns; and certainly the importance of "craft" was evident in the new developments from the spinners, knitwear consultants and machinery companies at the fair.
Screen printed knits were just one of the innovations at Japan's Sato Seni Company, where the company raises its own brand of sheep said to have wool finer than cashmere. Sato Seni's range of luxury yarns included a knitted yarn of mohair and silk called "Reine Lily" as well as 100% paper yarns, mohair yarns, and space-dyed yarns of wool and nylon.
At Lineapiù Italia, the trend was chunky and light, sporty and relaxed, according to Jewel Di Paolo, sales manager for the Americas. With over 140 yarns on offer for Autumn/Winter 2012, the collection featured mohair, alpaca, seasonless viscose, and stock service on cashmere, as well as fantasy yarns such as "Macro Melange" at Nm1700 in cotton-wrapped nylon for a surprising lightness, and "Riegel" Merino mixed with the world's finest Lurex from Japan.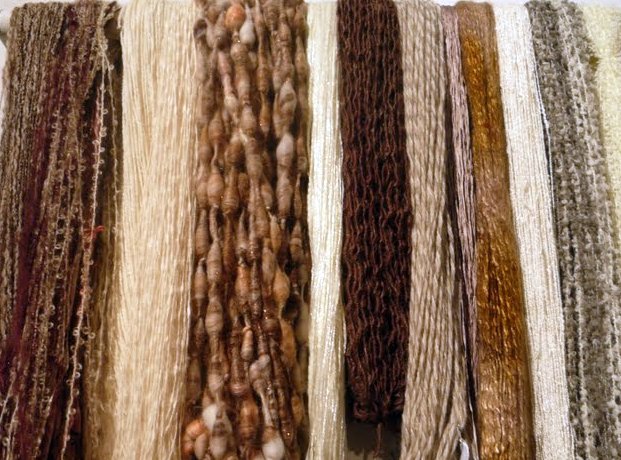 Chunky yarns were also in evidence at AA Global, where fibres such as yak, mohair and paper were mixed with acrylic or wool to achieve a variety of textures. These included thick acrylic/polyester chenille, and a "colour change" yarn created by mixing dyed top at varying intervals. "Animal Nature" was the theme at Ningbo Consinee Woolens, where yarns incorporating wool, Merino, cashmere, alpaca, yak, silk or cashmere were brushed and felted to resemble the luxurious coats of animals.
Todd + Duncan's "Ghost" yarn incorporated cashmere with a water soluble fibre; when knitted and washed the result was a super-light weight cashmere garment. Known for their colourful cashmere, the company also featured blends of cashmere with Lurex as well as a more rustic cashmere yarn with a lambswool slub.
Cofil, from Prato, exhibited blended fashion yarns of alpaca, viscose, and brushed mohair in stock colours. The company has enjoyed strong growth by offering quick turn on colours with no minimums and moderate pricing.
At Zhangzhou Leader Textile, the company has renovated old raschel machines to create Chanel woven looks from their chunky tweed yarns. Chanel inspirations were also key at Stoll, where the company's trend team replicated traditional weaving patterns in knitwear using their versatile knitting machine technology.
Circular Knits for Activewear
The fair also featured finer wool and technical yarns for circular knitting, and in particular for active/lifestyle apparel. At Südwolle Group, managing director Klaus Steger confirmed "The circular knit side of the business is exploding for us." Yarns for circular knitting included superfine wool blended with micro Trevira, or with Thermo°Cool from Advansa. The Biella range for flat knitting included pure cashmere as well as luxury blends, superfine Merino, and Total Easy Care blends.
Santoni's seamless garments also reflected the influence of active sportswear. Karine Van Tassel pointed out that the Spinexpo's Shanghai version has seen a marked increase in visitors from the circular knit sector, and that the upcoming September SPINEXPO will target the activewear market in particular.
Debra Cobb

Debra Cobb is a veteran of the knitted textile industry with experience in the development and marketing of yarns, fabrics, and apparel trends. She currently contributes to a number of trade journals in the UK and the US, and is co-authoring a textbook on forecasting. [email protected]