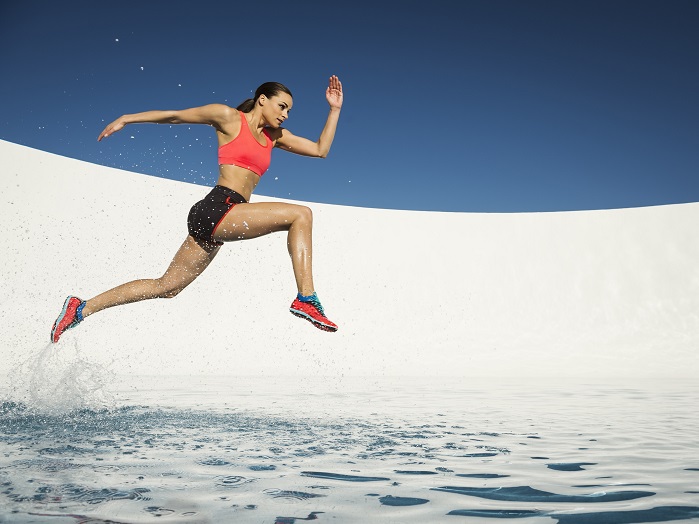 At Interfilière Paris, Hyosung will feature creora ActiFit elastane. © Hyosung
Hyosung, a leading elastane producer, will be launching a new high-performance elastane creora ActiFit at the upcoming Interfilière/Mode City in Paris. The company has developed a multi-functional fibre, creora ActiFit elastane, engineered for all types and levels of endurance sportswear. It is designed to provide longer-lasting durability, higher levels of UV and chlorine resistance and better shape and recovery that is required of cycling, swimming, triathlon and adventure racing apparel.
"Hyosung recognises today's consumer demands a healthier lifestyle and the popularity of outdoor endurance sports is on the rise. To advance the production of the best multi-sport apparel for these sports enthusiasts, Hyosung has developed new high-performance creora ActiFit elastane," said Mike Simko, Hyosung's Global Marketing Director. "One of Hyosung's key trends for 2020/21 is Sweat to Swim, promoting the crossover between gym and swim and creora ActiFit elastane perfectly answers this growing trend for multi-sport apparel."
creora ActiFit elastane has been developed to offer athletes the best multi-sport apparel for all levels of sports, from yoga and gym to swim, cycling, triathlon and adventure racing and an increased wearer experience, comfort and confidence.
"The last thing the consumer wants to worry about when exercising, as an endurance athlete or just an outdoor sports enthusiast, is if their kit is going to last – whether it's in salt water, intense sun or on a challenging terrain," said Simon Whitmarsh-Knight, Hyosung's EMEA Marketing Director. "creora ActiFit elastane allows the wearer to focus on their sport and not what they're wearing."
Mipan aquaX
Hyosung will also showcase a new collection of Mipan aquaX nylon fabrics at Interfilière Paris show. Mipan aquaX nylon is the first in the industry to provide new fine deniers 20/34 FD and 30/34 FD, combining cool touch with better drape and lighter weight to meet the market trend.
Mipan aquaX functions of cool-to-touch nylon with UV protection and high sweat absorption are said to ensure that the wearer is comfortable, cool, dry and protected from the sun. To add further value, it is knitted with cellulosic fibres to give the soft touch and smooth natural feel adding to the cool touch.
Sustainable fabrics collection
At Interfilière Paris, Hyosung will also feature a collection of multi-functional, sustainable fabrics and apparel under its in-house Fashion Design Center's FW2021 Megatrends Connected, beyond presentation – Everyday Tech and Nature Tech.
Everyday Tech is a story of 'fashion meets function' that starts from the notion of pursuing harmony between humanity and the environment. The line between ready-to-wear, sportswear and outdoor is becoming more blurred as consumers' wants and needs for both fashion and function are constantly increasing. This trend is driving brands from sport and outdoor categories to high-end luxury brands to focus on functional fashion lines. Highlighted materials within Everyday Tech include Mipan aqua X nylon 20/34 FD, 30/34 FD; creora ActiFit elastane; and creora Fresh elastane.
Design Nature and Neo Legacy are the keywords for the other theme, Nature Tech. Design Nature is about the apparel industry evolving to a future where every material is used and reused safely. And Neo Legacy is about updated heritage fashion, which honours the past with modern appeal as opposed to fast fashion. Featured materials within Nature Tech include Mipan regen 100% pre-consumer recycled nylon; regen 100% post-consumer recycled polyester; and creora eco-soft for low heat settable elastane.
This article is also appears in...