6th June 2018, Obertshausen
Karl Mayer supports Indian textiles industry
In 2015, India ordered more machines than ever before from Karl Mayer, which made it one of the company's three most important sales regions. Business is taking off again after rather muted demand over the last two years. "India has a population of about 1.3 billion, who all need clothes," said Mark Smith, Karl Mayer's Sales Manager. According to Mr Smith, Karl Mayer is in an ideal position to support growth in the country.
In addition to offering high-speed machines, Karl Mayer also offers its Indian customers expertise in warp knitting. Last month, the company participated as a speaker in the symposia entitled German Technology meets Indian Textiles and Nonwovens, held by the German Engineering Federation (VDMA) in Mumbai.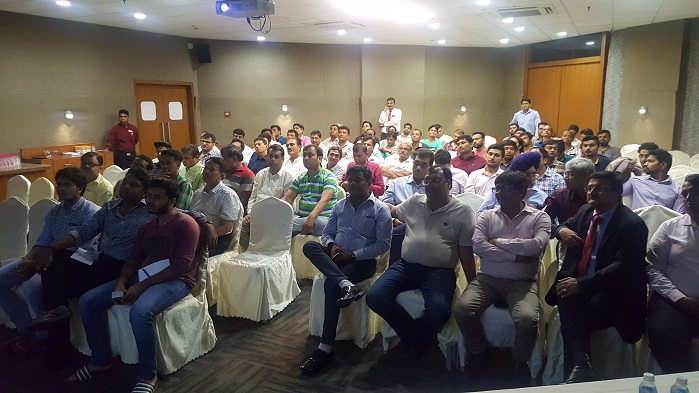 Karl Mayer also regularly organises its own Tricot Circle events there. Indian textile specialists were once again invited to gather inspiration for new ideas from the latest developments in warp knitting on 17 May in Daman and on 18 May in Amritsar.
Innovations from Germany
The VDMA Symposium in India included 36 application-oriented papers presented by more than 30 well-known companies. Karl Mayer was showing its Terry.Eco concept for warp knitting. This system for the ecological and economical production of terry goods went down well with the visitors. There were about 100 delegates in the auditorium, including many representatives from weaving companies.
"The feedback was much better than we expected. Many questions were asked, which showed that weavers have understood the advantages of warp knitting for producing terry goods and are now getting to grips with the possibilities," said Mark Smith, a speaker from Karl Mayer.
Know-how for tricot customers
The third Tricot Circle held by Karl Mayer was well attended by just under 135 delegates. The focal topics of the event were the possibilities offered by high-speed tricot machines for designing a wide variety of apparel fabrics and for producing terry goods.
Many warp knitting companies in India are concentrating on producing embroidery grounds and simple fabrics for saris. However, the HKS 4-M EL can do so much more than that, as Klaus Schulze showed in his lecture. This specialist in textile product development at Karl Mayer demonstrated various transparent fabrics featuring different mesh patterns in the ground and superimposed geometric designs produced by the versatile HKS model. Possible ground constructions include classic tricot types, such as honeycomb, diamond and atlas mesh construction. Atlas and filet tulle grounds featuring integrated diamond patterns with the look of raschel-knitted fabrics can also be worked. The delegates listened very intently to what was being said and asked many technical questions.
"The patterning possibilities of the four-bar HKS machine will make it popular in India," said Mark Smith. A new collection of designs produced on the HKS 3-M also attracted a great deal of attention. The lightweight, voile-like fabrics are particularly eye-catching, thanks to their fine, transparent ground and dense, striped pattern blocks, and gave the visitors ideas on how to use the potential of their machines even more effectively.
Other highlights
As another highlight, Klaus Schulze demonstrated the possibilities of producing warp-knitted terry fabrics. The TM 4-TS EL is particularly interesting for India. The delegates were also interested in a paper describing a beach towel made from a double-face fabric with a cotton side for drying and a side made from polyester microfibres with cut-open loops and a colour-printed design for lying on.
Other topics also generated great deal of interest and raised many questions, including innovative textile products manufactured on the HKS machine range for the athleisure sector, intelligently designed, stylish RSJ fabrics for sportswear and leisurewear, and Karl Mayer's Virtual Showroom.
This article is also appears in...