5th September 2019, Reutlingen
Stoll to present CMS technology at Textillegprom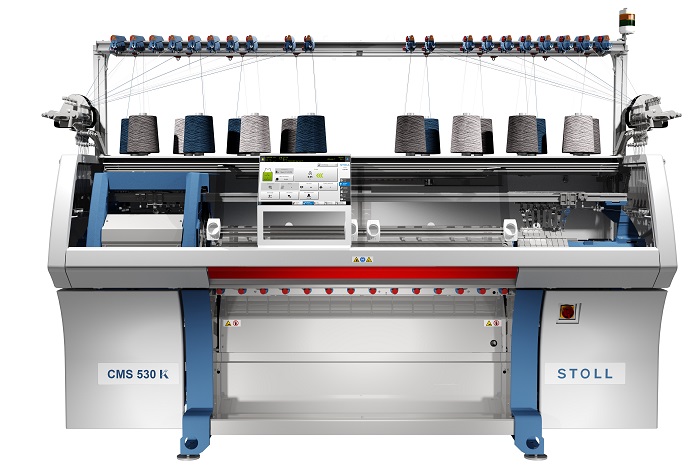 CMS 530 ki W. © Stoll
Stoll, a leading German flat knitting machinery manufacturer, will be exhibiting its latest technologies and innovations at the upcoming Textillegprom, a leading Russian trade fair for textile and consumer goods industries that takes place from 17-20 September in Moscow.
The exhibition will host exhibitors presenting the entire spectrum of industrial goods – from raw materials and equipment to finished products. More than 1,500 companies from 29 countries representing more than 2,100 manufacturing and trading companies took part in the 10 salons of the fair in February. The show also recorded an increase in the range and space in the Knitted Fabrics Salon, which "is a reflection of the global trend to increase the production of knitwear", according to the organisers.
One of many key highlights from Stoll will include the CMS 530 ki W gauge E7.2 machine that will knit patterns live at the show. The CMS 530 ki W masters all classic knitting techniques, as well as the economical and efficient production of complex patterns and fabrics. Due to the weave-in device the W-Models even allow the production of loom-like optics with loom-like properties.
The machine features include friction feed wheels that ensure a reduced, constant thread tension – an optimum yarn supply device for a maximum number of threads.
Stoll is an internationally operating manufacturer of flatbed knitting machines based in Reutlingen, Germany. The world-renowned enterprise was founded in 1873 and has about 1,000 employees worldwide. It exports to more than 50 countries all over the world and offers integrated services through affiliated companies, sales and marketing centres and numerous agencies.
The Stoll product portfolio comprises 3D knitting machines and patterning software, which are used for the production of fabrics for fashion, as well as for technical applications. With innovative technical developments and a modern production environment, Stoll enables a broad spectrum of knitting trends.
This article is also appears in...