13th February 2019, Lenzing
Tencel fibres for more comfort with Micro technology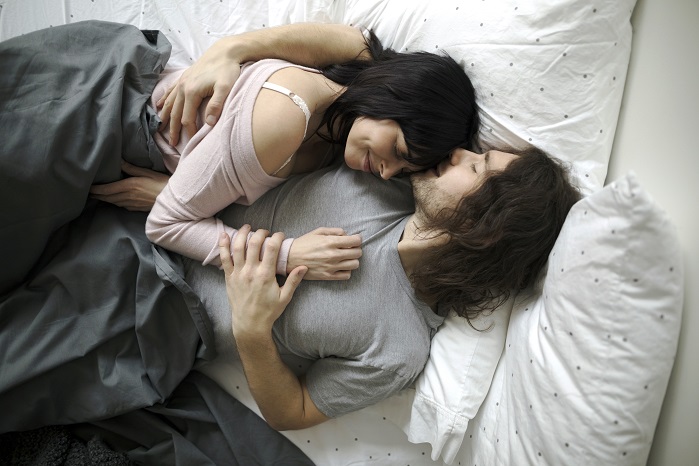 Tencel Lyocell and Modal fibres with Micro technology are naturally smooth and supple. © Lenzing AG
At the Première Vision show in Paris this week, Lenzing presents Tencel branded lyocell and modal fibres with Micro technology for enhanced comfort. Lenzing is with its fine fibre portfolio an expert in producing and marketing of microfibers for the textiles industry and gives this specialty fibre category a new boost.
"An increasing number of consumers are choosing clothing for its feel-good factor. Comfort plays a key role. The parameters of the softness, lightness and smoothness of textiles are critical for the wearer's well-being. With its fine fibres based on wood, Lenzing offers the solution for fashion with lots of comfort," the company explains.
Specialist in fine fibres
Lenzing's fibre portfolio boasts a wide range of fine fibres for the textiles and fashion industry. Light and smooth fabrics can be designed with these fibres which are a major contributor towards the comfort of the clothing and the wearer's well-being.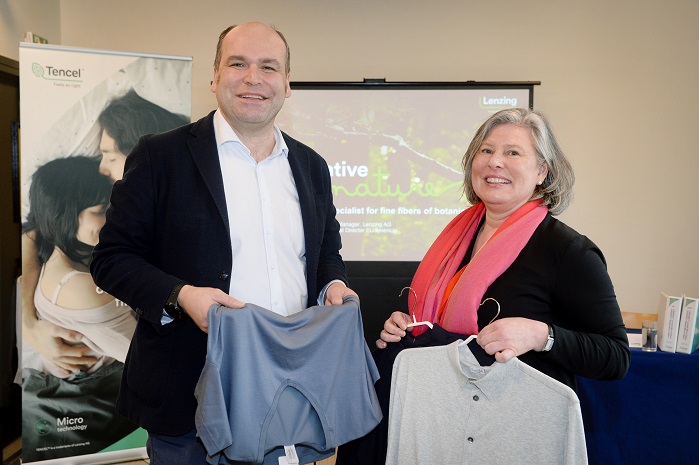 Andreas Dorner, Regional Commercial Director, Textiles, Europe & Americas, and Claudia Mommer, Product Manager, Business Management, Textile. © Lenzing AG
Tencel Lyocell and Modal fibres are produced in titers of 1.00 – 0.80 dtex using Micro technology and processed to lightweight fabrics. "The trend is clearly towards greater comfort. Our fibres produced with Micro technology are the ideal solution and support this trend. Textiles of fine Tencel Lyocell and Modal fibres feel like a second skin. The fibres are frequently used in lingerie and luxurious homewear," explained Andreas Dorner, Commercial Director Textiles Europe & Americas.
Softness, smoothness, lightness, more drape
Fine fibres ensure a silky and pleasant feeling on the skin. A clothing of Tencel Lyocell or Modal fibres, produced with Micro technology, is light on the skin and has a flowing drape. It is defined by feel-good properties like silkiness, softness and long-lasting suppleness, the company reports. Furthermore, Tencel Lyocell and Modal fibres with Micro technology are naturally smooth and supple as tests confirm, according to the manufacturer.
"Lenzing's fine fibres result in the finest of yarns which can be processed to very light knitted and woven fabrics. They are so light that one can barely feel the clothing," the company continued. "As softness is key for a comfortable textile, Lenzing is investigating in this parameter to prove this characteristic, which is going to make Lenzing an expert for softness assessments in textiles, applying instrumental as well as human hand feel panel with trained experts."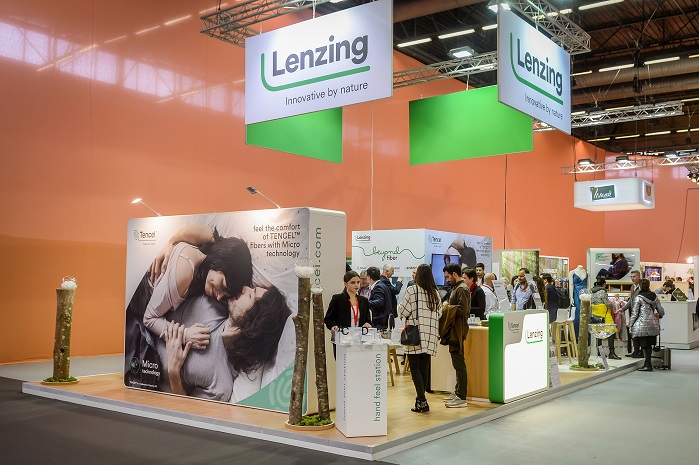 Lenzing booth at Première Vision. © Lenzing AG
The Lenzing panel, which consists of Lenzing employees with different expertise, provides precise evaluation of textile hand feel parameters such as softness, smoothness and drape. The panel is supported by physical measurement methods and comparative external expert and consumer evaluations. One of these panels can be seen at the Première Vision at the Lenzing booth.
This article is also appears in...