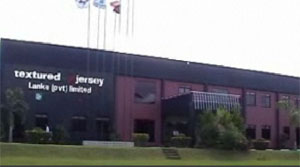 According to report by Lanka Business Online this morning, Textured Jersey Lanka, a Hong Kong-Sri Lanka joint venture textile manufacturer, has raised 1.74 billion rupees (15.8 million US dollars) through a private placement of shares ahead of a public offer.
The joint venture partners, Hong Kong listed Pacific Textile Holdings and Sri Lanka's Brandix, a privately held company, said they had sold a 20% stake to selected new shareholders who had to buy a minimum of 50 million rupees of shares, the report said.
The issue was 'comfortably oversubscribed' by the investors who were offered the stock, the company said in a statement. A 10% stake will be offered through a public offering after getting Colombo Stock Exchange approval at the same price as the private placement, the company said. It will raise 1.2 billion rupees.
Textured Jersey Lanka (Private) Limited, is a leading manufacturer of knitted fabrics for the intimate apparel and sportswear markets which specializes in the manufacture of high quality, knitted stretch fabrics. The company is a major supplier to apparel manufacturers and retailers throughout Asia, Europe and the USA, including Victoria's Secret, Marks and Spencer and Intimissimi.
This article is also appears in...