5th March 2015, Reutlingen, Germany & New York
Stoll Energyscouts help with environmental compliance
As part of its sustainability efforts leading flat knitting machine builder H. Stoll GmbH & Co, KG of Reutlingen, Germany is using so called Energyscouts to help the company comply with environmental standards and regulations.
Stoll has been a proud member of the Blue Competence sustainability initiative of the machinery, plan engineering and construction association (VDMA/Verband Deutscher Maschinen-und Anlagenbau) since 2012 and a primary focus of Stoll's management is the economical and environmental benefits of maximizing the sustainable use of all resources.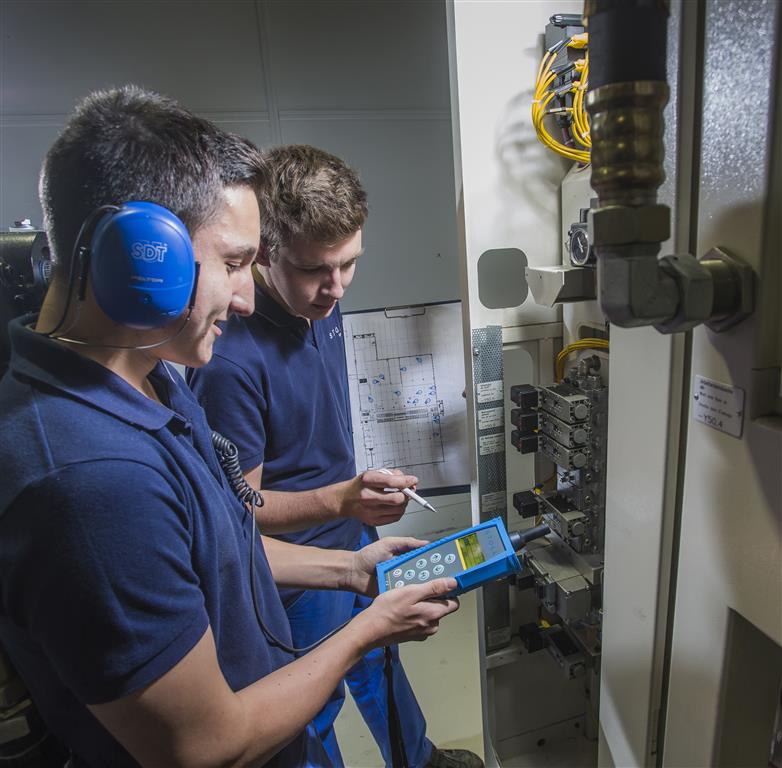 In cooperation with company training manager Dirk Veith, Stoll is using Energyscouts to maintain the sustainability of its factory environment.
The Stoll Energyscouts are in their second year of apprenticeship under Mr Veith and are responsible for helping Stoll to comply with all internal standards as well as all Blue Competence regulations.
According to Stoll, the Energyscouts work as a team and tour the company's manufacturing facilities to discover and correct any issues with energy or materials.
The Energyscouts' current project is to check for leaks in compressed air equipment. Every leak results in extra expenses due to loss of energy and reduced equipment efficiency. If the Energyscouts find a problem, they report it to Mr Veith and they have a collective discussion on how to best correct the problem.
The Stoll Energyscouts have the advantage of getting hands on real world experience with sustainability issues and to learn responsible material and energy handling in Stoll's facilities. This knowledge can then be used to develop and implement solutions to protect the environment.
About Blue Competence
The goal of the VDMA Blue Competence Sustainability Initiative is to address the issue of resource conservation. The initiative therefore supports companies in improving energy efficiency, localizing and consciously using energy sources, consuming raw materials correctly and sparingly while also reducing emissions.
At the company level, resource conservation can affect its entire life cycle, including production and non-production areas. The initiative also deals with future mobility, waste and closed loop recycling management, life cycle costs and the general question concerning quality of life in the company.
Further reading
Stoll becomes partner in sustainability initiative
This article is also appears in...