With its Production and Planning System developed especially for knitters, Stoll says it is setting a new standard in knitting production for agile and innovative companies - knitting development and knitting production are merged into one system and optimized with platform-independent technology.
"Thanks to the Stoll Production and Planning System, reaction times and adherence to schedules are improved and the flow time shortened," Stoll says. "These things are crucial for survival in markets that are always changing with increasing speed."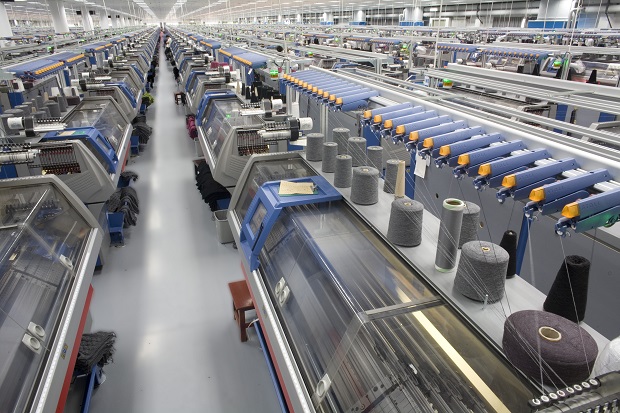 The Stoll Production and Planning System can be accessed everywhere and at all times. The web-based solution with a modern and user-friendly control interface can be operated from any browser as well as from mobile devices such as a tablets or smartphones.
The Stoll Production and Planning System is the central hub for all production processes and production data with Stoll machines. The machine-optimized planning is said to enable a quick disposition and a high production workload.
All production data is freely available and can be statistically evaluated for the further production optimization and standard evaluations can be optimally expanded with the user's own evaluations.
Thanks to the high integration of knitting machines and end devices, quick reaction to production malfunctions is possible – the operator summon being just one example. The prompt detection of missing parts is also supported.
The Stoll Production and Planning System is also designed for integration into existing ERP systems.
Overview of the Stoll Production and Planning System:
Can operate up to 1000 machines
Web-based solution
ERP interface
Fully automated production in auto-production mode
Communication platform (Skype/Phone)
Remote operation of the machines
Overview of the production capacity
Reporting with reports individual to each customer
Real-time monitoring of production
Simplification of working processes
Graphical order disposition
Planning for external machines
Splitting orders over different machines
Integrated solution, meaning no additional investments in terminals or supplementary hardware are necessary
The main advantage of the Stoll Production and Planning System is said to be the increase in productivity that the customer can achieve through use of the system.
Overview of other customer benefits:
Optimization of processes
Ability to plan production
Overview of the production cycle
Compliance with supply commitments
Quick reactions to malfunctions
Detection of wastage and messages notifying about errors and undesired standstills
On-time completion
Central call-up of patterns, loading automatically
Overview of free capacities
H. Stoll GmbH & Co. KG is a globally active and renowned manufacturer of flat knitting machines based in Reutlingen (Baden-Württemberg, Germany). The traditional company was founded in 1873 and employs around 1,000 people worldwide.
The "Stoll" brand's portfolio includes flat knitting machines and pattern software, which are used for producing fashionable, technical and medical textiles. Products are delivered to over 70 countries around the world. Stoll is able to provide a comprehensive service program thanks to its subsidiaries, sales and service centres, and numerous agencies. Innovative technological developments and a largely German-based production system enable Stoll to create the necessary conditions for many knitting trends, which, in turn, are underpinned by Stoll's in-house trend collection.
This article is also appears in...