5th April 2017, Reutlingen
Stoll to present modern flat knitting technologies at Techtextil
Stoll, a long-established manufacturer of flat knitting machines based in Reutlingen, Germany, will be presenting designs and applications of its flat knitting technology at Techtextil, the leading international trade fair for technical textiles and nonwovens, which takes place in Frankfurt, next month.
The new cluster concept for TT sport, TT med, TT home, and TT mobility will be unveiled, along with the new CMS 330 HP W flat knitting machine for TT sport, which is suitable for the manufacture of shoe uppers, orthopaedic supports, and textile accessories with complex shapes.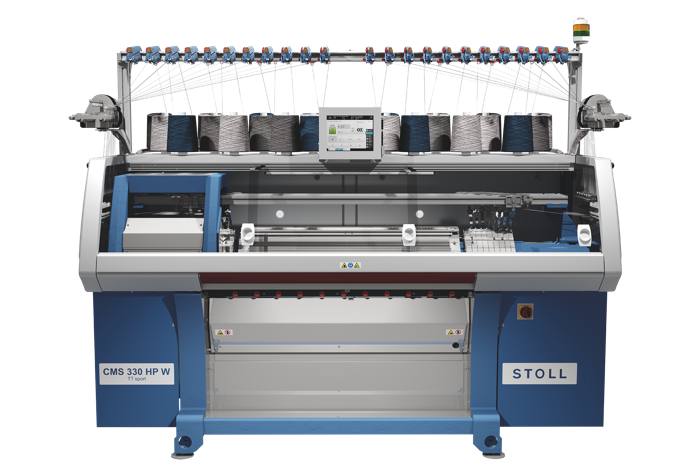 The compact model also boasts a high production speed, exceptional value for money, and options for inlay techniques, intarsia patterns, and plating effects, the company reports.
Innovative portfolio
According to the manufacturer, the CMS 330 HP W fits in with Stoll's innovative portfolio of flat knitting machines. "No other manufacturing process for textiles combines complex structures, functionality, and aesthetics quite like Stoll's flat knitting technology," the company explains.
"Whether it's for industrial applications or electrically conductive textiles, the demand for which is increasing, the flat knitting technology offers highly efficient, tailored solutions. Techtextil provides visitors with the opportunity to get to know Stoll's full spectrum of applications."
H. Stoll AG & Co. KG
H. Stoll AG & Co. KG, with headquarters in Reutlingen (Baden‐Württemberg, Germany) is one of the world's leading manufacturers of flat knitting machines. The long‐established company was founded in 1873 and has 850 employees around the world. The Stoll brand portfolio includes flat knitting machines and pattern software that are used to produce fashion and technical textiles. Stoll exports its products to more than 50 countries worldwide.
With a network of subsidiaries, sales and service centres and numerous agencies, Stoll offers a fully integrated service package. With innovative developments and state‐of‐the‐art production, Stoll is making a multitude of knitting trends possible. Impressive examples of this are illustrated in the current Stoll Capsule Collection.
This article is also appears in...