13th July 2011, Reutlingen
Stoll Trend Collection A/W 2012/13 - FAUX REAL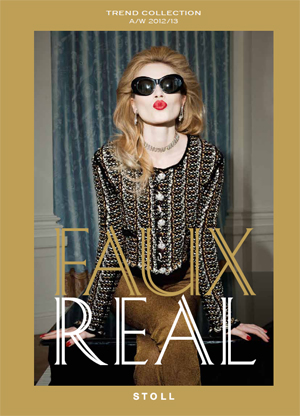 Flat knitting machine manufacturer Stoll has launched its latest stunning knitwear collection - 'Stoll Trend Collection A/W 2012/13 - FAUX REAL'. The beautifully photographed full collection is available to download in PDF at the foot of this introduction by Stoll.
"Illusion is the first of all pleasures" - Oscar Wilde
"We took much pleasure in creating this illusion: using traditional weaving patterns morphed into knitwear by means of versatile knitting machine technology.
What's Faux, What's Real?
We have recently identified a myriad of optical replications in fashion as a trend for the coming season: printed coarse gauge stitch optics on fine gauge jerseys, Fair Isle and jacquard-knit optics on woven textiles.
While this trend manifests itself in imitating knitted optics through printing on woven fabrics, Stoll Fashion & Technology department has done the opposite by simulating traditional weaving structures with knitting technology such as:
velvet, cord velvet, herringbone fabric, pinstripes, gabardine (twill), bouclé, tweed, hounds tooth check, glen check, jacquard, honeycomb pique and voile, to name just a few.
As a result, we created a tailored collection with slim fitted silhouettes whilst maintaining the comfort which knits have to offer: shaping attributes by Fully Fashion knitting and comfortable fit by inherent elasticity. The collection deliberately implies a touch of glamour and haute couture - a field that is traditionally dominated by woven fabric.
On the technical side, we have achieved this effect using float structures, inserted weft threads, jacquards and racking patterns. The combination of chenille yarns, tapes, flame and mohair yarns, shiny yarns and silk results in an intriguing illusion of woven fabrics.
The collection was photographed in a late 18th century palace with luxurious restored Trompe-l'oeil architecture and decoration with faux curtains painted on the walls: the perfect location for a noble yet surreal collection.
We have enjoyed exploring the capabilities of our technology when it comes to imitate weaving with knitting machines.
We hope you will share our fascination with these amazing results."
Download the Stoll Trend Collection A/W 2012/13 - FAUX REAL
This article is also appears in...