23rd April 2012, Reutlingen & New York
Stoll Trend Collection S/S 2013 - Architectural Knits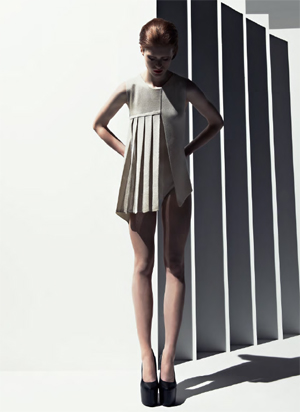 Leading flat knitting machine manufacturer Stoll has launched its latest knitwear collection - Trend Collection S/S 2013 - Architectural Knits - which focuses on the influence of architecture in knits. The German company creates innovative knitwear collections twice yearly at its Fashion & Technology Center International facilities in Reutlingen, Germany and in New York.
The inspiration and influences for the collection and the techniques and materials used in its creation are described by Stoll as follows:
"From ancient times, the language of architecture has inspired fashion designers, and its influence is still strongly felt today.
Fashion and architecture are most strongly linked in construction. Both create designs from the combination of areas, forms, materials, surfaces, and textures. Both characteristically use plain edges, pleats, and curves.
Pierre Balmain (1914-1982) once said, 'dressmaking is the architecture of movement', and the creations of many designers contain references to buildings and architectural concepts.
The architecture of fashion is almost sculptural and clearly deliberate.
Our spring/summer 2013 trend collection unveils new possibilities to incorporate edges, pleats, foldings, and plissé effects into knitwear.
The softness usually associated with knitwear is now translated into a sharp, severe chic.
The double jersey technique in its many different facets is the source of our new structures; this technique in no way restricts the process of development, but rather enables it to reflect the wide spectrum of knitting technologies.
The colours of the collection interpret the materials of modernism and its capricious appearance: grey concrete turns into beige when immersed in sunlight, while the reflections of the blue-grey sky on cool glass lighten other areas. This interaction of light and shadow emerging from within the folds is the basis of our 'summer darks'.
Matte and glossy yarns give contrasts like stone and metal surfaces, and the use of linear yarns makes it possible to realize neat, clear edges.
The resulting silhouettes show clear, strong, and classic lines in a language of masculine form: the 'urban fiction' of ancient times. This may inspire collections whose intention is to be modern.
However, these ornamental designs begin, not with intense technical stitch development, but with a volume of empty space. In that space, we concentrate on the essential: a tailoring freed from such techniques as draping and sewing.
We step forward in the direction of couture in its purest form."
Download the Stoll Trend Collection S/S 2013 - Architectural Knits
This article is also appears in...