Flat Knitting
Stoll's ADF technology: A new dimension in flat knitting?
Leading German flat knitting machine builder Stoll has launched an exciting prototype flat knitting machine with direct yarn feed and motorised yarn feeders. The Reutlingen based company's CMS 530 HP-ADF was unveiled at last week's ITMA ASIA + CITME 2012 in Shanghai where it created a lot of interest and Stoll's Director of R&D Michael Sedlag talked to Knitting Industry about the company's latest high-tech flat knitting machine.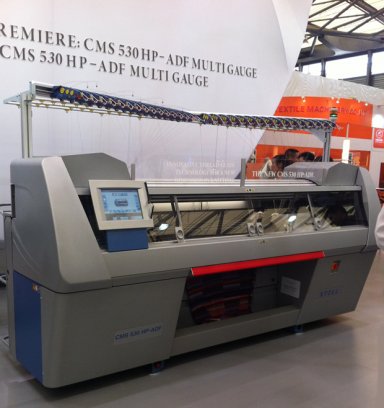 2nd July 2012
Knitting Industry
| Shanghai
Billy Hunter reports from Shanghai
Leading German flat knitting machine builder Stoll has launched an exciting prototype flat knitting machine with direct yarn feed and motorised yarn feeders. The Reutlingen based company's CMS 530 HP-ADF was unveiled at the recent ITMA ASIA + CITME 2012 in Shanghai where it created a lot of interest. Stoll's Director of R&D Michael Sedlag talked to Knitting Industry about the company's latest high-tech flat knitting machine.
The CMS 530 HP-ADF gets its ADF designation from the name Autarkic Direct Feed, with the word autarkic coming from the German autark, meaning independent or self-sufficient – referring to the individually controlled yarn feeders.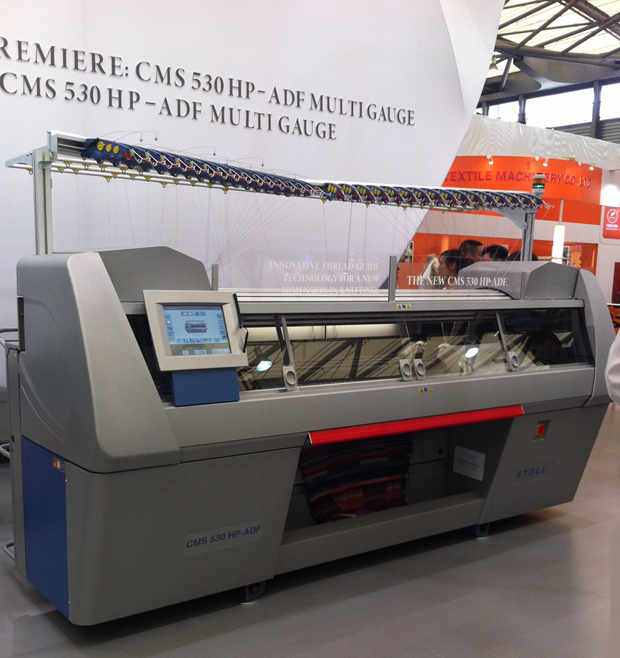 Two CMS 530 HP-ADF models were on show. One machine was knitting a complex multi-colour intarsia pattern in an extra fine 18 gauge and an E7.2 gauge version of the machine was producing a complex multi colour reverse plaited striped intarsia fabric.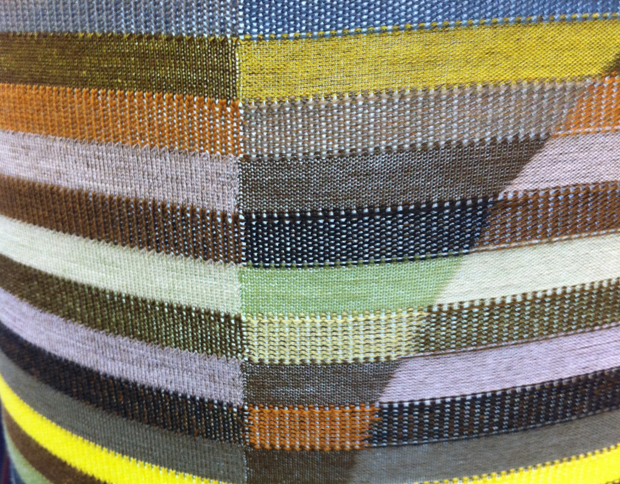 Direct feed
The CMS530 HP-ADF is radically different to Stoll's current machine range where feeders are moved in and out of the knitting area by the cam box or carriage and where the yarn path to the needles runs from the yarn packages at the rear of the machine via the top mounted yarn control units and side mounted friction feed wheels at either or both sides of the machine.
In the case of the ADF machine the yarn path is simplified by being fed directly from the top mounted yarn control units to the needles between the open or split carriage – there is no prohibitive bow connecting the front and rear cam boxes.
Direct feed is said to not only lower yarn tension but also equalise yarn tension as the carriage moves back and forwards leading to better quality fabrics.
Motorised feeders
The ADF's yarn feeders are completely independent of the carriage movement and are controlled independently by motors.
The ADF is fitted with eight double sided radially positioned feeder rails and can be fitted with 16 feeders for each end of the machine giving a maximum of 32 feeders. Each of the 32 feeders is driven by two motors via belts – a larger motor controls the horizontal movement of the feeder and a smaller motor controls the up and down movement of the feeder.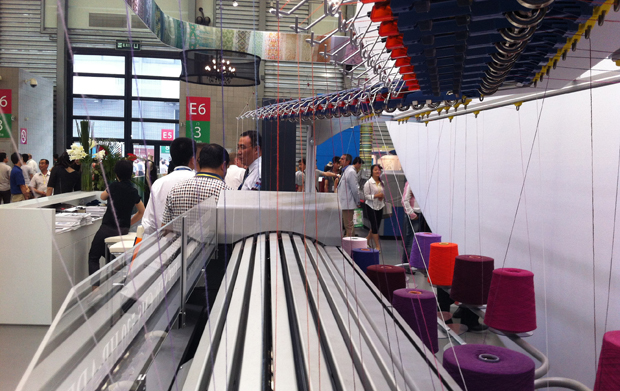 The radial feeder rails are said to help maintain exact feeder position at knitting, especially where accuracy is required as in intarsia knitting. The motorised vertical feeder movement replaces the need to swing or swivel the feeder in complex knitting situations and also eliminates wasteful feeder kick-back by carriage movement.
At first impression the ADF is something akin to a Steiger Aries series machine with its motorised feeders and direct feed. However, the machine is actually significantly different on closer inspection and its programmable motorised control of vertical feeder movement sets it apart – or as Michael Sedlag puts it – "gives it a new dimension."
Intarsia
For intarsia fabrics up to 32 feeders are used in two knitting systems with the third system being reserved for stitch transfer allowing 'full production' at every stroke of the carriage.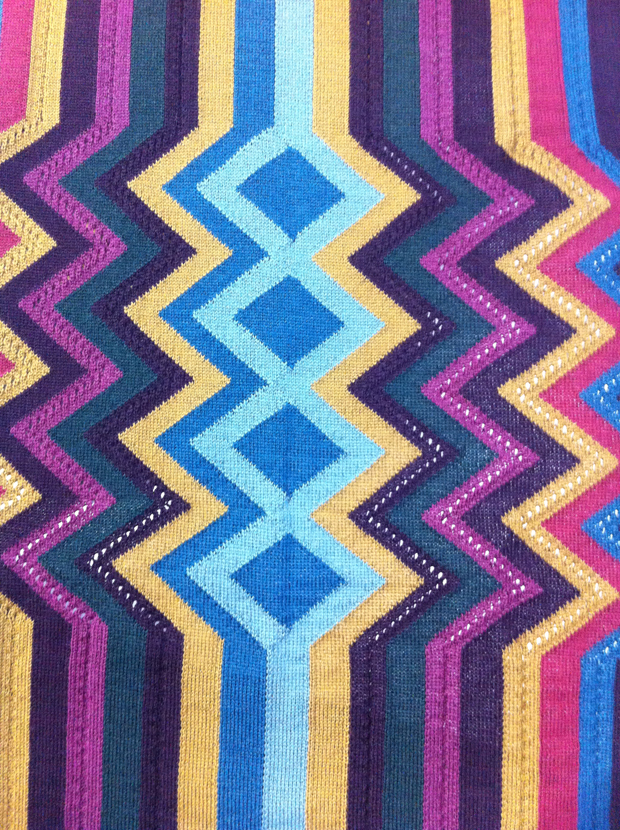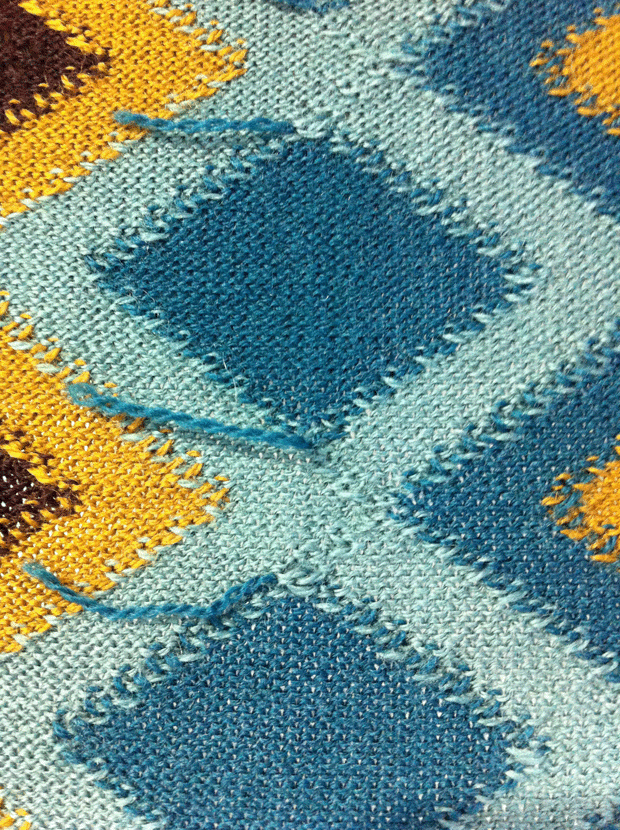 "Generally speaking fabrics take two and a half times longer to knit on a standard machine using feeder kick-back," Michael Sedlag explained.
"Feeders can be moved in and out when required in very small areas – no feeder kick-back is required," Mr Sedlag said.
The multi-colour intarsia being knitted on the E18 ADF machine showed the narrow field possibilities of the machine and the benefits of having independent feeder control. Whilst the machine was running the feeder movement between knitting systems could be clearly seen.
Much narrower colour fields are now possible for intarsia knitting on the ADF machine. Stoll says the narrowest colour field possible is about half an inch but that this could perhaps be reduced even more in future.
IWT - interlaced warp thread
Another ADF technical feature is the ability to introduce what Stoll calls an 'interlaced warp thread' (IWT). This is in fact a weft yarn but is knitted in such a way to give the appearance of a single needle wale (warp). The IWT's appearance can be 'elongated' over a number of knitted courses.
The IWT technique can be performed on standard machines but extensive feeder kick-back is required which Stoll says makes it impractical to knit as it could take up to ten times longer to produce
In the case of intarsia knitting, using the IWT in the join between two colours, results in a very neat small stitch appearing on the front of the fabric and a 'sewn overstitch' type appearance on the reverse side of the fabric.
Intarsia plaiting
The ADF also enables the knitting of plaited intarsia patterns which has always been possible to do on standard machines in theory but has not been practical until now. As motorised feeder adjustment is carried out via the machine's touch screen controller, feeder position and height can be controlled accurately without the need for manual adjustment and setting.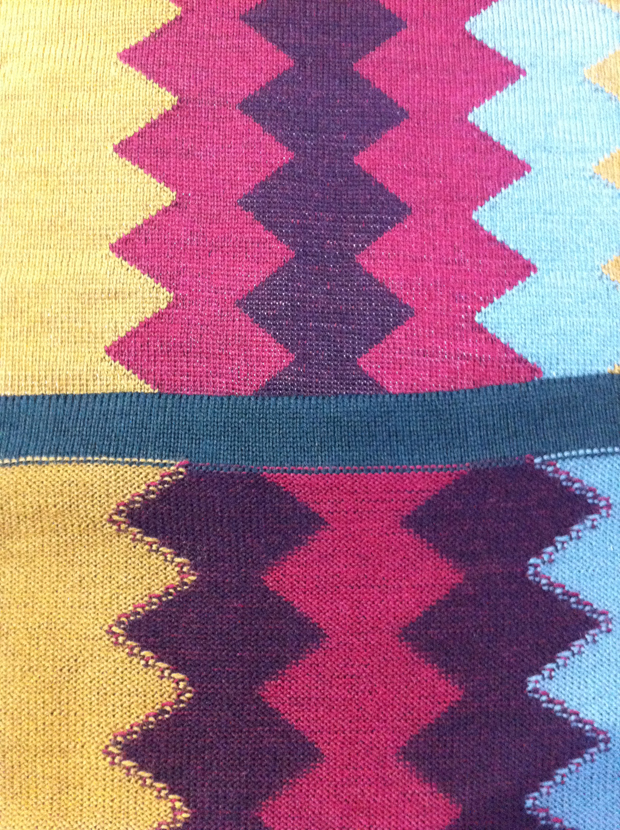 This Stoll says allows the high level of precision required for intarsia plaiting. Michael Sedlag refers to this as "two more degrees of freedom – or a new dimension in flat knitting."
Reverse plaiting in intarsia, where back and front bed knitting in the same colour is combined with other colours/ structures in the same course was demonstrated on the E7.2 model. Some stripes in the pattern are also knitted in half gauge whilst other use all needles. The overall effect is striking and resembles some of the multi colour structured effects which have to date only been achievable in designer hand knits.
In plaiting the ADF machine uses the two feeder technique which is widely used on standard flat knitting machines. However, each feeder is set relative to the other and in height position via the touch screen controller only.
Mr Sedlag is so enthusiastic about the company's new ADF prototype and its potential that he describes its arrival as being similar to that when we switched from "the typewriter to the printer."
Other technical features
Although the CMS 530 HP-ADF is a prototype and by definition not the finished article, the concept seems to be very well thought out and even includes some nice touches such as an integrated fabric tray which does not protrude from the machine but leaves adequate room for fabrics collection.
One really impressive feature is the access to the rear needle bed via a pair of sliding doors which have the yarn stand integrated. According to Stoll all of the mechanics of the machine can be accessed and even the needle bed can be removed via this innovative access point.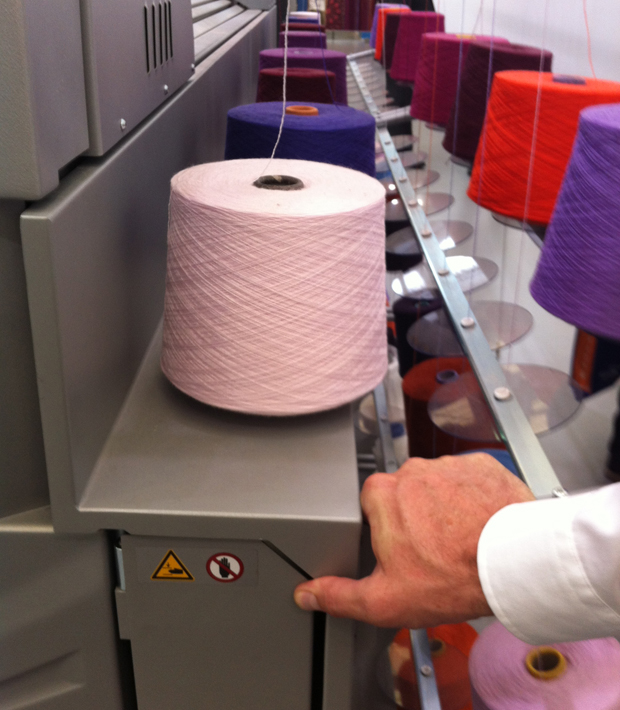 Another feature is the v-shaped stand which holds the yarn control units. This is designed to help avoid situations where crossing yarns can become entangled with each other during knitting. This will be particularly useful when knitting with maximum feeder numbers in 'hairy' yarns or filament yarns with a tendency for filamentation.
The ADF machine also introduces an updated clamping and cutting system where the machine can go directly from knitting to clamping and cutting. Current CMS models are required to employ 'empty carriage strokes' to bring clamping and cutting into play which occurs often during multi colour intarsia production.
The ADF's standard feeders can be used for normal knitting, intarsia, plaiting and inlay. Stoll says there is no longer a need to change feeders for specific applications.
High-tech
The ADF is clearly a 'high-tech basis' machine and will have its price with 64 motors required to control its maximum 32 feeders. However, the machine does use a lot of proven Stoll technology such as its sprung latch needles, CMS needle beds, Take-down and standard CMS HP cam box carriage with 5 inches between knitting systems – but most importantly the ADF offers something new in design terms.
According to Michael Sedlag, Stoll is concentrating on design creativity with the ADF concept and is aiming "to widen the space for designers for more free artistic developments".
"Stoll does not normally show prototype machines as we do not like to show a machine which is not ready or does not work fully," Mr Sedlag said.
"Yes, we like to be the technological leader but it has to be practical at the end of the day."
Mr Sedlag concluded by explaining that there was no significance in the machines debut at ITMA ASIA in Shanghai instead of at last year's ITMA in Barcelona. "It was more a question of having the machine ready to show and of course choosing to launch something new in a relatively conservative current market," Mr Sedlag said.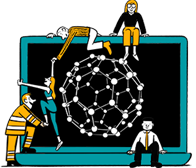 Business intelligence for the fibre, textiles and apparel industries: technologies, innovations, markets, investments, trade policy, sourcing, strategy...
Find out more