The new market landscape was the focus at this year's edition of MarediModa, a leading international trade fair presenting the latest in fabrics and accessories for swimwear, underwear, and athleisure. The event, hosting over 100 exhibitors, highlighted the need for 'multi-tasking garments' fulfilling multiple purposes, delivering comfort, performance and simple yet unique design.
The arrival of Millennials and Gen-Zers, who are currently driving apparel sales, is changing the world's understanding of fashion. Modern consumers seek out meaningful experiences and participation and want more from brands than ever before, placing their trust in companies that deliver cleaner and more efficient textile processing and garment manufacturing, care for the environment, are open and transparent and are responsive to the changing needs of the new generation of shoppers.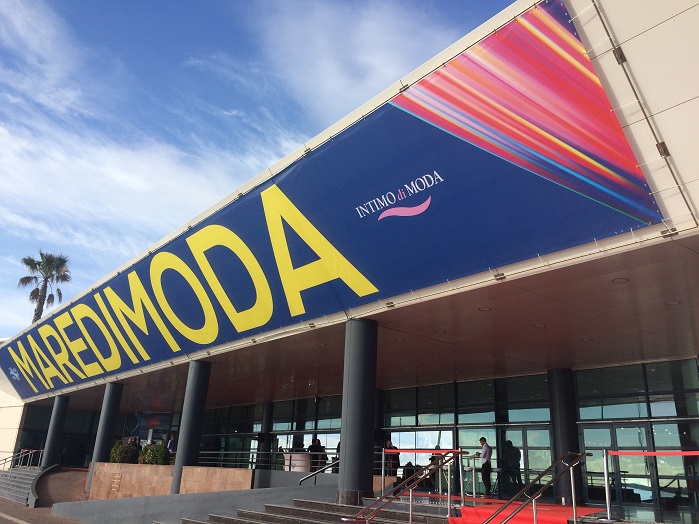 "We are here to talk about the consumer, because it all begins with the consumer. All the products we develop, all the markets we get into, all the changes that we need to make in our companies, are happening because of the changing consumer all around the world," said Judith A. Russell, Global Marketing Strategist, Nilit America, speaking at MarediModa's conference.
"And this is a very exciting time for our industry – very difficult, but very exciting. And if we rise to the challenge and look at what some of the successful companies are doing, and how they are navigating this, what we call new normal, then we can take some lessons here and also be very successful."
Spring/Summer 2020 season demands more from fabrics, dictated by the active living attitude, embracing the juggling of professional and personal daily routines with quality and comfort. Fabrics combine performance features like cooling, heating, freshening, energising and soft touch. Garments must be able to fit into multiple sectors, sportswear transitions into various areas of our lives, beachwear can be worn as streetwear, and athleisure matures across many categories.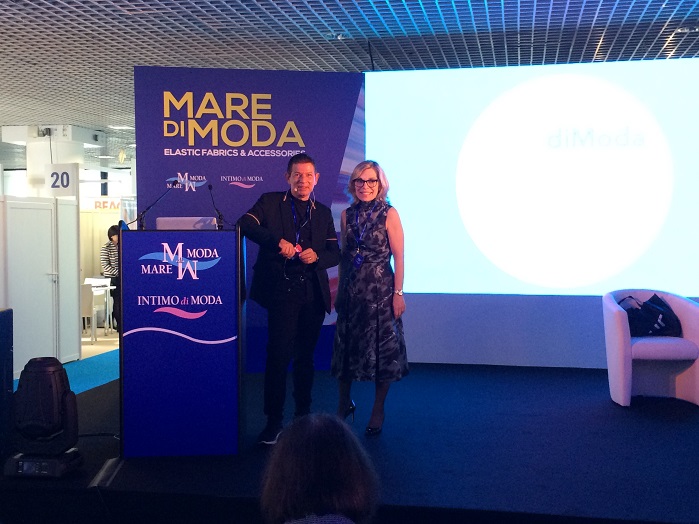 "The future is behind not being afraid of new things: choosing new fibres, using jersey fabrics in more types of garments, have the courage to experiment, make the new prototypes, mix, bond, add and expand the use of a single garment," said David Shah, trend forecaster, editor of Textile New and coordinator of MarediModa Trend Board. "Through fibres, we will drive innovation."
Performance fashion
In Cannes this year, over 40 exhibitors presented fabrics and accessories highlighting the world of athleisure. The athleisure macro trend Touch Base had a large space in the trend forum, along with the launch of the new project Athleisyou, in cooperation with ISGMD fashion institute. The project presented the athleisure outfits manufactured with fabrics and accessories supplied by some of the exhibiting companies at a specially dedicated area of the show. The athleisure category is also now part of The Link fashion contest, along with beachwear and underwear areas.
Apparel sales have benefitted from Millennials, the strength of athleisure category and the growth of e-commerce, but those factors weakened in 2017. The global market for sports apparel, including performance, outdoor and sports-inspired clothing, has grown for 5.6% annually since 2012, passing US$ 180 billion in 2017, according to Euromonitor International. It is expected to hit US$ 215 billion in 2022, but at a lower rate of 3.4%.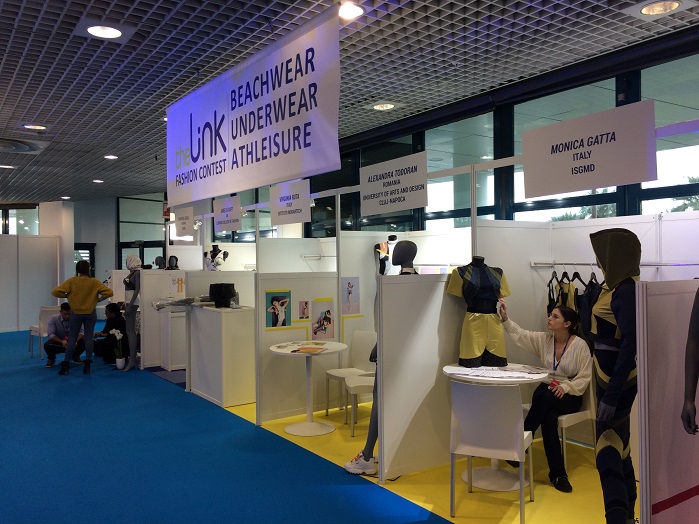 "However, the market is still growing quicker than the global apparel industry overall, which is only projected to climb at an annual rate of 1.9% over the next five years," said David Shah. "And traditional fashion retailers are increasing their performance and performance-inspired offerings at a record pace, up by 236% over the past three years."
The Trend Forum this year dedicated one of the themes to athleisure. It focused on combining urban and natural environments, utility, enhanced flexibility and realised through mixing of materials, colour blocking, bonding, laminating, high-gloss surfaces, graphic and porous textures, and innovative treatments. Athletic performance has to offer protection and versatility for indoor, outdoor, under, and upper wear.
Colours are dominated by strong camouflage shades that have utilitarian appeal and centre around green and red tones. These are complemented by light greys, bright yellows, burnt ochre, and dark blue and cyan. Fabrics are multi-functional, tough, resilient, durable and with body mapped aspects through reinforced engineered zones, ranging from neoprene to tech plissee and parachute silk treatments. Patterns are inspired by nature – feathers, cracks, marbling, granite and natural grain, planet surfaces, eruptions, rocks and natural traces.
Real reconstruction
According to David Shah, the apparel sector is undergoing a total reconstruction, led by the fast-paced modern lifestyle and new, simple and neat statement-based aesthetic that accompanies it. Following in the footsteps of athleisure movement, leisurée is making its way into the modern consumer's wardrobe as the new underwear trend that combines the best of athleisure with lingerie, resulting in beautiful but comfortable designs. The brands are embracing different female experiences and bodies, focusing on inclusivity and designing genderless clothes that are purposeful.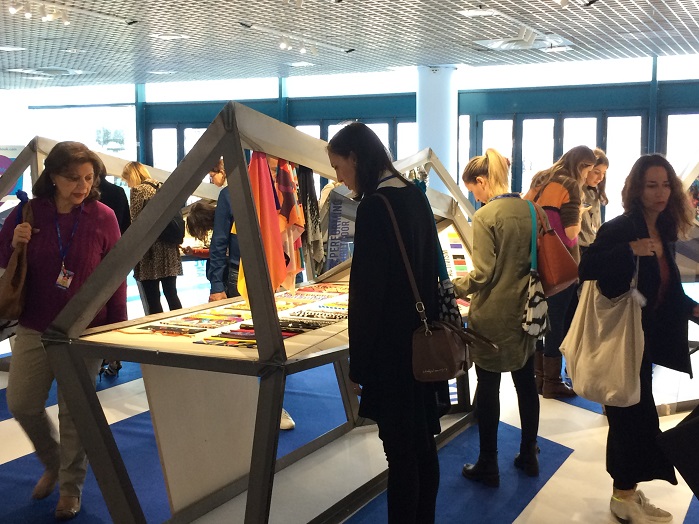 "All the creativity right now is coming from the activewear brands, who can offer a clear, impactful and motivational story, combining heritage, classical references and recognisable style and simplicity with new values, new role models and ideas. Nothing like this is coming from ordinary apparel companies," said David. "Hip hop stars and skaters are the new royalty, streetwear is the new luxury, and the pop-up culture is changing the way we as consumers are reached out to by the brands – we are now offered more than just clothes, we are now part of something meaningful."
New trend forum: creative protest
Representing this change, the new scenic project of the Trend Forum was another inspiring feature of this edition. Coordinated by David Shah and Anne Marie Commandeur, in cooperation with some of the leading style bureaux, the trends were displayed in an innovative setting, designed by Monica Sampietro and Matteo Cappelletti – a fleet where each boat holds and discloses every trend.
The beachwear trends dominated the display area, manifested with bright pinks, reds and purples, neon yellow, soft blues and greys. Representing meaningful beauty, they combined vintage inspirations and classic motifs, like stripes and geometric patterns, with upgraded, streamlined silhouettes, comfortable and durable fit, modern, data-inspired patterns and playful designs. The new fabrics are bold and experimental. Glitter, florals, meshes, stylised nature designs, sheers and lace clash with ageless plains, geometrics and metallic surfaces.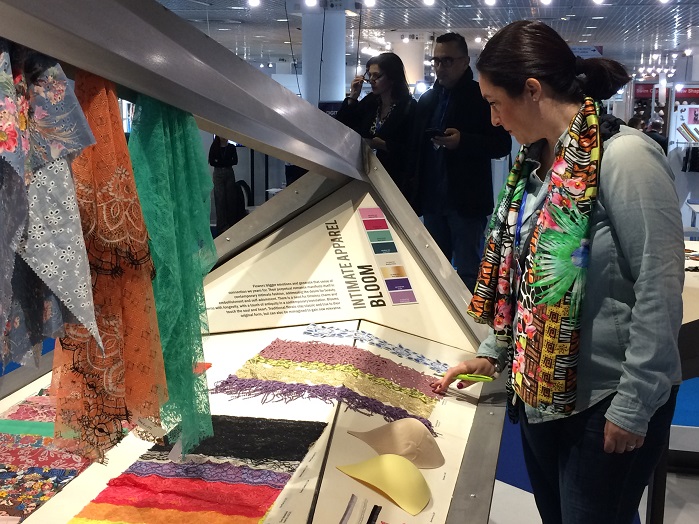 Intimate trends are in opposition to each other. In Sanctuary, bonded jerseys, marl layers, ribbed fabrics, raw natural, pastel shades of beige, pink and greys inspired by the Scandinavian nature are complemented with rhythmic textures, complex openwork, stripes, patterned veils, interference patterns, black on black textures, contrasting pales and minimalistic silhouettes. By contrast, in Bloom, flowers and botanical motifs on black grounds, faded wallpaper designs, lace appliqué, black and white flock and embroidery, heritage patterns, bright ornaments and composed stories are implemented through bright pinks, teal and dark greens, gold and rich purple colours.
Digital is now
The apparel industry is facing a new technological revolution, which has been the key topic of numerous industry trade shows and conferences in the past few years but is still not fully embraced by many players in the game, according to Luca Salvatori, Sales Manager of Sistemi Assyst, which provides CAD solutions for the clothing and textile industries. Luca presented visitors with the company's Vidya software that uses 3D simulation in product development.
The technology allows simulation close to reality, helping reduce the number of prototypes and simplifying the creative and marketing processes. Through the collaboration with ISGMD, the company demonstrated at the show how new athleisure trends can be developed with a 3D simulation, with no need of making outfits, and in the selected fabric and design. Garments made by ISGMD were on display at the Athleisyou area, and the corresponding 3D models could be seen at the Vidya post.
"In five to ten years, digital technology will penetrate the whole production process, shortening cycles, integrating the consumer into developing the collection before actually producing it," said Luca Salvatori. "But the main problem at the moment is that companies are not ready to invest in the digital technologies due to a mental barrier. It is not a matter of finding the budget, but the lack of confidence they have." David Shah agreed adding that the companies need to start actively hiring a new type of employee – a 3D fashion designer, who could help them guide the production process in the changing technological landscape.
Smart innovations
Sustainability remains key as the demand for sustainable stories and products is increasingly growing. Recycled yarns are increasingly being sought, as well as the cleaner, more efficient and environmentally responsible approach to the textiles supply chain. Novelties are linked to industrial processes, their development and technology that trigger them. Many exhibitors at MarediModa offered a green view combining sensitivity towards green topics, innovation and performance.
Another Down by Eusebio – the knitted fabric for winter jackets. The new product offers a recycled version consisting of the fashion knitted shell, a 100% recycled polyester interlining and an inner knitted lining that is made out of a 100% recycled PE or 100% PA. SplashbyLo presented its new Ecoclean line of three eco-friendly and recycled knitted fabrics. Shark is a 47% recycled polyester and 53% virgin polyester. It is 100% dry printed, resulting in zero water waste. Shell is an 87% recycled polyester and 13% elastane. Finally, Coral is made from 100% recycled polyamide. It is made with Q-Nova nylon 6.6 recycled fibre by Fulgar, made from waste materials coming from the company's main production cycle. Nextil Group presented its natural dye line bionext, featuring a wide colour palette and applicable to any natural fibre. The dyeing process is organic, does not generate waste, as it is biodegradable, reuses used water and saves energy due to cold dyeing.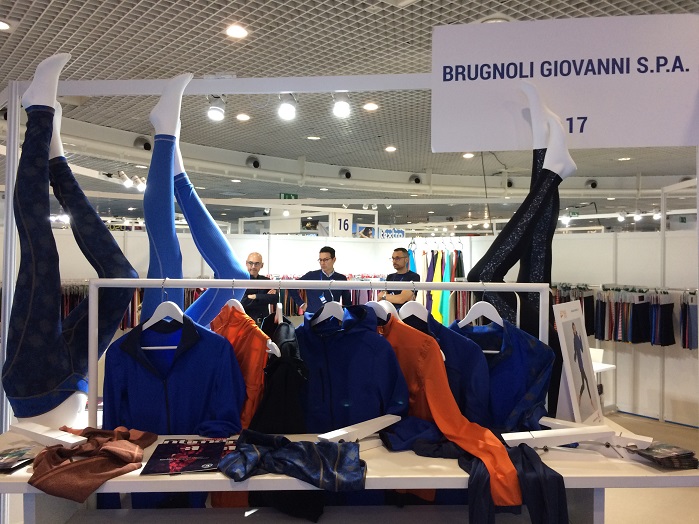 Brugnoli exhibited its Br4 range of bio-based fabrics, available in combination with virgin Merino wool extra fine, cotton, recycled polyamide and more. Made with bio-based polyamide Evo by Fulgar, Br4 fabrics offer thermal isolation, odour control, low moisture absorption, rapid drying and light weight. "When we started this line, we were one of the first to use bio-based raw material, back in 2015," said Michela Salmoiraghi, Communication and Marketing Consultant.
Penn Textile Solutions and Penn Italia picked Roica premium stretch fibre to create its Ecoinnovation, a new range of advanced textiles that are 100% sustainable. The collection presents seven unique articles. It includes Roica Eco-Smart family premium stretch fibre certified for lower impacts on human and environmental health, Reco Nylon yarn made from pre-consumer waste, and r-Radyarn, a range of recycled products by Noyfil that use fully recycled polyester yarn r–Starlight, produced in Switzerland.
Roica Eco-Smart family was also found in Iluna Group's fabrics on display. The company showcased its Green Label collection. In addition to all-overs and the rigid cover up with fringes, the line features new coordinated embroidery made with GRS certified recycled materials, including Roica stretch.