11th April 2012, Shanghai
Strong demand for space at ITMA ASIA + CITME 2012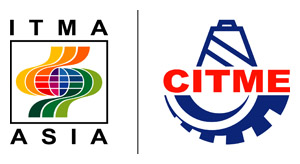 The current challenges in the economic climate do not seem to have adversely affected demand for space at the third ITMA ASIA + CITME exhibition and due to the overwhelming response, the show owners say they have now booked the remaining available space at the Shanghai New International Expo Centre (SNIEC).
The combined show which will be held from 12 to 16 June 2012, is owned by CEMATEX and its Chinese partners, the Sub-Council of Textile Industry, CCPIT (CCPIT-Tex), China Textile Machinery Association (CTMA) and China International Exhibition Centre Group Corporation (CIEC).
"Response to this year's combined show is beyond our expectations. The strong demand for space attests to the effectiveness and popularity of the combined show as well as the resilience of the textile and textile machinery industry," said Stephen Combes, President of CEMATEX.
"We already had a long waitlist for space by the deadline for applications, and therefore made the decision to book the remaining space available in the venue to enable us to accommodate around 80 companies on our waitlist."
With the additional 6000 square metres of exhibition space, the show will now gross over 132,000 square metres, 30% larger than the previous event in 2010. More than 1230 exhibitors from 27 countries and regions will take part.
Commenting on the increased demand Mr Wang Shutian, President of CTMA, said:
"Interest in the combined show remains extremely strong, especially from Chinese textile machinery manufacturers. As China's textile industry continues its transformation, the demand for advanced machinery and technology is on the rise. This is also reflected in the current uptrend in textile machinery trade."
The latest statistics from China Customs reveal that China's textile machinery foreign trade registered a year-on-year growth of 25.6% to reach US$7.6 billion in 2011; of this amount, exports contributed US$2.25 billion while imports chalked up US$5.36 billion.
In the lead-up to ITMA ASIA + CITME 2012, visitor promotional efforts are gathering momentum and earlier, overseas promotional activities were held in Bangladesh, India and Russia. Visits to Vietnam, Pakistan and Indonesia have also been scheduled and in China, an intensive road show covering Fujian, Guangdong, Henan and Shandong provinces is underway.
The combined show is organised by Beijing Textile Machinery International Exhibition Co Ltd and co-organised by MP International Pte Ltd. Japan Textile Machinery Association (JTMA) is a special partner association of the show.
This article is also appears in...