14th November 2011, New York
Stylesight continues partnership with MarediModa for S/S 13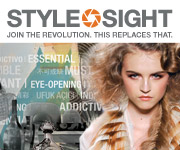 Stylesight, a trusted name in trend and style information solutions, is continuing its official trend partnership with MarediModa/IntimodiModa for the third consecutive year. The internationally acclaimed fair is the premier trade show dedicated to textile collections for the beachwear and intimates industries.
"Stylesight is thrilled to continue its affiliation with MarediModa. This year we are not only continuing to deliver an interactive and innovative Trend Forum experience, but also are expanding our relationship to new technical heights with the introduction of our Style Traveler iPhone App for exhibitors," says Frank Bober, Founder and CEO of Stylesight.
"The partnership with MarediModa is a perfect fit as both companies are progressive leaders in their space, dedicated to continued improvement and the most efficient user experience."
Stylesight SVP Trend Forecasting, Isham Sardouk, will curate the MarediModa Trend Forum for the third consecutive year, categorizing choice exhibitor textiles and fabrics into key themes for Beachwear & Intmates fabric trends for S/S 13. New this season to the forum, Beyond Retro, the esteemed UK retailer of handpicked vintage clothing, will provide exclusive intimates pieces from their coveted collections, while Stylesight Materials & Innovation Consultant, Philippa Wagner, will curate a display showcasing critical and directional materials showing fabric innovation in the areas of new craft, augmented reality, nano and synthetic biology with recent graduates from the prestiged 'MA Textiles Futures' class at London's Central St. Martins.
POSTextiles is a collective of forward-thinking design researchers, material craftswomen and critical thinkers while Andreea Manrescu Studuo pushes the boundaries of traditional craft techniques exploring new materiality through explorative tactile surfaces.
Stylesight will also provide MarediModa exhibitors with exclusive access to their recently launched Style Traveler iPhone App. The App mobilizes Stylesight's acclaimed Style Traveler city guides, maps, and curated editor's picks, for a series of style-centric cities worldwide. Exhibitors can peruse Stylesight's expert selections covering the greatest offerings from each of the world's leading design cities - highlighting top places to stay in central shopping areas, the best local boutiques to shop, and chic venues to eat and drink.
Furthermore, Stylesight Materials Editor, Sophie DeWulf, will offer fair guests an exclusive look into Stylesight's unrivaled Trend Forecasting & Analysis with a presentation surrounding Beachwear & Intmates fabric trends for S/S 13 on Wednesday, November 23rd, 2011. Sophie will provide a detailed look into the key materials and silhouettes for the S/S 13 season beginning at 3:30 pm in the Trend Forum.
MarediModa/IntimodiModa 2011 will be held at the Palais des Festivals in Cannes, running November 23rd - 25th, 2011.
The Consortium MarediModa was established in 2002 to promote the interests of its member organizations, beachwear fabrics and accessories manufacturers. MarediModa S.c.a.r.l. hosts the annual MarediModa/IntimodiModa trade fair, known industry-wide as the most significant show in the beachwear and intimates sector.
"We are witnessing a comeback of end consumers who, today, are more aware of their purchasing decisions and of the content of a beachwear or intimate garment, as well as the possible health risks associated with poor products of uncertain origin. "Made in Europe" becomes a synonym of unique, exclusive and unattainable creativity, quality of semi-finished products, innovation and textiles with previously unthinkable performances. Many famous brands have come back to buy from us and may have their products tailored in North Africa or in Eastern-European countries, not only due to the exponential increase of "Made-in-China" costs but also to shun the upsetting product standardization. It is no longer worthwhile," says Claudio Taiana, President of the fair.
The 2011 MarediModa's workshop will be focused on the theme "Be different. Be unique". "Despite its being one of the most responsive and dynamic sector of the textile and clothing industry, the beachwear section leaves itself wide open to a quite aggressive and often demeaning and damaging massification of low-end, low added-valued and often ethically incorrect products. The remedy looks simple: innovation, creativity and fabric selection make the difference, today even more than yesterday."
This article is also appears in...