10th February 2011, New York
Stylesight launches my Storyboards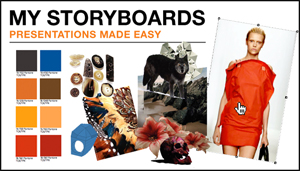 Stylesight, a trusted name in trend, providing content, tools and technology for the style and design industry, has announced the launch of 'My Storyboards', an online service which allows subscribers to create customizable storyboards with complete access to its library of over seven million inspired images and cutting-edge trend content for personal storyboard design.
"Every designer creates trend boards for inspiration. Stylesight's 'My Storyboards' is created for designers, by designers," says Sansan Chen, Senior Vice President of Creative Services at Stylesight. "We are consistently providing a better experience for our customers and 'My Storyboards' is easy and intuitive, and will change the way designers work." Designers from all over world will benefit because My Storyboards is available in multiple languages.
According to Stylesight, with 'My Storyboards,' designers can search, grab and upload images, all in one location. Stylesight subscribers can click and drag photos into their working storyboards from the extensive Image Library, or upload their own images from their personal desktops or any site on the web.
Designers can choose from Pantone and NCS colour swatches, drag and drop Stylesight 'Color Play' colour card combinations from personal workspace folders, play with fonts, resize and rotate images, even select from an array of designer tools including grids, guides, rulers original prints and graphics, illustrations and flats.
Stylesight says 'My Storyboards' is essential for sharing and sending inspiration, enabling subscribers to create virtual mood boards, trend presentations, and even line sheets for merchants or buyers. 'My Storyboards' also runs in the user's browser, with no installation necessary, making it easy to share work with colleagues.
Stylesight's new Designer Tool is said to enable subscribers to save and print storyboards in a variety of formats and templates. With a single click, designers can export presentations to PowerPoint and add special effects, or download in Adobe PDF, save storyboards to their "My Workspace" personal or shared folders and access them on Stylesight anytime, from anywhere. Full-screen slideshow views, email and print options, allow designers to show off storyboards when completed.
Stylesight.com is available in English, Chinese, Japanese, Spanish, Turkish and Korean languages. Founded in 2003 by apparel manufacturing veteran, Frank Bober, Stylesight targets style professionals involved in the creative design and product development processes, assisting them through its unique "Creative Platform" with content and tools that make the design journey more efficient, less costly, faster and accurate.
Stylesight is headquartered in New York, London, Hong Kong and Shanghai, with additional satellite offices stationed in style capitals spanning the globe.
This article is also appears in...