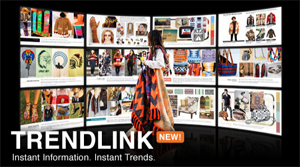 Stylesight (www.stylesight.com ), the leading global provider of trend content, tools and technology for the fashion and style industries, has announced the launch of Trendlink, an instant aggregation of Stylesight's reports and features that share a common thread. Trendlink gives Stylesight subscribers instant access to key trends called out on Stylesight.com.
"With the tremendous amount of content Stylesight publishes daily, emerging and established trends from all over the site can now be found instantaneously with one click," says Sansan Chen, Senior Vice President of Creative Services, Stylesight. "Trendlink was born out of a desire to access the complete coverage of one trend in one place, giving our subscribers immediate access to an overarching trend, and how it manifests in different markets and product categories."
Trendlink is Stylesight's newest feature to launch under its Trend Watch area. Trendlink provides confirmation of the trends that Stylesight has already called out and continues to validate, from Runway, Streets, Retail, Trade Shows, Forecast, and more. As Trend Boards go live on a daily basis, Stylesight's Editors keep a watchful eye and review and add relevant pages to Trendlink folders when emerging themes appear. New trends and links will be added regularly, and existing trends will be updated on a daily basis.
Stylesight subscribers can sort Trendlink folders by date created, when each trend was published for the first time; date updated, which trends have new information added to the folder; and even by alphabetical order. Specific 'Tags' further assist by filtering trends applicable for different areas of design. Once you have chosen a trend, view related boards by Market Tabs – Women/Junior, Men/Young Men, Children, Interiors, or Other; including information surrounding E-Trends and News that is not market specific. Like a Trend? Easily add all items to a folder of your choosing and start working with them immediately.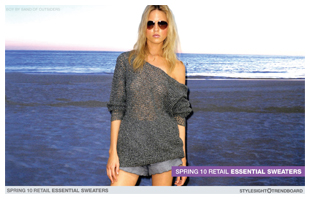 Stylesight.com is the premier provider of trend content and Software-as-a-Service (SaaS) designer tools, and the only online trend service available in Chinese, Japanese, Spanish and English translation. Stylesight offers its global subscribers the unrivalled ability to intercept, interpret and transmit the impulses of the style industry through timely, relevant trend content and state-of-the-art technology.
Stylesight is the leading online provider of trend forecasting and product development tools for creative professionals in the fashion and style industries. Founded in 2003 by apparel manufacturing veteran, Frank Bober, Stylesight's subscribers include leading retailers, designers and manufacturers worldwide. Stylesight is headquartered in New York, with a Forecasting Atelier in Paris, and additional satellite offices stationed in fashion capitals around the world. www.stylesight.com
This article is also appears in...