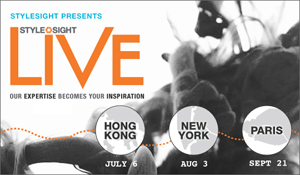 Stylesight has announced the 2011 schedule of its acclaimed LIVE Seminar Series. The 2011 series is scheduled to take place during three important research weeks in Hong Kong, New York and Paris.
Stylesight is honoured to bring our LIVE Series to important events and cities worldwide, says Frank Bober, Founder and CEO of Stylesight. The LIVE series will further expose our industry to the style information and technology revolution, with the personal touch only possible with LIVE presenters.
Stylesight LIVE, the seasonal global trend tour providing a forum for live inspiration and expert insight will be presented in-person by an array of Stylesight's international trend experts. The worldwide series will cover cutting-edge trends surrounding a range of style and design markets.
Each LIVE Seminar program will open with a look at Stylesight's Megatrends Forecast, presented by Isham Sardouk, Stylesight's SVP of Trend Forecasting. Stylesight's Megatrends Forecast offers a broad spectrum of macro trends, supported by inspiring mood images, cultural references and complementary color palettes. Sharon Graubard, Stylesight's SVP of Trend Analysis, will follow with a presentation of Stylesight's acclaimed Runway Roadmap, providing a clear and concise edit of the current runway season with an eye towards the following year.
Ms. Graubard will offer usable references -- connecting silhouettes, details, colors, and themes to cultural movements, art influences and fashion history. Additional Stylesight experts will be on hand throughout the global trend tour for niche market trends and discussions. To learn more about Stylesight LIVE, visit www.stylesight.com/live .
Stylesight will kick off the 2011 LIVE Series at Hong Kong Fashion Week on Wednesday, July 6th, 2011. The series will then travel to New York for its next instalment on Wednesday, August 3rd, 2011. The final 2011 event will be held at Premiere Vision in Paris, Wednesday, September 21st, 2011.
Stylesight.com is a leading provider of trend content and Software-as-a-Service (SaaS) designer tools, and claims to be the only online trend service available in the English, Chinese, Korean, Japanese, Spanish, and Turkish languages. Stylesight offers its global subscribers the ability to intercept, interpret and transmit the impulses of the style industry through its timely, relevant trend content and state-of-the-art technology.
This article is also appears in...