25th August 2010, New York
Stylesight reveals F/W 11 MegaTrends at Munich Fabric Start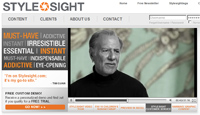 Stylesight, a leading provider of trend content, tools and technology for the style and fashion industries, is to present a series of exclusive seminars including F/W 11 MegaTrends with a Materials Focus, and F/W 11 Design Development, at the forthcoming Munich Fabric Start Trade Fair in Germany.
Stylesight's European Trend Director, Sandrine Maggiani, will offer Stylesight subscribers and trade fair attendees an in-depth look at Stylesight's Trend Forecasting's F/W 11 MegaTrends Seminar will be presented Tuesday, 31 August at 11.00am, and again on Wednesday, 1 September at 11.00am. Maggiani, will present an in-depth look at the key influences, colours and fabrics of the season, based on Stylesight's four MegaTrends; Composition, Hyperreal, Evolution and Rave. and Analysis. Stylesight
Sandrine will also present an additional seminar surrounding F/W 11 Design Development Trends on Tuesday, 31 August at 3.00pm, and again on Wednesday, 1 September at 3.00pm. Discussion will focus on key colours, prints and silhouettes for women's, men's and childrenswear.
This season, Munich Fabric Start will be held at the Munich Order Center, from 31 August – 2 September. More than 750 exhibitors from 33 different countries are expected to present clothing of both natural and manmade fibres. The fabrics on display have a wide range of composition materials and accessories and include womenswear, menswear, kidswear, jeans and sportswear. Stylesight's Sales Representaives will be on hand throughout the Trade Fair for custom demonstrations of Stylesight.com in Hall 3, Booth C03.
Stylesight.com is a leading premier provider of trend content and Software-as-a-Service (SaaS) designer tools and is available in Chinese, Japanese, Spanish and Turkish translation. Stylesight offers its global subscribers the ability to intercept, interpret and transmit the impulses of the style industry through its timely, relevant trend content and state-of-the-art technology.
Stylesight is a leading online provider of trend content, tools and technology for creative professionals in the fashion and style industries. Founded in 2003 by apparel manufacturing veteran, Frank Bober, Stylesight targets style professionals involved in the creative design and product development processes, assisting through useful tools that make the design journey more efficient, less costly, faster and accurate. Stylesight is headquartered in New York, with a Forecasting Atelier in Paris and satellite offices stationed in style capitals spanning the globe. To learn more about Stylesight, please visit www.stylesight.com
This article is also appears in...