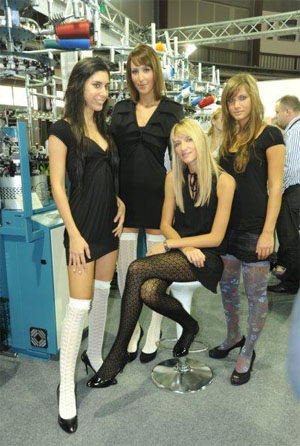 A survey of Italian hosiery producers has found that although Italian made hosiery still occupies a top quality position in the market, consumers do not know how to recognise it. The survey, conducted recently by the organisers of the forthcoming FIMAST exhibition, found that 44% of producers said that "consumers would like to buy a higher quality product but can't recognize it."
The survey also found that 28% of producers said that the demand for quality products was always good, while 28% said that the demand for quality products was in fact decreasing.
According to the survey the most important elements in the purchase of hosiery were the price (44%), followed by the quality of the material (33%) and the variety of choice (22%).
The survey also said that no producer indicated that creativity was an important element in the purchase of hosiery, which FIMAST says confirms a traditionalist view of the product category.
The survey carried out by the organisers of FIMAST, a textile machinery exhibition being held in Brescia from 26-29 September, was sent to 130 Italian hosiery manufacturers.
FIMAST is a specialised trade fair being held at the Fiera di Brescia (Brescia Trade Fair) which has a particular emphasis on technologies for the production of socks and hosiery.
Organisers say that FIMAST means living close to new trends, new markets and world leading specialists in the field for four days. "The exhibition will showcase the most important machinery production of this particular field, worldwide recognized as the most advanced, versatile and reliable," the organisers say.
FIMAST's exhibitors include companies and organisations involved in: machinery for socks; spinning; chemical fibres production and accessories; winding, twisting and accessories; knitwear, hosiery and accessories; embroidery, auxiliary machineries and accessories; cable and accessories, packaging industries and accessories; test and measuring in laboratory, accessories; transport, logistic, storage, packaging; recycle, waste and prevention of pollution; drawing software; data processing; colourings, chemical products, accessories; products for the machineries function; natural fibres, synthetic fibres, technical fibres, natural yarn; university institutes for research.
The list of exhibitors to date includes:
Agostoni, Artur Moench, Autotex Italia, Beschi Oscar, Bicchierai, Boggiani Renato, BSE, BTSR International, Busi Giovanni, Christoph Liebers, Colosio, Cubotex, Dakong, Eneas Informatica, Fadis, Fimatex, Knitting Service, Martex, Merz Maschinen Fabrik, Nagata Seiki, Nuova Irmac Tex, Off.Meccanica Dora Enrico, Ratti Luino, Rimoldi & Cf, Rosso Industrie, Salzmann, Sandonini, Signal, Ships, Simet, SSM Scharer Schweiter Mettler, Technical & Textile Service, Tecniche Nuove, Tregisistemi, Triveneta Grande Impianti, Textile Service Centre, Vartex, W.Zimmermann.
This article is also appears in...