The 11th edition of Interfilière Shanghai will once again play its leading role to bring high quality business inspiration for professionals worldwide, when it takes place from 12-13 October at the Shanghai Exhibition Center.
Over the past 10 years, Interfilière Shanghai has grown progressively, multiplying the participating exhibitors by five, and showing a continuous jump in 2014 with 275 exhibitors from 16 countries. The show also welcomed 7,300 visitors from 53 countries in 2014.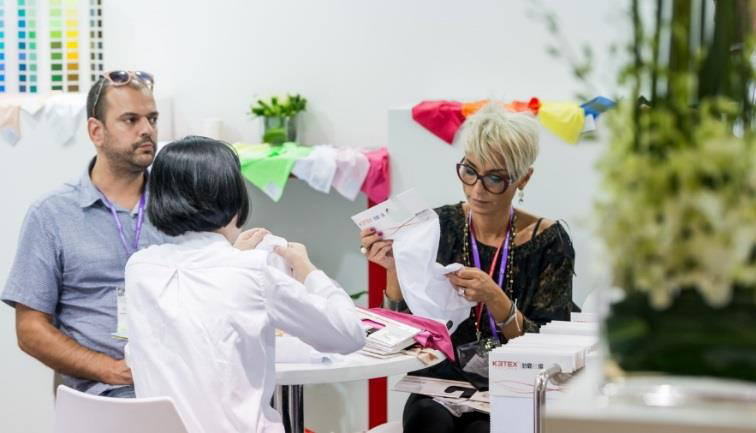 Following the success of the new layout in Paris last July 2015, Interfilière Shanghai will also change its floor plan, where exhibitors will be clearly spread over the seven product-based sectors as usual but not only in West and East wing, but also in the Central hall. In addition, seven sectors will be renamed in order to be identical to its sister show, Interfilière Paris.
Workshop programme
Following the success of the workshop programme on trends and brand building in 2014, Interfilière Shanghai is back with a new workshop programme this year.
The show will bring the industry visitors and exhibitors the most forward-looking information on trends and consumers' insights, by splitting the programme into three parts, specially designed for the Intimate apparel and swimwear industries. The programme will be conducted by Edith Keller, CEO Carlin International Group.
Trends for designers programme will help visitors understand the new trends, shape a collection, decode a trend guide, and get inspiration and information on how to get most of your creative team. Trends for sales and marketing will focus on understanding the new trends, as well as translating and illustrating the trends for sales and marketing purposes. This programme will feature dedicated interactive exercises for the sales and marketing teams. Finally, Brand Building Workshop will be dedicated to segmentation of a collection, styling, price/quality (PQ) ratio, according to a positioning, presenting a brand, etc.
Beachwear designer of the year
In July 2015, Interfilière Paris and Paris Capitale de la Création have rewarded the Italian company Eurojersey, the leading producer of warp knit Sensitive Fabrics. Since its creation in 1960, Eurojersey pays particular attention to quality and the sustainable development of its large-scale production thanks to its SensitivEcoSystem project.
Within the framework of this project, the company has invested in ethical technologies, optimized production processes and saved resources. These efforts have been rewarded by international recognition from the textile industry.
Developped in 1989, Sensitive Fabrics for ready to wear, lingerie, beachwear and sportswear are lightweight, breathable, and versatile with unique technical features and functionality to meet the most modern solid and printed trends. These fabrics are said to be perfect for innovative games of body mapping, matching between different materials, and using bonded and taping technology.
Intimates designer of the year
In January 2015, Piave Maitex has earned the prestigious title of Designer of the Year. Established in 1908 this Italian company with a long tradition in stretch fabrics, relies on considerable experience and know-how to meet today's technological challenges.
Established as one of Europe's leading stretch fabrics specialists, the company features collections that feature nearly 200 references, which are updated each season. Now specializing in warp-knits and Raschel knits, the Piave Maitex watchwords include elegance, softness, lightness, comfort and technical prowess. Half of activities are generated by the intimates, lingerie and shapewear sectors.
The Italian company was a pioneer in the shapewear sector with its Oversexy line. It successfully anticipated the arrival of discrete and light fabrics with Peau d'Ange and a targeted range of cosmetic-textiles. The latest key innovation is Body One – a bodysuit with a non-slip quality and guaranteed comfort.
This article is also appears in...