26th September 2019, Obertshausen
Karl Mayer answers to modern-day challenges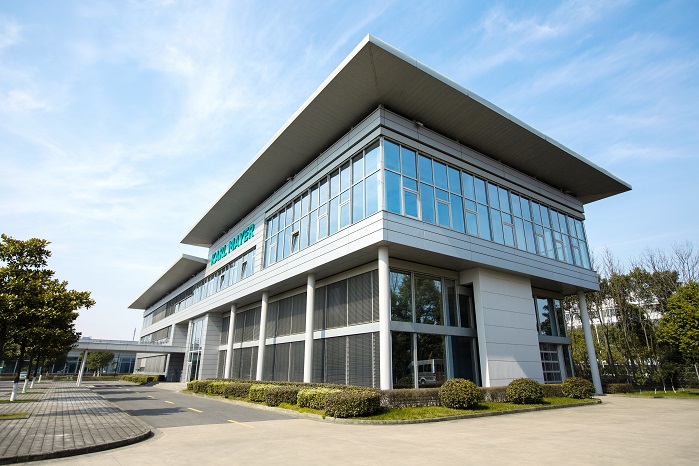 Karl Mayer (China) building in Changzhou. © Karl Mayer
Karl Mayer is inviting visitors to see its innovative machine concepts and textile applications at an in-house show during the ShanghaiTex trade fair in November.
The event will take place from 25-28 November 2019 at Karl Mayer (China) in Changzhou. "We presented our latest innovations to Europe at ITMA 2019 in Barcelona. The feedback from the visitors was excellent. We now want to show textile producers in Asia, who were not able to travel to Barcelona, our ranges that will help them to successfully develop their businesses in the fields of warp knitting, warp preparation and technical textiles," said Armin Alber, the Sales Director of Karl Mayer (China).
At its in-house show, Karl Mayer will be showing its state-of-the- art machines, including three world firsts. The machines being premiered are a double-bar raschel machine, a direct warping machine for efficiently processing elastane for the mid-range segment, and a raschel machine, for producers of patterned lingerie fabrics in the commodity segment. Karl Mayer will also display a three-bar HKS model with electronic guide bar control and integration in the world of KM.ON at the first time in Asia.
HKS 3-M-ON. © Karl Mayer
In Changzhou, a modern machine with weft insertion will be producing net curtains featuring the popular woven look. The Terry.Eco, a concept for the sustainable production of terry goods, and the associated TM 4 TS will also be presented.
Production of tricot fabrics
As innovation in the field of tricot machines, Karl Mayer will be presenting the new HKS 3-M-ON, 218ʺ, which offers the same performance in terms of speed as the current HKS 3-M with N-pattern drive but with electronic guide bar control. Patterns can be changed quickly by ordering the required lapping from Karl Mayer's Webshop Spare Parts and loading the data from KM.ON cloud directly onto the machine, the company explains.
Smooth raschel fabrics with lace-like effects
Karl Mayer is launching the RJ 5/1, E 32, 130", a new commodity product line for producing stylish lingerie items. Jan Hippich, a Portfolio Manager at Karl Mayer, is expecting the south Chinese market in particular to invest in this sector. There is a high demand there for lingerie items made from smooth, raschel-knitted fabrics with lace-like decorative bands – marketed under the term, Seamless.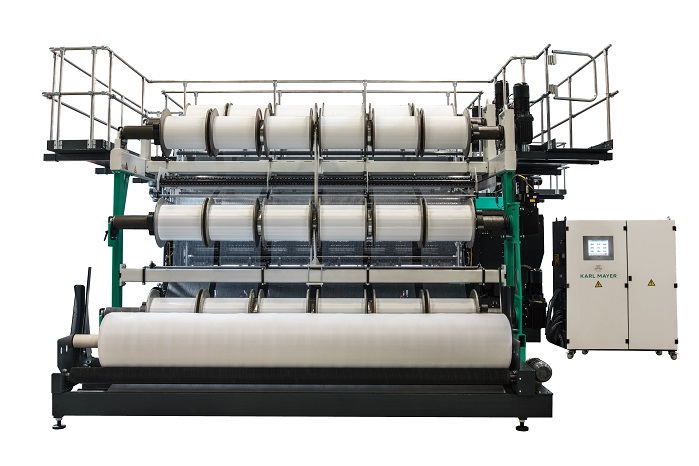 RDJ 6/1 EN. © Karl Mayer
The making-up costs are also low, the manufacturer reports. The fabrics produced on the RJ 5/1 are made from simple elastane and the type of lapping means that they are resistant to the slippage effect typical of the stretch material. The edges of the fabric do not have to be hemmed, and the consumer is happy with the comfort, since there are just a few seams at the leg and arm openings.
More choices for producers of shoe fabrics
The RDJ 6/1 EN is being launched especially for producers of stylish shoe fabrics. This double-bar raschel machine is designed to produce engineered spacer textiles and delivers a high performance for a reasonable purchase price. With its optimised cost:benefit ratio, this new machine is intended to bridge the gap between the established models with piezo jacquard technology.
Net curtains with the look of woven fabrics
Karl Mayer has developed magazine weft fabrics with a trendy look for the net curtain sector. One of machines for doing this is being presented at the in-house show. The new Weft.Fashion TM 3,130", E 24 produces fine fabrics with a woven look, and uses fancy yarns to create visual effects.
Warp-knitted terry fabrics
A TM 4 TS, E 24, 186" is being presented for producing terry goods extremely efficiently. The output of this tried-and-tested tricot machine may be as much as 250% higher than that of comparable air-jet looms, and the energy consumption is approximately 87% lower, since no compressed air is required.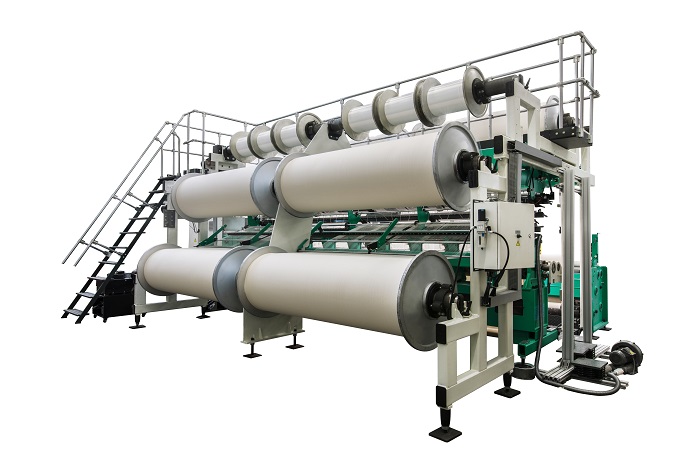 TM 4 TS. © Karl Mayer
Furthermore, no sizing process is needed, which reduces the environmental loads and costs considerably as a result of the sizing chemicals, effluent and energy consumption.
New machine for efficient warping of elastane
The new ISO Elastic 42/21 focuses on the requirements of customers operating in the mid-range segment and is said to deliver a high-quality appearance, low space requirements and an excellent cost:benefit ratio. This new machine is particularly interesting for producers of stretch velour fabrics, as well as for modernisation projects.
Isodirect 1800/800. © Karl Mayer
In terms of its features, speed and flexibility, the ISO Elastic 42/21 concentrates on one type of beam. The finest gauge of the 132"-tricot machine on which the beams are processed, is E 36 or E 24.
Warp preparation technology
Karl Mayer is presenting the Isodirect 1800/800, a direct warping machine for the mid-range segment. This machine for processing every type of staple-fibre yarn is said to be exceptionally fast and operates at a maximum warping speed of 1,000 m/min-1. It produces beams having a completely cylindrical structure, precise winding and identical lengths. A computer-controlled measuring system prevents any deviation above 0.15 %. The yarn and beam are also handled very gently by the kick-back function.
This article is also appears in...