5th November 2018, Cannes
MarediModa to show trends for summer 2020
MarediModa, which opens tomorrow at the Palais Des Festivals in Cannes, will feature collections of fabrics and accessories for swimwear, underwear, and athleisure for Summer 2020, with over one hundred European companies representing the top segment of the sectors.
The world of athleisure, which started to be included last year, has managed to generate considerable interest even among the international brands. As usual, a selection of private label garment-makers from the Euro Med area, offering themselves as reliable partners for responsible production, will be present alongside the textiles offerings.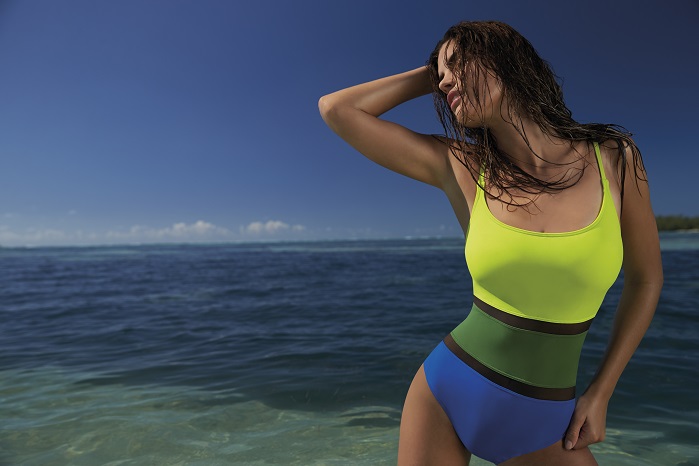 "I am more and more convinced that this edition of MarediModa will be remembered for a long time to come for several reasons," commented Marco Borioli, Chairman of the fair. "First of all, the ringing in of athleisure, which was probed into last year, has highlighted just how transversal our fabrics are in a world of crossover, and technical and stylistic fusions."
"Then there was the debut of the MarediModa Trend Book: the first cahier des tendances (trend catalogue) created internally in collaboration with guru David Shah and Anne Marie Commandeur. A truly must-have tool for the development of the 2020 collections. We honed in on the importance of sustainability, designed an area that is spectacularly trendy, modern, and easy to use, created an installation dedicated to prototypes of sportswear made by ISGMD with fabrics of our exhibitors, and confirmed once again the Panorama information system area for quick access to the bestsellers of the companies present at the fair."
Trends preview for S/S 2020
MarediModa unveils the major themes developed by David Shah, Anne Marie Commandeur and the style bureaux of the MarediModa member companies. The focus is on the shift towards hybrid fashion, which disrupts and transforms, but in a positive way.
Athleisure opened Pandora's box by bridging the gap between activewear and leisurewear – and now fashion goes beyond it. Intimate apparel and swimwear have entered the melting pot to form a powerful and versatile fusion. Performance fibres and fabrics have transitioned into leisurewear, giving designers a far wider and deeper portfolio with which to work.
MarediModa highlights six influential design themes – four swimwear oriented and two intimate apparel. Each theme informs and inspires truly specialised and fully hybridised design.
The Link fashion contest
The Link competition announces the nine young designers who got through the finals after a special selection among a hundred students involved. Visitors to MarediModa have the chance to meet beforehand the talented fashion designers in Cannes. Visitors, along with a technical jury will decree the overall winners that will be announced on 7 November after a special catwalk. "The competition for young designers opens up to the athleisure world with a section dedicated especially to it, which delves into beachwear and underwear," commented Mr Borioli.
New dawn of sustainability
The demand of sustainable stories and products is increasingly growing. Novelties are linked to industrial processes, their development and technology that trigger them. Also, ideas on fabric fibres are multiplying. From sustainable inputs in pre-industrial or post-industrial processes, to fibres made from carpets, plastic bottles, fish nets or plastic waste fished from seabed to the infesting castor plant – these advanced solutions show an eco-responsible attitude. Many textile and accessory collections at MarediModa are fully designed with a green view combining sensitivity towards green topics, innovation and performance.
MarediModa Creative Excellence Awards
The names of the two companies who will receive the prestigious MarediModa Creative Excellence Awards 2018 have been announced. These special awards are delivered each year to brands or companies which have distinguished themselves for research, creativity, innovation and quality. This year, they will be assigned to Vilebrequin, an iconic swimwear brand, which has managed to develop a very well defined identity and character; and Adolf Riedl group with its four women's brands (Sunflair, Olympia, Opera and Sunmarin) and men's brand (Wavebreaker).
Trend eBook
Starting from the first day of the show, MarediModa will offer creatives a unique tool. This digital book has been developed by David Shah and Anne Marie Commandeur. "The aim of this ambitious project is to provide a valuable tool able to trigger creative sparks, enlighten new visions and stand side by side of the creative process from social scenario until the upcoming fashion trends," said David Shah, publisher and trend forecaster.
Further reading
MarediModa explores hybrid fashion
This article is also appears in...