4th November 2016, Migdal Haemek/Guimaraes
Nilit to promote fibres for athleisure and beachwear at MarediModa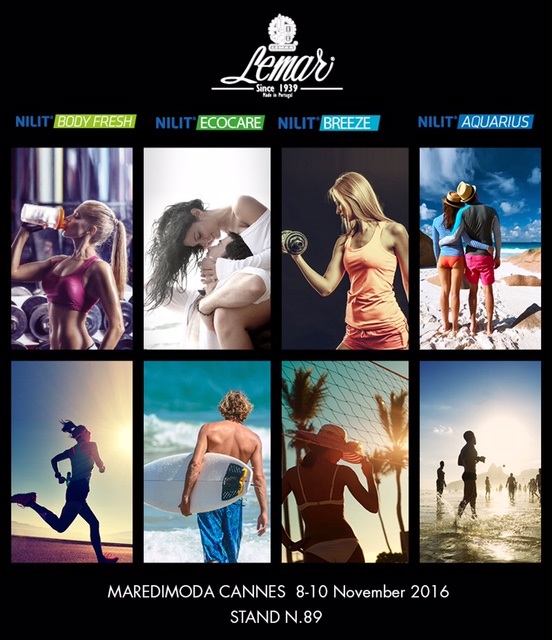 Israel headquartered polyamide 6.6 producer Nilit Fibers has chosen Lemar, a leading Portuguese producer of premium fabrics, to present the company's latest developments especially addressed to athleisure and beachwear at the MarediModa trade fair that will be held from 8-10 November in Cannes.
The goal of the collaboration is to promote the multiple creative and functional possibilities offered by the Nilit fibres, such as Breeze, Aquarius, EcoCare and Bodyfresh, through the production of exclusive garments that will be worn by the Lemar models.
Nilit Breeze
Nilit Breeze, the patented cooling comfort yarn, is designed to help maintain a comfortable body temperature during physical activity and in warm weather.
The fibre's flat cross section and special cooling channels are said to quickly transfer body heat for maximum comfort and breathability. In addition, the ultra-soft hand creates a pleasant, smooth sensation on the skin. According to the company, its Nilit Breeze is being used by leading activewear, legwear, and intimate apparel brands.
Nilit Aquarius
Nilit Aquarius is a high-performance yarn engineered to wick away moisture so the wearer feels dry and comfortable. The fibres are well suited for all types of sportswear, activewear and dancewear.
Its hydrophilic attributes are intrinsic in the fibre and will not wear off even after repeated washings, according to the manufacturer. The triple T cross-section of the filaments increases the surface area and creates micro-channels which carry moisture away from the body.
Nilit EcoCare
Nilit EcoCare yarn has been developed as part of the company's commitment to contributing to the protection of environment. By eliminating high-energy stages in the production process, the company says it can significantly conserve resources when manufacturing Nilit EcoCare yarns.
The recycled polymer is said to enable the spinning of high-quality yarns that retain the properties of virgin fibres. The range offers excellent colour depth and uniformity in regular dye processes, no variability in the properties of the recycled yarn and its applications can be found in intimate apparel, legwear, activewear and ready-to-wear.
Nilit Bodyfresh
Nilit BodyFresh is designed to prevent the growth of bacteria that causes body odour to provide increased freshness. Extremely resilient, the antibacterial additive is said to maintain its antimicrobial properties for at least 50 washings.
Offered in a range of yarn counts, Nilit BodyFresh enables design flexibility when creating outdoor wear, activewear, sportswear and intimate apparel, the company reports.
Nilit
Founded in 1969 by Ennio Levi, Nilit is committed to creating innovative, customized nylon (polyamide) 6.6 solutions. With expertise in polymerisation and compounding, as well as spinning and texturing, the company offers a comprehensive range of quality products and services for apparel and engineering thermoplastics applications.
With this collaboration, the company aims to promote innovative and unique design solutions exhibiting high performance and functionality, combined with great aesthetics and fashionable style.
This article is also appears in...