30th September 2013, Sennhof
Swiss Tencel Micro on show at Filo
Swiss yarn spinner Herman Bühler will be showcasing its new AirJet spun Swiss Tencel Micro yarns at the Filo yarn exhibition in Milan from 9-10 October. Made with Lenzing Micro Tencel fibres, the product is what the company calls "a high-tech yarn with low-tech appeal; because of its special fibre structure, the growth of bacteria is inhibited, and more fibres in the yarn cross-section means greater fineness."
According to Bühler, this makes for a high performance product with superior strength, softness, drape and sheen. The resultant fabrics are said to be stable and durable, but also soft and silky, with very low pilling. Micro Tencel is also said to be eco-friendly as its fibres come from sustainable eucalyptus wood.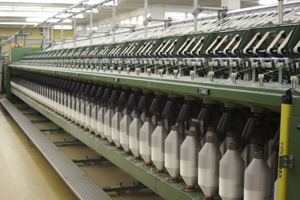 The multi-functional technology behind Micro Tencel inhibits bacteria growth and the yarn features what Bühler refers to as "an extraordinarily soft and supple hand that's matched by its silky sheen." According to the company, it also boasts high water absorbency and excellent dimensional stability.
Swiss Tencel Micro is versatile and is used for luxurious intimate apparel and lingerie, hosiery, sports and casual wear, blouses, bed linen and down and fibre proof fabrics.
Bühler says that all common yarn counts for knitting weaving are available in the range Ne 20 – 60 [Nm 34 - 102] and S-twist yarns are available upon request.
Micro Tencel is spun from fibres made from Eucalyptus wood pulp certified by the Forest Stewardship Council and the wood is processed in a 'closed loop' system recognized by the European Union as both safe and sustainable.
Bühler's new AirJet spun yarn, which is made in Switzerland, has also been certified according to the Oeko-Tex Standard 100, a rigorous testing, auditing, and certification system for environmentally friendly textiles. The yarn is made from 100% Lenzing Micro Tencel 0.9 dtex fibres of 34mm length.
This article is also appears in...