30th November 2010, Gurgaon, India
Taiwanese knitters to increase exports to India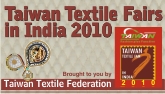 Taiwan, a major textile exporter of knitted textiles, known for its innovative and functional fabrics, once again targeted the Indian market last week with the 9th edition of the Taiwan Textile Fair 2010 in India. The trade fair, which has just opened at the Source Zone Fair in Gurgaon, 30 km south of New Delhi, has been organized by the Taiwan Textile Federation and the Bureau of Foreign Trade. Earlier this month editions of the Taiwanese trade fair were also held in Bangalore and Mumbai.
The Taiwan Textile Fair 2010 aims to help the country's manufacturers promote a variety of products ranging from knitted fabrics in jacquard, lace, mesh and jersey constructions to sports and functional socks, stockings, tights, pantyhose and gloves. Other products on exhibit will be functional fabrics for outdoor and sportswear.
Top Taiwan exhibitors like Orientex Precision Co.Ltd, Golden Fiber Co.Ltd, Ea Chen Textile Corporation, Holiday Young Laces & Trimming Co Ltd, are said to be highly satisfied with the increased business opportunities provided by the Bangalore and Mumbai fairs. Top Indian buyers like Chennai Silks, R.K. Textile, Siyaram's, Gokuldas Images Private Ltd, Karle Group, Madura Garments, Arvind Mills, Eastman Exports, Gogo International, Orient Craft and Blackberrys visited the fairs held in Mumbai and Bangalore.
Rita Menon, Secretary- Ministry of Textiles and Honorable Taiwan Representative (Ambassador) inaugurated the Taiwan Textile Pavilion. Addressing the press conference, Menon said, "We welcome all the dignitaries from India and overseas to this fair. We hope that with such events we would be able to strengthen the textile industry of the country."
Commenting on the Gurgaon fair, Jennifer Liu, Project Manager, Taiwan Textile Federation said "Last year the fair had generated US$ 1,500,000 worth of business and this year we are expecting 20% additional business. Annually, on an average the Taiwanese Textile companies generate business close to US$ 8,200,000 from India and we aim to provide a platform for a sustained business relationship for both countries".
This article is also appears in...