Elizia Volkmann interviews the winners
This year's winners of the Interfiliere's "Designer of the Year" are Austria based Willy Hermann and Hanro of Switzerland for their commitment to innovation and design. Willy Hermann produces 300 fabric innovations per year and as Stefan Hohman, CEO of Hanro of Switzerland said when receiving his prize: "Hanro really is a fashion company with colours that are ahead of lingerie."
Currently there is a soft revolution in textiles - consumers, and women in particular are investing in comfort and softness. Knitting Industry's Elizia Volkmann interviewed the key people in these two companies who have lead the way in super-soft fabrics.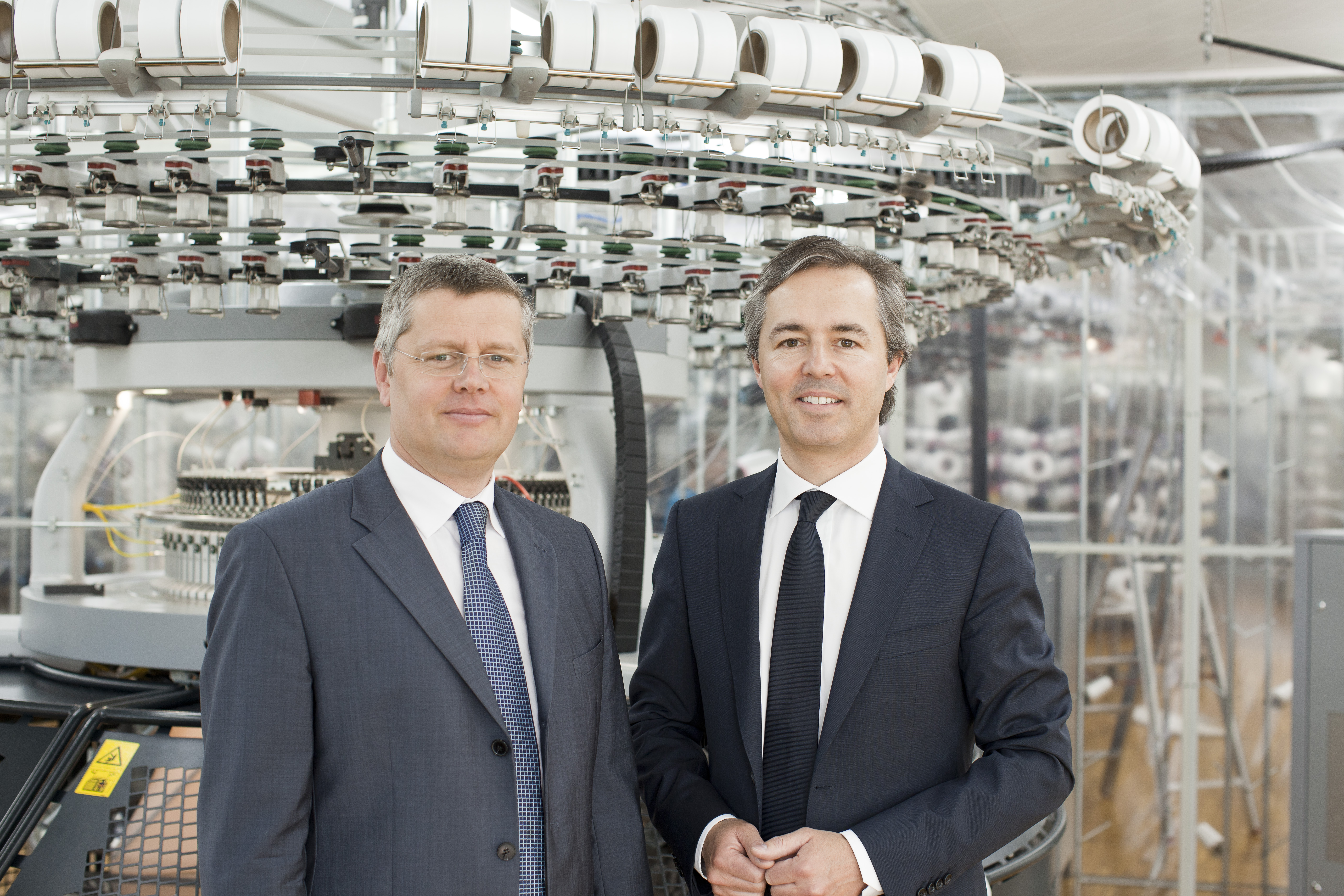 A family run business, Willy Hermann is like no other mill, it's workshop floor is more like an artist's loft with clean white walls, and wooden floors and quiet knitting machines. The company is lead by Ralph Hermann leads up the technical and product development side, whilst brother Martin leads on finances. The bulk of their knitting 70 – 80% is for the lingerie market with 5 – 10% of women's outerwear 5-10% for swimwear and a growing area of technical textiles for mostly the automotive and medical industries makes up the remaining 5 -10%. Their journey towards their now famous Superfine fabrics began in 1999. "Superfine started with a crazy idea," says Ralph Hermann.
2000 saw them begin with gauge 44 knitting Supima cotton with elastane. Their breakthrough year came in 2005 with their "liquid gold" knitted at gauge 50 with finest micro-modal and 7% Lycra. Their experiments with gauges have gone up and up to a staggering gauge 80 creating lighter fabrics with different properties.
"We were pushing machine builders more and more towards borders. We could see what we could be done and what could not be." says Ralph, "[Now] we do intensive development with the yarn people."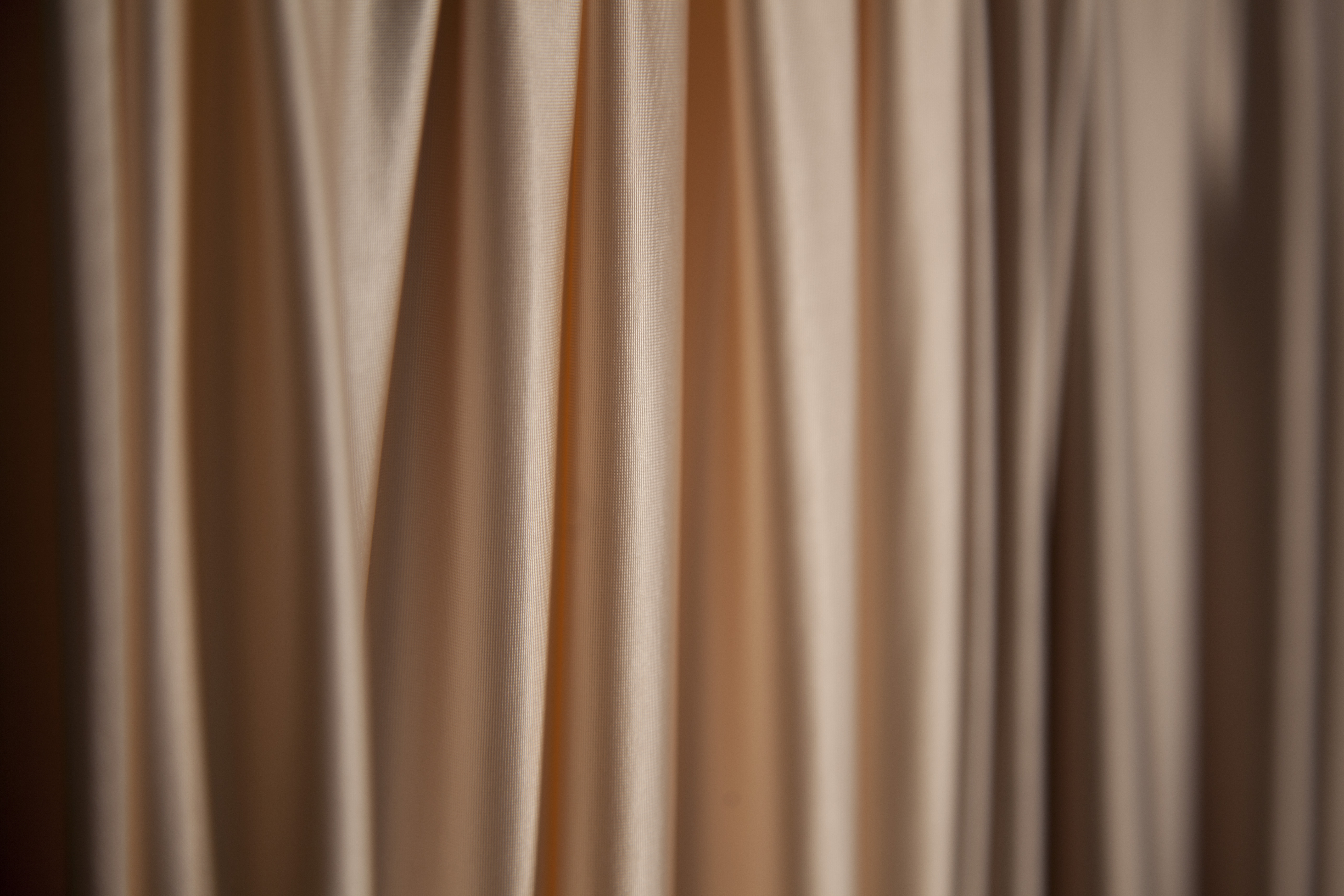 The machinery involved is constantly monitored and adapted by the Willy Hermann technical team. Ralph says that what is vital is a: "preventative maintenance regime. We know the lifespan of a [knitting] needle, so [we replace] before we have a problem. It's hellish expensive but the worst thing that can happen to us is that there is a defect in the customer's fabric. Changing a needle requires watchmaker's tools."
"Jacquard means you can steer the needles of the machine, this is from the computer and the steering, it's very very difficult." Willy Hermann began to develop jacquard fabrics for sportswear. "We were doing wind tunnel testing, it's the golf ball effect, these 3D jacquards reduce wind resistance." says Ralph Hermann. It's one of their most technically demanding processes:
Their success in creating their high gauges, set new challenges. "We started to invest in dyeing in line with Superfine," says Martin Hermann. These super-fine densely knitted fabrics, presented new challenges to the dyeing process, "We realised that we needed a dye house that could handle this and we realised that we had to do this on our own." Willy Hermann bought Profortex - a dye house based in (former East) Germany in 2011. "It really came to life in our business after the fall of the iron curtain." Says Ralph Hermann. "We then enlarged it, doubled the size, renewed it to suit the superfine gauge knit." They use Jet, Airjet, Roto and TRD-dyeing machines of the latest generation.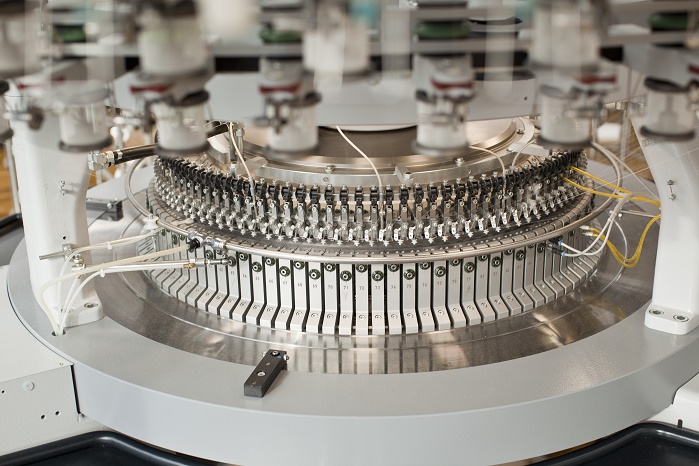 Key issues in dyeing are: dye penetration of such fine and densely knit fabrics, fabric elongation and the delicate nature of the fabrics and the heat levels in the fixing process. Ralph notes the need to be: "sensitive and sensible with such a fabric and consider what measures you have to take alongside the process [in order] not to damage it."
The dye house is in Germany employing some 110 people and 20 dyeing machines which each take 25 rolls of fabric, specially optimised to dye even 60-gauge jacquard. Martin Hermann says that: "Dyeing such a fabric really is an art," he adds that, "dyeing is extremely critical from an environmental point of view. We think this is the best waste water treatment plant on site controlled by ourselves."
Predicting trends and innovating has kept the brand ahead in the market, Ralph Hermann says: "There is a definite trend into functionality whatever functionality means [e.g.]: moisture management, handle and feel. There is a trend towards high class naturals micro-modal with a touch of silk, some cashmere components, they are not exclusive to each other. There is obviously a stream of development that is refining "fineness"." He also predicts a merging between lingerie and sports fabrics, Ralph says: "lingerie = soft, sports = functioning, so the merging of these two areas is a priority."
Hanro
Hanro grabbed the world's attention in Stanley Kubrick's film "Eyes Wide Shut" when Nicole Kidman sported their flagship spaghetti strapped vest top which encapsulates the Hanro DNA: simple, elegant and all about the superfine, super-soft fabrics. No wonder their clothes are loved by A-listers like George Clooney and stocked in some of greatest department stores in the world such as Harrods and Fortnum and Masons in London.
Owned by the Hubergroup, Hanro has the feel of a caring family business. Stephen Hohmann the Managing Director and CEO of Hanro says, "I'm very close to the brand, it's a small international brand."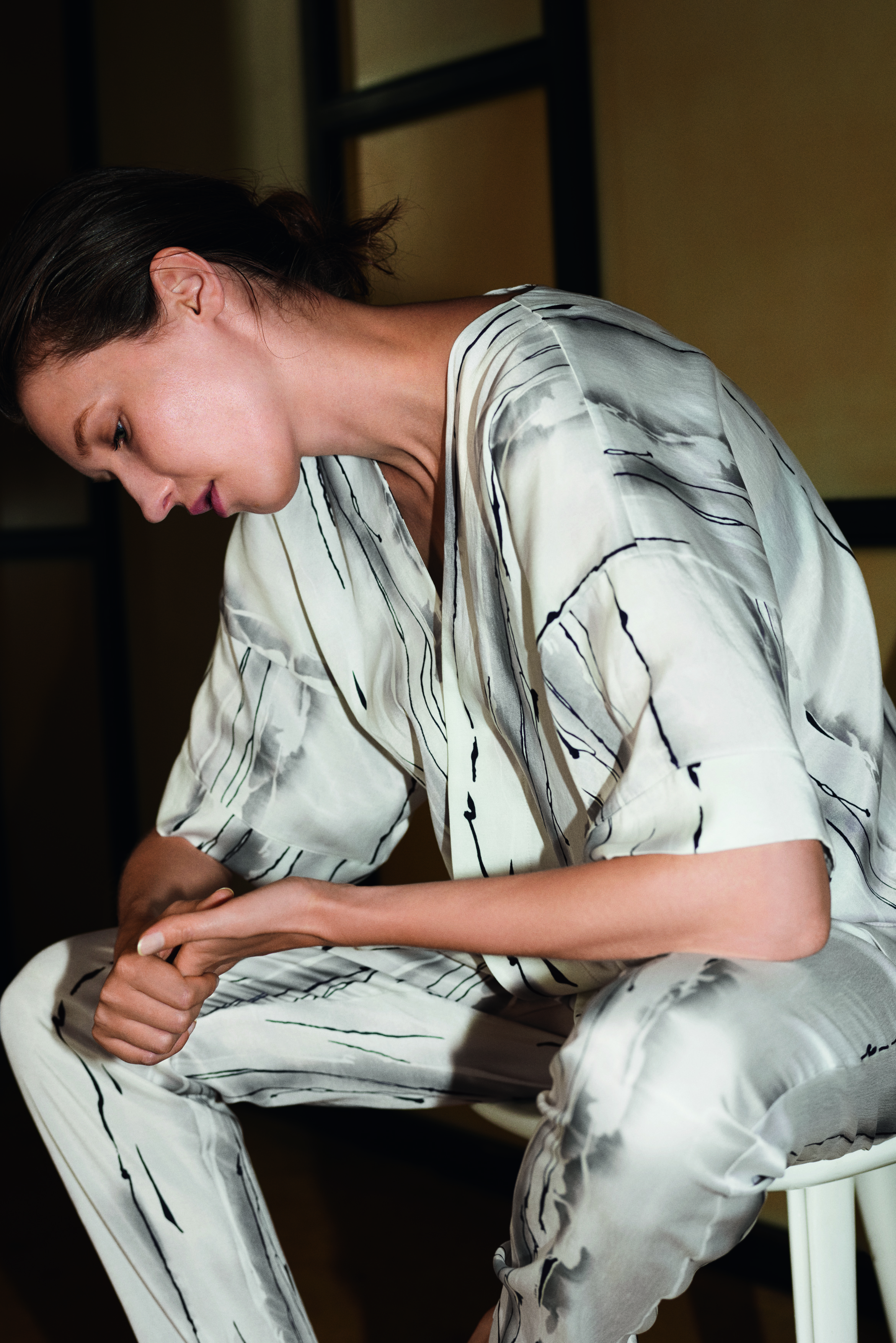 Hohman showed Knitting Industry around the production line which is the secret of Hanro's success. Quality is essential. Senior Designer: Maria Kasbah says that: "we use mostly cotton, Supima is the lowest quality we use, Giza (Egyptian Cotton) and Sea Island is the top. 70% is cotton then there are mixes with cashmere and then there with Micro Modal for nightwear."
Hohman says that: "All our yarns come from Switzerland. 90% of fabrics are produced here [at the Hanro factory in Switzerland], the source of the cotton is very reliable. We also work with textile designers, we change things we design for the next season" he notes that: "many fabrics we use for a long time, for night wear it is interlocks, we want fluid falling night gowns".
Kasbah says that their customers say: "They have taken control of the whole process for ultimate quality control. Hanro have been investing in the processes needed to make the perfect fine cotton jersey including their own mercerisation process to make the yarn as straight as possible for super smoother knitting and special processes to de-hair the short cotton hairs.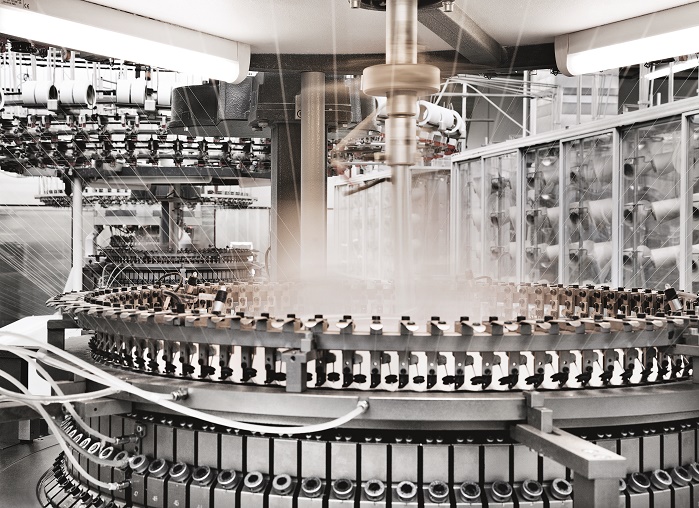 Their biggest investment has been their dye house facility. Hohman proudly shows off what he refers to as their $1million machine, "we invested another million to make it work", says Hohman. "Our black is probably one of the best in the world, our black stays black and that is important for the customer." Although the superfine cotton jersey is the house staple, Hohman says that: "we do not close our eyes to new fabrics."
Central to the Hanro DNA is their design is fusing classic styling with creative research. Sandra Grabher part of the lingerie, nightwear and loungewear design team says: "We go on City trips to major cities like London, Paris and Stockholm. We talk to sales teams for feedback. We really like to get inspired by what is going on." She continues saying, "Colour is so important it is the first thing for the customer sees on the floor, second is handle, third is style, then fit." Senior designer Marija Kaspar adds that: "We have to imagine how a collection will look together, our concept is a full concept, ­­­­so it is mix and match."
As well as the classic solid colours they have been introducing print. "Hanro is very strong in doing the basics in the fashion colours. We have pattern making in house and we are quick so we can fit ten times a season."
"We do special lines [ such as "Adele"] for Harrods. They want something special from Hanro." Kaspar states that the inspiration is, "The painter Gustav Klimt and his famous gold portrait paintings. The styles are simple; they are softly skimming the body for an elegant look." The collection uses Italian silk and French lace from Calais."
Kaspar asserts that: "Nightwear is fashion. Different shapes are coming in nightwear much more modern."