14th September 2011, Minneapolis
Target website crashes on Missoni launch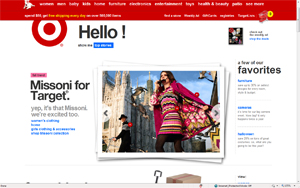 Cheap chic US based retailer Target's entire website crashed yesterdaywhen it launched online sales of its limited offerings of Missoni for Target, in a partnership with the iconic Italian luxury knitwear designer.
"The collection, which includes plates to clothes, is a fraction of the price of the real duds. Items include a dinnerwear set, priced at $31, featuring the trademark zig-zag patterns, $29.99 silk floral dresses and $12.99 bath towels," a USA Today reports said.
Minneapolis based Target posted a message on its website after it crashed:
"Woof! We are suddenly extremely popular. You may not be able to access our site momentarily due to unusually high traffic. Please stay here and we'll try to get you in as soon as we can!"
Target is known for creating a lot of hype for its limited partnerships with designers and fashion brands, including a successful campaign with Liberty of London earlier this year.
Missoni is known for its iconic zig-zag striped knitwear the fabrics for which are produced on both raschel and flat knitting machines.
Source: USA Today
This article is also appears in...