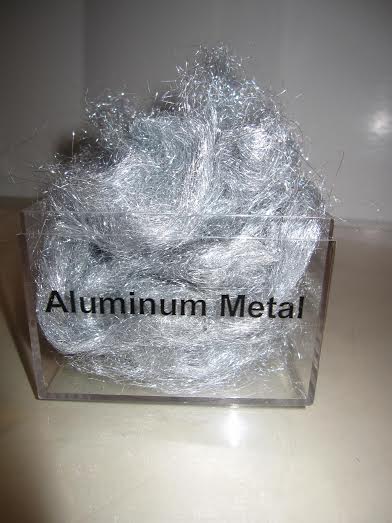 SPINEXPO, the premier show for yarn spinners and knitters, has never rested on its laurels. The recent New York edition, held July 21 – 23, made a bold move away from midtown Manhattan to the spacious and light-filled Brooklyn Expo Center. With some 43,000 sq. feet of space, the venue accommodated 98 exhibitors, including an increased number of knitwear manufacturers as well as spinners, from 14 countries.
The show registered 1,422 visitors from 20 countries, compared with 1,392 visitors for the previous session.
The growing number of knitwear manufacturers exhibiting at the show reflected the organizers' emphasis on collaboration between spinners and knitters within the industry. Collaboration was also illustrated in the wide range of designers and organizations contributing to the trend displays, which focused on concepts for Autumn/Winter 2016/17.
Developed by London's Sophie Steller Studio, the SPINEXPLORE trend forum emphasized "Dimension" in colour, yarn, surface, and garment form. Plasticized or metallic yarns and coatings, weft insertions, laser cutting, embroidery, and lace structures updated traditional yarns; and the use of new technical processes and innovative manufacturing methods such as 3D printing and enhanced finishes were evident in the displays of sculptural garments, footwear, and knitted fabrics.
Garments from the Final Collections of Nottingham Trent University's Fashion Knitwear graduates featured yarns from several of the exhibitors, including AA Global, Armonia/Sinfonia, Biella Yarn, Consinee/Topline, Novetex, Regal, UPW, and Winning Textiles.
With athleisure dressing a hot topic, perhaps the most timely trend display was entitled SPINACTIVE. Created by designer Eva de Laat, an active wear specialist based in Beijing and Amsterdam, the knitted garments were realized by Santoni at their Shanghai headquarters. Worked in stretch, functional, recycled, reflective, metallic, dimensional, and merino wool yarns, the sculptural and body-mapped garments made the most of the seamless capabilities and stitch variations offered by the Santoni equipment.
The exhibitors also looked to technology to develop more specialized product for an increasingly demanding consumer. This included enhanced ranges of stock colours, along with innovative spinning techniques resulting in dimensional colours, textural effects, and improved wearability.
"Everybody is looking for something special--this is the big opportunity for the future," insisted Andreas Diebenbusch, sales director for Biella Yarns/Südwolle, which offers 225 stock-supported colours in its worsted merino extra-fine.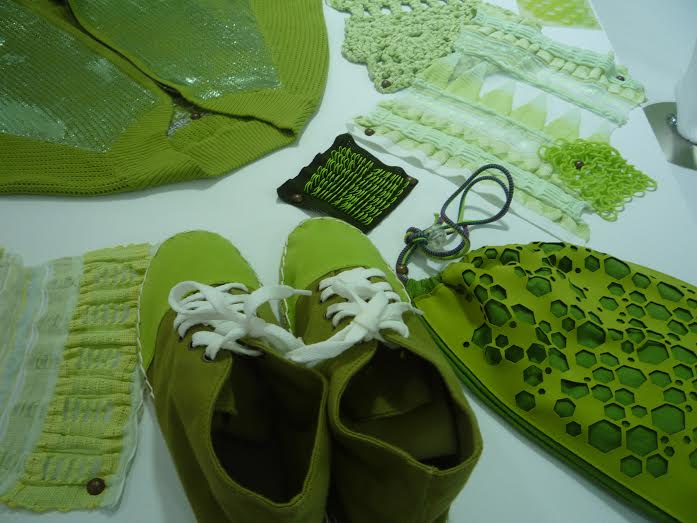 Biella's spinning technology was evidenced in Wallaby, a merino-based yarn wrapped with polyamide for a more technical hand and clean surface, especially appropriate for seamless and warp knitting. Another new yarn, Ascot, featured a very clear surface, natural stretch, and good pilling resistance due to the soft twist spinning technology. Using 15.5µ, super-fine 160s merino, the Nm 2/60 worsted yarn was a less expensive alternative to cashmere.
Biella Yarns as well as Südwolle's other brands are expected to benefit from the company's new Naturetexx Plasma treatment for washable wool. The environmentally sustainable treatment is an alternative to the standard Chlorine-Hercosett superwash process, and is said to result in washable wool with the same or better strength, pilling resistance, and moisture management, compared with the standard process.
At Hong Kong-based UPW, "We have fallen in love with wool again," said creative director Stephen Trigg, inspired by the dimensional colours of archival Shetland yarns, and the artistry of hand-crafted textiles. The company's huge range of stock colours was combined with fancy twist options and small minimums to offer "creativity on demand."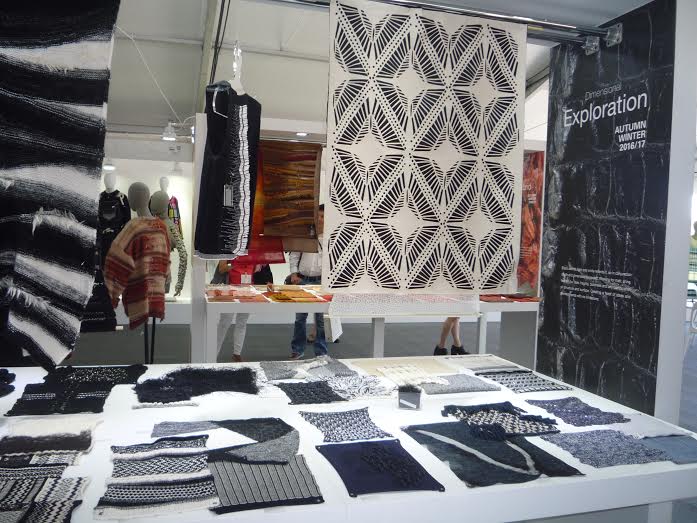 For example, a cashmere/lambswool blend called JOY included crepe and metallic variations; whilst Inspiration, an alpaca/merino blend, was available in moss, bouclé, or space-dyed twists. Technical cashmere moved forward with UPW's machine washable versions; Cashmere Caress was spun with 20% PVA which washes out during processing to deliver a super lightweight, super soft product.
UPW pushed further into tech territory with its blends of cotton/copper and cotton/Outlast/silk, as well as more rugged wool/recycled cotton blends. "We are looking into molecular technology to advance the customer's experience," said Trigg.
Technical yarns can also be beautiful, as evidenced by Meadowbrook Inventions' new aluminium and copper Angelina® fibres. The luminous fibres, which can be spun with other fibres to create yarns with glowing, high-tech effects, were also said to provide a number of performance features. Angelina® aluminium fibres are over-dyeable and have anti-static and temperature regulating properties; while the copper fibres are anti-microbial and anti-inflammatory as well.
Technical yarns were also in evidence at Yarns & Colors. While the high-end Chinese spinner/knitter is known for its luxurious cashmeres and silk blends, it has recently ventured into colour change yarns, as well as light and fluffy air spun polyamide in solids, heathers, and tape yarns; and stretch viscose, corespun with PBT.
Venerable cashmere supplier Hebei Wilson moved into woollen spinning some years ago, and recently purchased 12,000 worsted spindles from Italy. While it is known for its classic cashmere, super-fine merino, and blends with lambswool, alpaca, camel, and yak; the company is on track with its new technical blends of super-fine merino and micro-denier polyamide with a cashmere-like hand.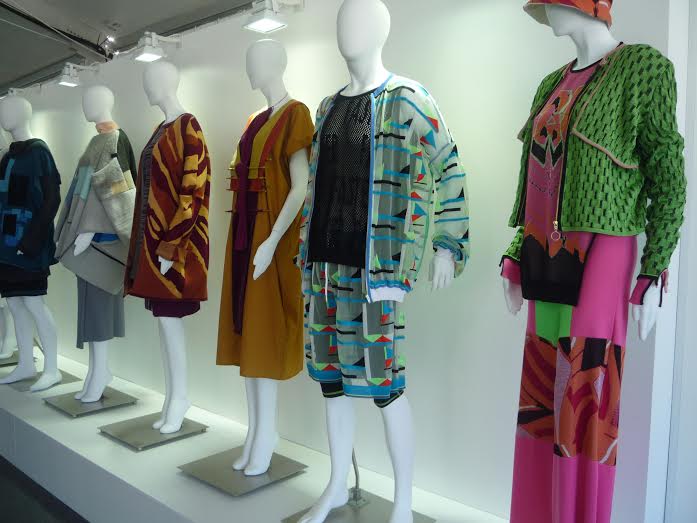 "We start with the natural fibre and work to find a competitive price solution with a technical fibre," explained Wilson director Donald Lok.
At Novetex, extra-fine merino spinning was tweaked to create a washable yarn with a softer hand and cleaner face. Senior sales and marketing manager Max Ng revealed that customers were requesting high twist yarns, as well as vintage-inspired marls, irregular thick/thin yarns, more complex melanges, and wool/linen blends; while denim look yarns in 100% cotton were "selling out first."
The company will soon launch a new technical line called IDN, or Innovative Development by Novetex. According to Ng, the new endeavour will employ new spinning techniques for ultra-fine merino as well as functional yarns such as CoolMax and Thermlolite; and recycled cotton, wool, and cashmere, processed in-house from waste cuttings.
"We are using technology to return to a more comfortable life," said Tina Lee, deputy general marketing manager for Huafu Top Dyed Melange Yarns. Huafu's dyeing and spinning technologies create heather yarns with effects ranging from vintage to denim to space-dyed.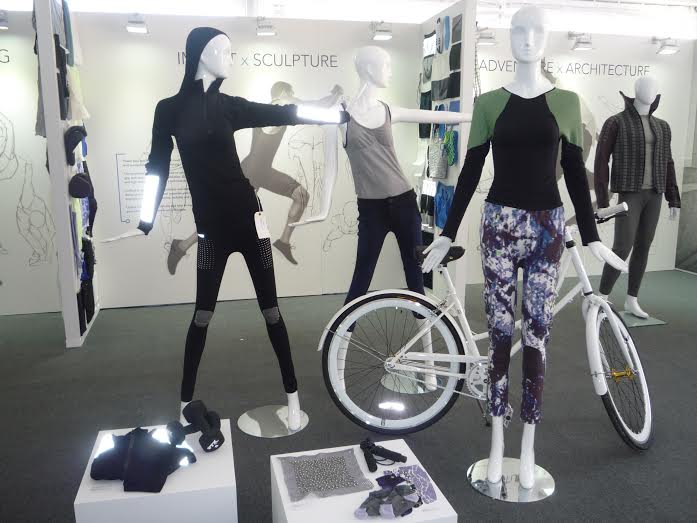 The company is China's biggest spinner of organic and BCI cotton, and has recently enlarged its spinning capacity in Xinjiang province to meet the growing demand for melange yarns, as well as investing in a Vietnamese factory in anticipation of the passage of the Trans-Pacific Partnership (TPP) trade agreement.
At its best, technology worked to improve, rather than replace, the classic luxury of noble fibre yarns. At Consinee, exquisite fibres were spun in an array of textures and dyed in fashion colours. These included baby cashmere in 36 colours, spun in Nm 2/28 of fibres less than 13-14µ; super-fine cashmere in Nm 2/48 and 2/36; and Apollo, a blend of baby wool, yak, and cashmere. Introduced last year, Aurora 100% cashmere with a Donegal nep was the hit of the season, and the range has been expanded to 18 colours.
Creative director Jane Sked called the Topline range "a cashmere fantasy," including bouclés, tape, felted, and plush yarns for cardigans and coats; with the athleisure trend driving interest in cashmere or merino spun with elastomeric or stretch polyamide. Kid mohair was blended with silk, merino, or synthetic fibres to create fluffy or gauzy yarns, while alpaca and yak blends were updated with stretch or sparkle. Recycled indigo fabrics from Asia informed Topline's casual collection of wool blends with denim and space-dyed effects.
The next edition of SPINEXPO is slated for September 1 – 3 in Shanghai at the Shaghai World Expo Convention & Exhibition Centre. The organizers have also announced a European version of the show, to première July 6 – 7, 2016, in Paris at the Cité de la Mode.