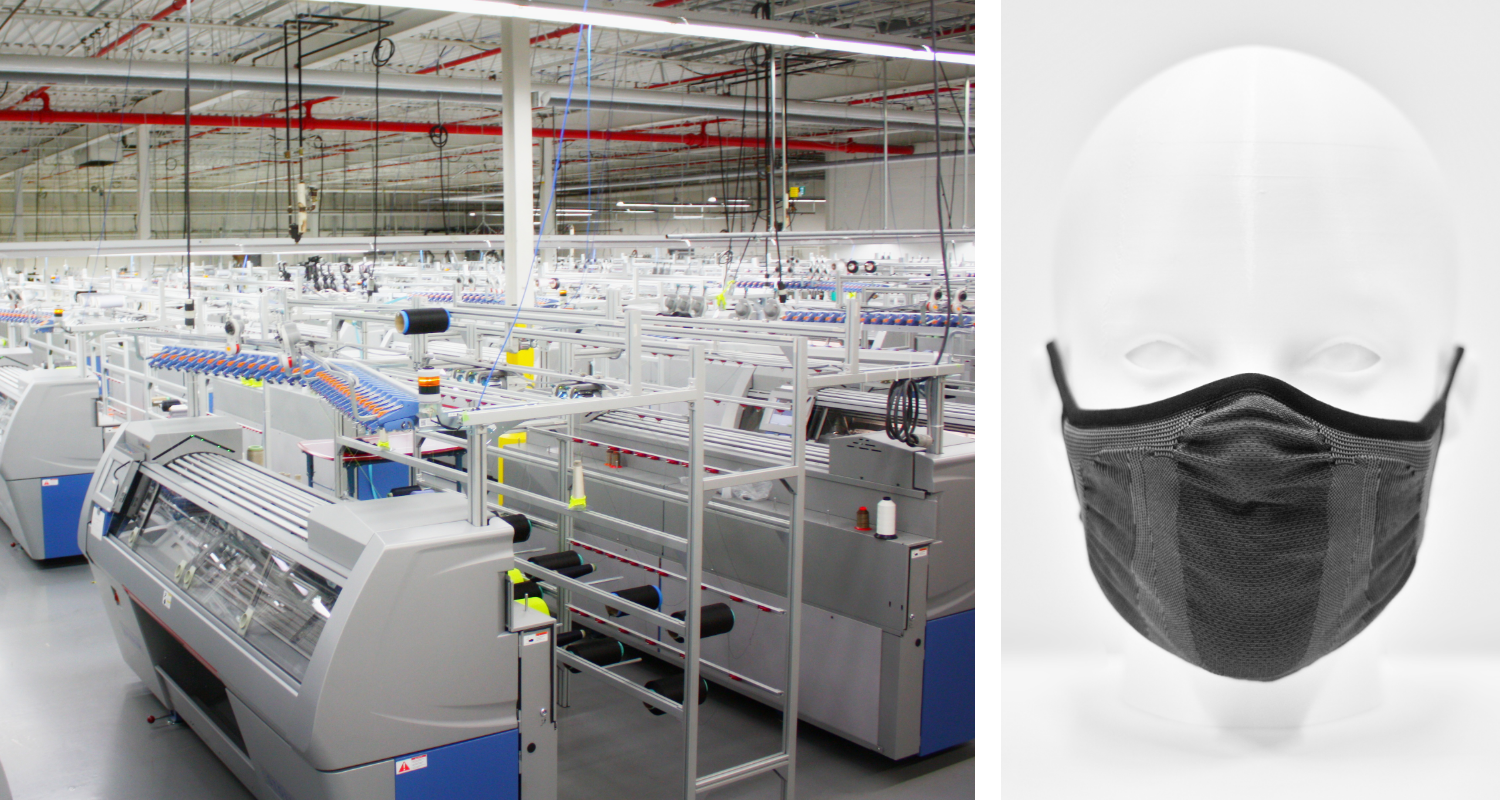 © Myant.
By redirecting its textile innovation expertise and reconfiguring its 80,000 square foot manufacturing facility, Toronto based Myant is ready to produce up to 340,000 masks per month, with plans to expand capacity to 1 million masks per month, providing relief for mask shortages in communities across the city, the province, and the country.
Myant, a leader in textile computing, recently unveiled a new line of personal protective equipment (PPE) that is now under production at its facility based in Canada. The reusable, washable textile face masks (now available at http://www.myantppe.ca ) were designed to provide superior safety, comfort, and practicality for frontline workers in the community as well as everyday people who need to run essential errands in their neighbourhood.
With the ability to produce over 340,000 masks each month and significant capacity increase in the works, Myant is ready to help governments, businesses, communities, and individuals protect the people they care for against COVID-19.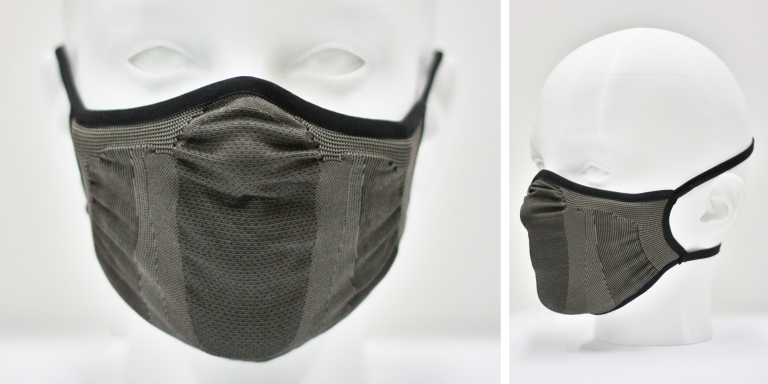 As the COVID-19 pandemic grew to disrupt daily life for people around the world, the company quickly looked for ways to help society. Known for its unique expertise in functionalizing textiles to do more than simply dress, Myant asked its R&D team, designers, engineers, and textile experts to devise a solution that keeps people protected against viral threats like COVID-19.
The team says it looked at the shortcomings of existing mask designs and leveraged its deep knowledge in fibre science to produce a line of washable, reusable masks that incorporate the known antiviral properties of copper and silver. The masks, which were designed to be consumer-grade masks suitable for everyday use (as opposed to N95 respirators), feature a double layered construction, incorporate antiviral materials, and are designed to comfortably and effectively cover the mouth and nose area.
Since the masks are washable and reusable, the use of textile masks can also help alleviate the mounting environmental crisis generated by disposable single-use masks. The masks are currently being tested with the help of research partners at the University of Toronto to further validate the efficacy of the designs and materials.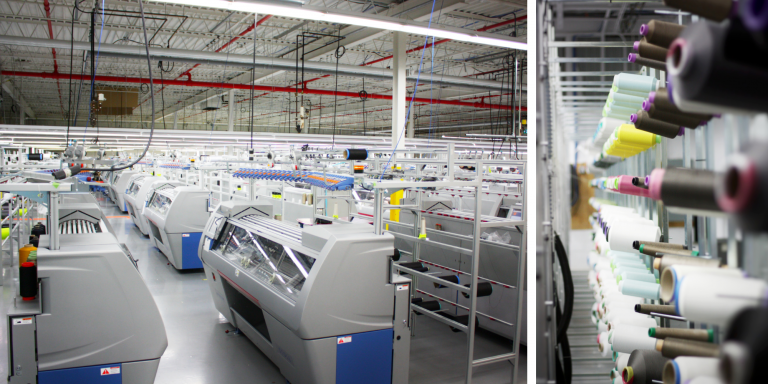 © Myant.
Made in Toronto
Known as an end-to-end textile solutions provider, the company rapidly turned these designs into reality at its 80,000 square foot manufacturing facility located in Etobicoke, Ontario. With the large number of state-of-the-art knitting machines reprogrammed to support this initiative, Myant is capable of producing over 340,000 masks a month, potentially alleviating the mounting shortage of face coverings needed not just in the midst of the pandemic, but also in the future, when entire communities take the tentative steps towards a new type of normal life. Plans for increased capacity would allow the company to increase production to more than 1 million masks a month as well as other types of PPE such as gloves.
The entire process from design to ramping up the mass production of these masks spanned just a few short weeks. As the knitting machines work non-stop to keep up with the demand for the first line of masks, the innovative team at Myant is already deep into development on its next line of masks, working closely with partners in academia and in industry both in Canada and in Germany. The new professional-grade masks being designed are meant to offer healthcare professionals with a washable and reusable alternative to single-use medical masks and respirators. These new designs are expected to be available in the coming weeks.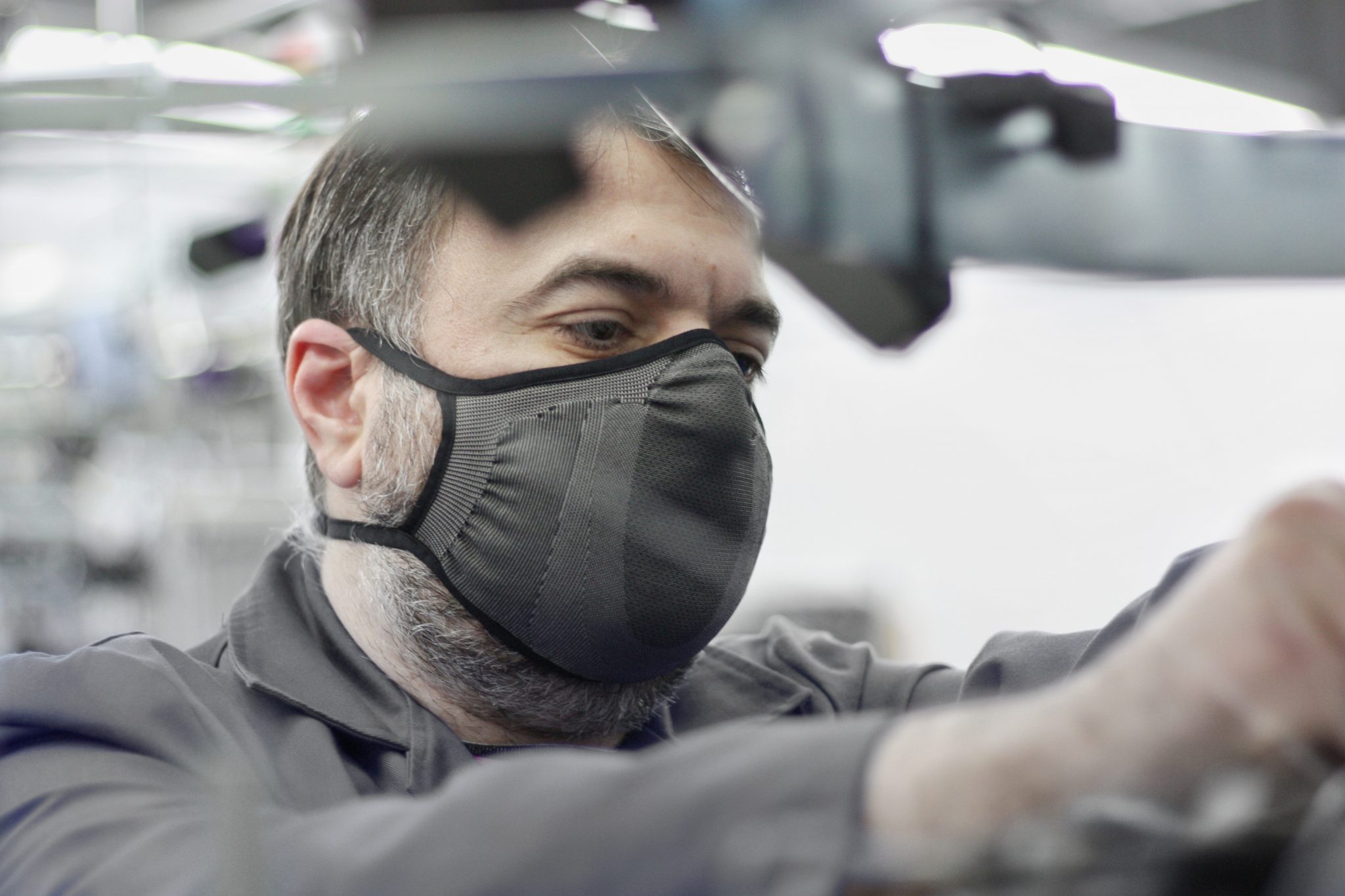 © Myant.
Responsibility towards a safer kind of "normal"
According to Myant, guidance from health officials in Canada, the United States, and from the WHO all suggest that wearing masks in public is one of the key prevention measures that can help a community to limit the spread of COVID-19. "While some of the preventative measures, like social distancing may not become ingrained parts of our culture in the long run, other measures like frequent hand washing, are already part of our normal daily routines based on past experiences with infectious diseases," Myant adds.
"Such is the case for mask wearing in Asian societies that were hardest hit by SARS in 2003. The wearing of masks has become a "new normal" in places like Hong Kong, where mask wearing is seen as an personal act to help protect the health and safety of the entire collective," the company says.
"This sense of responsibility needs to be applied on an individual, community, and societal level to help limit the spread of infectious diseases. Those in our society who may have the greatest potential impact on limiting infectious diseases are likely frontline community workers, those whose occupation requires frequent close contact with other people (such as transit operators, police officers, etc.) or those who frequently handle goods and materials that are passed from one person to another (such as workers in retail, restaurants, food processing, etc.). People who serve these roles in society and the organizations that employ them (be they private or public sector entities) may need to start thinking about their responsibility towards developing a "new normal" which is safer for everybody."

Tony Chahine, CEO of Myant. © Myant.
"By showing how one company can make a difference to society at large, we hope that we can inspire people across communities to recognize that each individual and organization can play a role in fighting COVID-19."
As the COVID-19 pandemic spread across the world, Myant knew that it needed to leverage its existing expertise in textile innovation to play its part to protect the vulnerable segments of society. "Changing things around to help with this pandemic is a natural extension for our company and this is why we were able to move fast," said Tony Chahine, CEO of Myant. "Many people ask 'What can I possibly do in the face of this worldwide crisis?' By showing how one company can make a difference to society at large, we hope that we can inspire people across communities to recognize that each individual and organization can play a role in fighting COVID-19."
For more information about Myant's line of innovative PPE, please visit: https://www.myantppe.ca