26th January 2018, Munich
Tintex showcases Naturally Advanced innovation at ISPO
Portuguese knitted fabrics producer Tintex Textiles will present its latest active fabric innovations at ISPO in Munich, the world's leading trade fair for the sports business industry, which takes place this weekend. Tintex will show more than 80 new jersey fabric qualities and styles designed for the sportswear and athleisure categories, as well as for the fashion and second skin sectors.
Tintex' new Naturally Advanced position means: "Advancing beautiful, organic and natural materials to the next level combined with unique, hybrid 'nature-tech' smarts, with added value and creativity, thanks to dedicated investments that serve and secure our customer's demands both now and in the seasons to come," says CEO Mario Jorge Silva.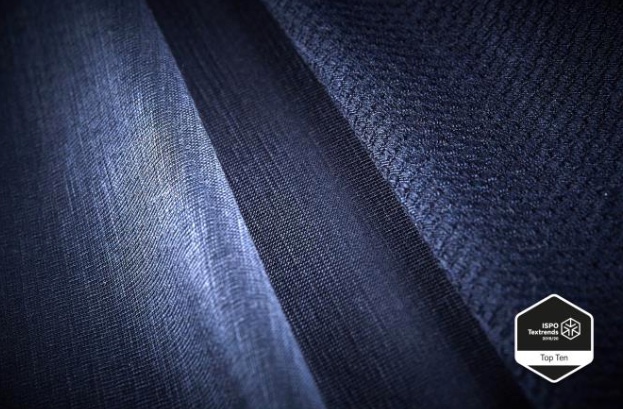 "The new fabric range maintains and upgrades the honest, hi-tech and sustainable organics that are at the heart of the Tintex DNA for better, smarter eco-materials with new levels of performance and hi- tech smarts. This is thanks to a first-class expertise in people combined with specialist dyeing and finishing techniques, coatings and applications that use the latest research, equipment and processes to deliver it."
The Tintex collection uses up to 90% of 'smart and sustainable' materials using Tencel, Modal and Micromodal, Seacell fibres, natural organic linens and the Naturally Advanced cotton collection by Tintex, including organic cottons, supima cottons, BCI cotton and a range of full- colour yarns called Ecotec by Marchi & Fildi, a smarter cotton made from pre-consumer clippings that save up to 79% water during manufacture.
This season Tintex is also introducing a new, finer Ecotec yarn called Phoenix, also GRS certified, being made from 50% Ecotec cotton and 50% recycled polyester. And while wellbeing credentials are guaranteed with the Ecotec Tessile e Salute certifications, Tintex is also showing new active stretch developments with the Roica Eco-Smart family of more sustainable and certified stretch yarns. This Roica family of premium stretch yarns are a world-first, GRS certified quality with at least 50% of source material being recycled from pre-consumer waste material.
The newest high performance introduction for next-to-skin and athleisure qualities products uses the Roica Feel Good family and in particular Tintex has chosen the premium stretch innovative Roica CF (Clean Fit) yarn offering a real and durable 'natural' solution conferring an active smart odour neutralizer property to every wearer thanks to the fact that its active ingredient is locked inside the yarn.
For colouration effects, the Tintex range uses the Roica Colour Perfect family of yarns that deliver an even, flawless colour surface with a responsible finish for all its new performance stretch fabric designs.
Key highlights include shot effects in both yarn and piece dyed assortments with activated thermo- sensitive colour coatings, UV protection coatings and dynamic print patterns as well as new, extra-fine, lightweight jerseys, contrasted with flexible fit and performing compacted qualities as well as new colour techniques that deploy the benefits of chromotherapy for wellbeing alongside skin safe materials and finishing innovations.
Active highlights offer a full range of weights and styles that make up an adaptive multi-layered offer from base layers to outer shell qualities, each having added value formaldehyde free coatings, laminations, colourations and finishing that deliver high performances combined with new 'eco-smarts'.
This season Tintex can boast an additional confirmation about its commitment to responsible innovation: the STeP by Oeko-tex certification, that now goes together with the previous ISO 9001 and ISO 14001. Last but not least: Tintex Textiles garnered its second 'ISPO Best Product award' in the TexTrends Soft Equipment category, for fall winter 2019/2020 for its circular economy centric B.Cork material.
This article is also appears in...