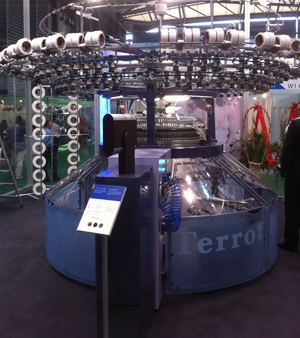 Circular knitting machine builder Terrot will be exhibiting the latest version of its S296-2 high speed single jersey machine for elastane plaiting at a forthcoming machinery showcase in Indonesia.
The German company will be exhibiting at INDO inter TEX 2012 together with its local partner PT. Primatek Technologies and invites fabric producers to visit its booth to see the latest Terrot S296-2 machine in action.
INDO inter TEX 2012 is being held at the Jakarta International Expo-Kemayoran, Jakarta, Indonesia from 19-22 April 2012 and combines the 10th Indonesia International Textile and Garment Machinery & Accessories Exhibition) with INATEX 2012 (10th International Textile, Fibres, Yarns, Fabrics, Garments, Home Textiles, and Textile Accessories Exhibition) shows. The exhibition covers approximately 14,000 square meters.
Terrot S296-2
The S296-2 is available in the following specifications:
Knitting technique: single plain/ single structures/ high speed
Number of needle tracks: cylinder 4, sinker cam 1 3.2 feeds per inch Gauges: 12-54 (gauges 44-54 are new)
Diameters: 26-42 inches
According to Terrot, the S296-2 offers outstanding flexibility and efficiency in the production of different knitting structures with up to 4 needle tracks and its ideal distribution of 109 feeds over 34 inch diameter is proven in practical day-to-day operation.
Central stitch adjustment is said to guarantee easy handling and reduce fabric style change times and fabric quality is said to meet the highest quality standards. The S296-2 has a main drive power capacity of just 4.0 KW which Terrot says is low compared to its competitors 7.5 KW capacities. Enclosed needle tracks enable high machine speed and production output.
Benefit of S296-2 upgrade
Terrot says one of the main benefits of the upgraded S296-3 is the machines' outstanding flexibility and efficiency in the production of a wide range of yarns, different weights and fabric structures within the field of elastane plaiting.
"Its customer proven for processing both cotton and synthetic yarns on the highest level of performance and its advanced central and individual stitch adjustment with more precise scale unit enhances accurate stitch adjustment," a Terrot spokesperson said.
"In addition the S296-2 has a complete re-engineered knitting head with convertible low cost new cylinder needle. The knitting head also has positive needle guidance in cam curve - needles are guided smoothly for less wear and tear and high machine speed." the company said.
The S296-2 also has new wear resistant zirconium yarn carriers with Spandex rolls for high quality plaiting which are said to prevent fluff accumulation.
Machine features for exhibition machine
Model: S296-2 Diameter: 34 inch Gauge: E 28
Number of feeders 109
Number of needle tracks 2
Knitting structure: plain single jersey with elastane
Yarn CV Nm 50/1 (Ne 30s)
EL dtex 33 (den 30)
Fabric applications: sports & leisurewear/ underwear/ swimwear/ medical textiles/ technical textiles/ home textiles/ automotive fabrics
This article is also appears in...