19th February 2009, Chemnitz
Terrot hopeful for Tirupurs Knit-tech
German circular knitting machine builder Terrot is to take part in the Knit-tech exhibition which is due to take place from the 20th to 23rd of February in Tirupur's Hitech Tirupur Exhibition Centre, T.M Poondi,India.
Together with its partner Voltas Ltd the company will exhibit two recently designed and developed machines at booths D29 to D31 & D34 to D36 in the Voltas Pavilion in Hall No. 1.
Terrot will exhibit its S296-2 high speed single-jersey machine for high quality elastane plaiting for best price-performance ratio in 30 inch diameter, 24 gauge and 96 feeders.
The two track S296-2 on show will run at a speed of up to 35 rpm whilst producing a cotton fabric with an unfinished weight of 2116 g/m. The unfinished fabric width is 170cm and the machine will produce 24 kg/ hour.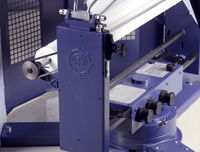 With the recent launch of S296-2, designed to meet the needs of the Indian market, Terrot extended its portfolio once again. The machine has been designed with low capital investment in mind along with low running costs and Terrot says it has ensured that the new model maintains high fabric quality without compromising productivity. In addition, Terrot says it has ensured that all other aspects of the S296-2 are very similar to the existing model. Terrot also claims that it has maintained the same design as far as the drive and other electronics is concerned, thereby ensuring the lowest power consumption in the market. The machine can be offered with 4 tracks with possibility to make a wide range of designs.
Also on show in Tirupur will be Terrot's S296-1 open width single jersey high production machine with the latest compact open width frame. Terrot will show a 30 inch, 28 gauge, 96 feed machine speed running at 33rpm whilst knitting 40's cotton with 33 dtex Lycra in two tracks to give a fabric with an unfinished fabric weight of 2 170 g/m. The unfinished fabric width is 150cm and the machine will produce 19 kg/ hour.
This article is also appears in...