4th October 2010, Chemnitz
Terrot welcomes Iraqi knitting technicians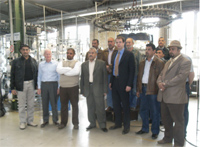 In August this year, European circular knitting machine builder Terrot was delighted to welcome a group of technicians from Iraq who had travelled to Chemnitz to participate in in-house training as a part of a successful contract which was concluded for several of the German company's circular knitting machines.
The group of ten from Iraq visited Terrot GmbH for a three-week training program and the occasion marked the finalisation of the previously concluded machine deal and helped to lay the foundation for advanced handling of the recently purchased knitting machines.
The training included a theoretical section which took place in the company's own training lecture room and this gave the customers the opportunity to apply what they had just been taught via Terrot's hardware and software.
Accompanied and supported by Terrot's experienced technicians guests were given the possibility to test their practical comprehension under production conditions. Direct contact with the knitting machines facilitated the explanation of technique as well as giving the technicians hands-on experience of running the machines. The technicians gained practical experience of Terrot's advanced machines like S296-1 as well as the body size RH-216 machine.
To complete the training course and the visit, Terrot wanted to give its guests the possibility to get a cultural impression of the region and so a short sightseeing trip was organised which was accompanied by a Terrot employee. On the day of departure the Iraqi visitors also received a Terrot certificate as a memento of both their training and their visit to Chemnitz.
This article is also appears in...