The software solution for secure design data transfer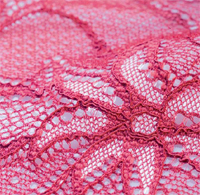 The key to success for knitted goods producers, in particular for those manufacturing lace fabrics, is the invention and development of unique designs. All design-related data therefore are the company's most important capital, and to ensure their security is the central task within the manufacturer's company.
The ProFab designmanager developed by TEXION provides a highly secure connection between the machine's control system and the central design archive. Externally located machines can also be integrated into the system via suitable networks and once networked, they have access to the same functions as the machines on site. Due to the direct access to the design archive, the production can retrieve the most up-to-date data. Data transfer is no longer made via floppy disk so that the risk of non-authorized access, pirate copies or outside manipulation is virtually eliminated.
The ProFab designmanager module transfers all the required pattern data directly to the control system of the Karl Mayer knitting machine. This transmission is made automatically without the need of manual intervention and is absolutely secure. Operating errors are impossible!
Click on image for further details and full technical specification
[20.6.09]
This article is also appears in...