27th October 2009, Leonberg
Texpasa saves up to 33% on energy costs with Brkner investment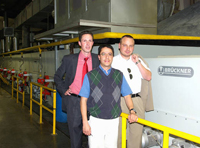 Leading German knitted fabric finishing machine builder Brückner says that Guatemala's Texpasa Group a large producer of jersey fabrics, is now benefitting from investment in Brückner's energy saving finishing lines.
The Texpasa Group, which was founded in 1992 in Guatemala, is today headquartered in Charlotte, N.C., USA. In recent years, the company has developed into one of the best manufacturers of knit fabrics in tubular or open-width form in the region and with a production capacity of about 350,000 pounds of knitted fabric per week, Texpasa strives to be its customers' number one resource for knitted fabrics with typical fabrics including two and three thread fleece, various piques, Lacostes, ribs, jerseys and thermals. The company has also recently begun producing synthetic performance fabrics.
Finishing machinery builder Brückner, which still has both its headquarters and production facilities in Germany, has for many years specialised in custom made systems for fabric finishing. Brückner says that due to continually rising energy price increases, it took the decision some years ago to focus on the energy efficiency and productivity of its lines. In more recent times it has seen energy savings become more important to its customers in Central and South American countries who want to remain competitive in the future. The Texpasa Group, which falls into this category, bought its first heat recovery unit some time ago, is now reaping the rewards of the investment. Texpasa started to look for energy saving solutions whilst increasing its output when energy costs started to rise sharply in the region.
"A perfectly tuned systems concept made by Brückner met these high requirements and was set into operation to the full satisfaction of the customer. The line comprises two Power Pad padders for squeezing and impregnating, one eight zone Power Frame stenter with patented split-flow air circulation system and one integrated Eco Heat back-pack heat recovery unit", said a Brückner company spokesperson.
"Thanks to Brückner's newly developed Eco Heat heat recovery system, the Texpasa group is now able to save up to 33 % of energy, depending on the process, with clearly higher production capacity and improved fabric quality," Brückner says, adding: "For Texpasa the line pays back within less than one and a half years."
The Eco Heat system uses the heat of the exhaust air to heat the fresh air which is fed to the dryer. Brückner says that due to their relatively small dimensions the heat exchanger modules can be withdrawn without problems for cleaning and re-inserted afterwards and no special tools or auxiliaries are required. According to the company, a unique filter system in front of the heat exchanger leads to a considerable reduction of the cleaning cycles.
Brückner also says that it's efficient Power Frame stenters have been designed by the company's engineers especially for the drying and heat-setting of high-quality knitted fabric and claims that they offer clear advantages for its customers. The use of Brückner's Montana nozzles generates a special tumbler fabric movement which leads to a clear improvement of hand, volume and residual shrinkage of the fabric, the company says. In addition it claims that its vertical Star-Dur transport chain with non-lubricating gliding elements and PLC-controlled minimal lubrication is particularly robust and durable.
Bruckner claims that the unique service and cleaning concept with large access doors and additional side cleaning flaps for the interior cleaning of the nozzles facilitates the operator's work and saves a lot of time. Further productivity-increasing components such as a non-stop batcher and the modern control concept Multi Control Plus, with possibilities for line control of the entry and the exit of the machine complete the system.
Additionally, Brückner says that its service however does not end after commissioning. Experienced textile technologists hand hold the customer and are available at anytime to give valuable assistance. The Texpasa Group recently used this facility and had the complete line adjusted for their respective processes.
This article is also appears in...