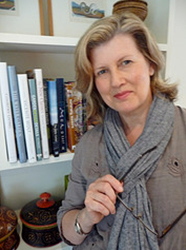 Texprint, the UK based non-profit organisation that nurtures home-grown textile talent, has announced the appointment of its new chairman Barbara Kennington, formerly creative director of WGSN, a leading online research, trend analysis and news service for the fashion industry.
Kennington (pictured right) will formally take over from the current chairman Julius Schofield in September 2010 at Texprint's annual prize ceremony at Indigo, Paris.
During his seven years leading the charity, Schofield has been responsible for enlisting the support of some of fashion's most loved designers including Diane Von Furstenberg and Giles Deacon. Many of Texprint's alumni, such as Louise Goldin and Alice Temperley, have become internationally renowned names thanks to the support they received from this dedicated and hard working organisation.
Julius Schofield says of his successor: "I feel very proud to be handing over to Barbara Kennington because she demonstrated as creative director of WGSN that she had the amazing ability of creating a world leading online fashion information website which created a new form of communication within a decade. I know she will bring a new insight into the world of textiles and further help the Texprint charity to develop more amazing talent from those studying at some of the UK's leading art colleges.
Barbara will be taking over in Paris at our major event later this year. In the meantime, she will be observing all the core activities involved in developing Texprint's 24 designers."
Kennington graduated from London's Royal College of Art in the late 1970s at which time she set up her own label becoming part of London's 'new wave' of design talent. Moving on to work for a supplier to Marks & Spencer, Kennington then proceeded to head up Coats Viyella's design division working across children's, women's and men's licensed apparel lines. In 1997, having developed the concept of WGSN with its founders Mark and Julian Worth, Kennington was invited to join WGSN to put the concept into action. Within 10 years WGSN became a leading online fashion information site with a turnover of £30 million and upwards of 2,500 companies subscribing worldwide.
Barbara Kennington says of her new role: "Having long been an advocate of Texprint, and admiring all it does in supporting British design talent, I was truly delighted to be offered the role of chairman. Julius Schofield is undoubtedly a hard act to follow, but I shall enjoy trying! My aim will be to continue to take Texprint forward, exploring new aspects of communication (both online and offline), new ways of promoting our extraordinary wealth of design talent, and also finding new connections within the wider global industry."
This article is also appears in...