20th December 2013, London
Textile View issue 104 knitwear forecast
The new issue of Textile View magazine has just come out and for the second time I was involved in researching and styling the knitwear for the shoot.
We are a very small team, Sandy MacLennan, at East Central studios, is the concept designer and Aaron Tilley is the photographer.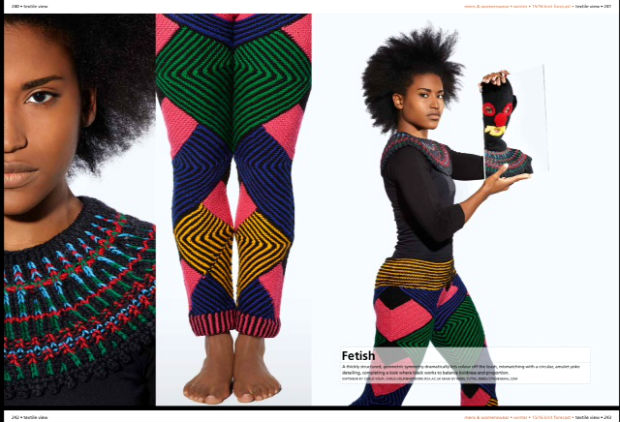 We usually have a meeting where we discuss a few ideas and then we agree on which knitwear designers to feature in the shoot. For this issue, we were looking at the outlandish, the extraordinary, those incredible objects and artefacts that catch our attention and that are visually interesting regardless of their conceptual value.
We featured the work of Phoebe Brown (www.phoebrown.com), Amy Bant (www.texprint.org.uk/index.php/designer/amy-bant/) and Janni Vepsalainen from the Royal College of Art, Danni Fairchild (http://danni-fairchild.blogspot.co.uk) and Elena Crehan (www.tumblr.com/tagged/elena-crehan) from Central Saint Martins, Rebel Yuths (I wrote an entry on this label last year) and me!
The pieces we selected are very bold, graphic and colourful, with very inventive techniques and richly decorated textiles. These garments are not only interesting to look at, but also to touch, and to wear.
They are the expression of a liberated and almost primal desire to assert our identity and question stereotypical ideals of beauty. Just like at Pitti last season, there seems to be a revived love for the hand crafted, the "slow made" as opposed to the mass produced.
This article is also appears in...