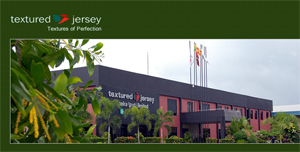 15 November 2011, Colombo Leading Sri Lankan knitted fabric manufacturer Textured Jersey Lanka has started work to reduce greenhouse gas emissions aiming to meet a global standard that enables emissions trading, Lanka Business Online reports this morning.
According to the report, the company said it will make manufacturing process improvements leading to compliance with the ISO 14064 environmental standard on reducing greenhouse gas emissions.
Textured Jersey Lanka is said to have entered into an agreement with Somarathna Consultants for technical advice and support for the initiative.
"The ISO 14064 standard provides businesses and other organisations with an integrated set of tools for programmes aimed at measuring, quantifying and reducing Greenhouse Gas emissions," the company said.
The standard enables companies to take part in emissions trading schemes using a globally recognised standard.
A manufacturer of weft-knitted and dyed stretch fabrics, Textured Jersey is a supplier for international brands like Victoria's Secret, Marks & Spencer and Intimissimi.
Source: Lankabusinessonline.com     
This article is also appears in...