The 77th edition of Pitti Filati took place in Florence between the 1st and the 3rd of July. "That's Pitticolor!" was the theme of the summer fairs: various installations on the grounds of the Fortezza Da Basso joyously celebrated the importance of colours in any creative discipline. A multitude of brightly coloured traffic cones greeted the visitors outside the Central Pavilion, an unexpected smoke bomb display went off at different times throughout the day, forming colourful clouds in the clean blue sky above the Fortezza.
The fair closed amongst the renovated optimism of buyers, visitors and exhibitors alike, there was a unanimous consensus that this edition was one of the most successful. 5,200 buyers attended the fair: the number of Italian buyers remained unchanged from the past edition but there has been an increase in buyers from France, China, Hong Kong, Belgium, Sweden, East Europe and the Baltic Republics.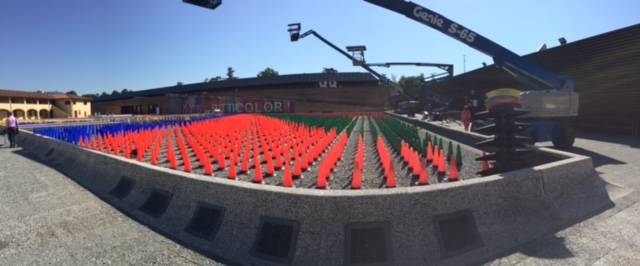 The presence of emerging South American markets was also significant. Germany had the highest number of foreign buyers (363), followed by Great Britain (356), France (244), United States (241), Japan (168), Spain (135), Turkey (104), Switzerland (91), Hong Kong (88), Holland (78), China (69), Russia (55), Sweden (50), Belgium (47) and Portugal (43).
MAKE IT, the new theme of the Research Area
The concept of a product's added value cannot simply be reduced to the sustainability of materials and ethical methods of production: an old object usually has an interesting history that talks about its makers, their crafts and old traditions. "Make It" celebrates the heritage of artisanal crafts, the skills of experts hands.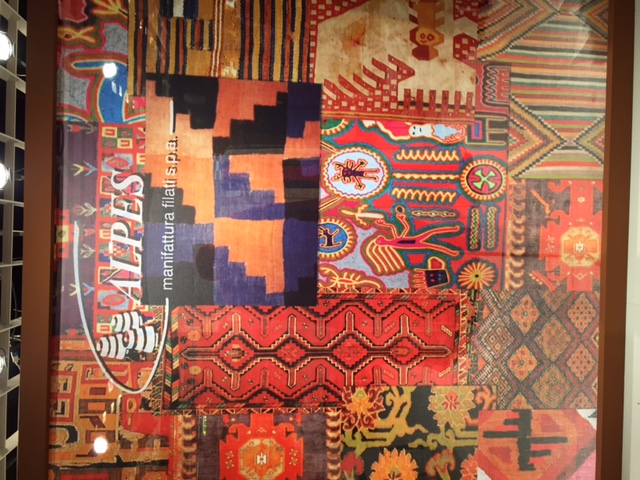 Even though design seems to have gained a higher status than making, Nicola Miller and Angelo Figus invite us to evaluate the manual aspect of design. "Make It" is a journey that takes shape through various objects of our history, ordinary tools that were designed out of necessity and other iconic design objects. The concept of luxury is not only defined by provenance and quality of materials, but most importantly by the history of the object: our very common practice of throwing away clothes didn't exist a few generations ago.
Every item, every object was mended and repaired, thus acquiring an ever growing monetary and human value, and most importantly, a history. Figus and Miller see this as a very important element in the current definition of luxury: the difference between an expensive item and a cheap one is its hand made value, so mending can only be seen as added value.
There were 10 themes, all inspired by a traditional craft: Mending, Rug, Cracks, Charbon, Mechanic, Meat, Binding, Mattress, Barber and Tic Tac. Each swatch was displayed on a plinth in a very open, inviting space that allowed the themes to smoothly merge into one another. For each theme there was an outfit displayed on a mannequin and a video that almost poetically described the beauty of the craft in question.
Moda Futuribile
The project promoted by Dyloan Studio is now at its third edition. Moda Futuribile was conceived to showcase the excellence and the know how of the people and the companies that take part (the designers, Dyloan Studio, the knitwear factories and the spinners). This season's designers were Laura Theiss, Maria Schmiedt and Alan Maughan; the brief was centred around the idea of future crafts, a balanced mix of hand and digital skills.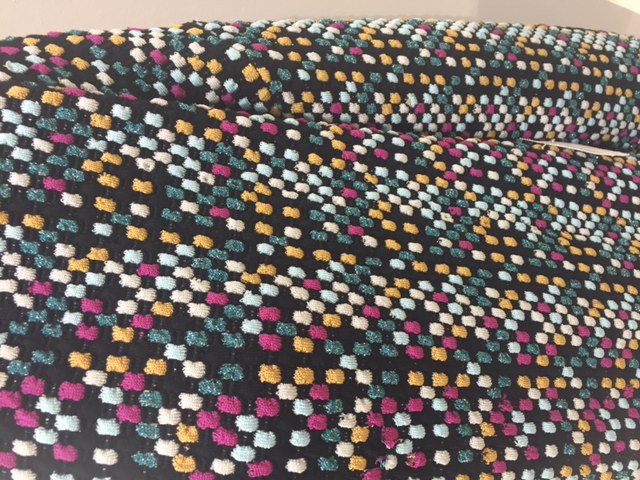 Knitclub
This ever-growing area of the fair features a selection of high quality knitwear factories. Knitlab is a meeting point for manufacturers and fashion houses alike, where designers' ideas are interpreted and begin to take shape. This season's exhibitors were Maglificio Pini, Clouds, Teodori, Linea Adani, Bruno Atelier, Maglificio Capelli, Elsa Carlani, Cashmere Lab, Gli Angeli Tricot, Ellynore, Maglificio Gottardi, Maglificio Mgs, Maglificio Pisani, Maison New Club, Mely's, Ommy's, Tous Les Garcons and Ventanni.
Burns and Factory, the only exhibitors from Japan, presented a unique product: they market themselves as the only factory in Tokyo who can "make garments out of a single yarn". Using custom modified Mayer & Cie and OUQUET machines, Burns and Factory are able to produce knitted outerwear garments with unique qualities and a fantastic handle: soft, sturdy and yet stretchy, with the perfect fit for a garment of that sort. They also use T.P.S. sewing machines, which are able to produce garments without a seam allowance.
Feel The Yarn
Another successful edition of this initiative, now in its sixth edition, took place in the Cavedio Area of the Central Pavilion. Feel The Yarn is a collaboration between Elementi Moda, Consorzio Promozione Filati and Pitti Immagine where some aspiring designers from various prestigious colleges around the world have a chance to work with the best Italian spinners.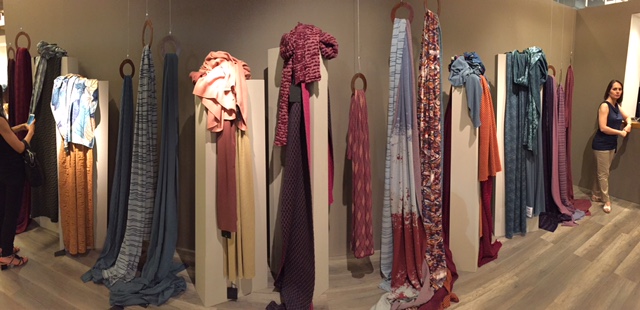 "DUAL" was the title of the brief for this edition: the students were challenged to produce two outfits each thinking about the contrast and fusion of materials with opposing qualities. Each spinner that took part sponsored one student and the work was judged by the voting public and a jury composed by Philippa Watkins (Textile View/Textile Outlook International), Janet Prescott (freelance journalist and Fabric and Yarn Editor for Twist magazine), Patrizia Gatti (Vogue Italia), Nicola Nicolini (SHE'S SO) and Eleonora Stefanel (Stefanel Group). This edition's winners were Verena Winkelmann from Hochschule Niederrhein, who will be offered a paid internship at Stefanel, and Ng Siu Mui from Hong Kong Polytechnic, who will receive a scholarship to support her training further.
COLOUR TRENDS
Black Cocoon
Black embraces vivid colours like a thin cape, subtly revealing the muffled tonalities of the vivid shades underneath. Felted tones turn the night colour into dusty and elusive greys. Black is also a frame, a backdrop that enhances the vitality of other shades.
50 Shades Of Red
The colour of passion shows its sensuality through the shades of a lighthearted teenage love story, gradually burning deeper into sensuous shades of crimson, and all the way down to carnal tones of wine and merlot.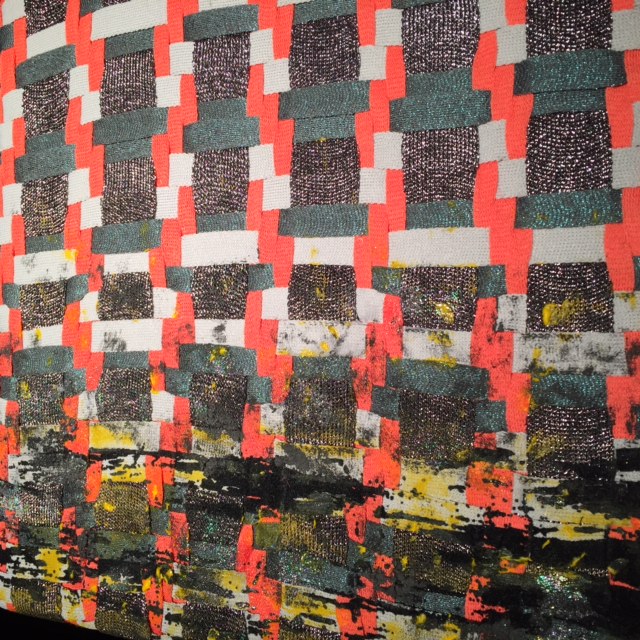 Sophisticated Equilibrium
Calming tones of vanilla, tan and oyster are energised by rigorous yet wild interventions of gold.
Natural Harmony
The shades of Nordic trees, still, blue lakes and dark shades of green evoke a sense of zen like calmness.
OVERVIEW OF NEW YARNS FOR A/W 15­16
Sophisticated and hand crafted yarns will be key to this season: soft, felted fabrics with unexpected airy and drapey qualities, a touch of rawness, light, puffed up volumes with elusive elastic qualities characterised many collections.
Alpaca and baby Alpaca made a stronger come back and most spinners had some of these yarns in their collections, like Febe (wool, acrylic and alpaca), Hunter (wool and alpaca, with a rustic look), both from Iafil, Pampas (linen and Alpaca, by Sesia), or Alpalight (wool/alpaca), Alpasoft (wool/alpaca/polyamide), both by Zegna Baruffa and Illimani, by Igea, the alpaca version of their popular yarn Antares.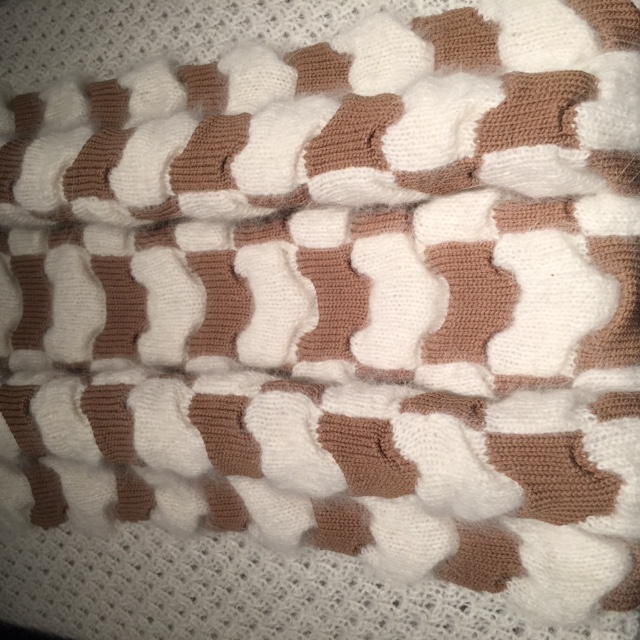 Boucle' yarns or boucle'/felted effects achieved with elastic fibres also seemed quite popular: from Zegna's Mousse lurex, a classic yarn with a sparkly addition, to Iafil's Eika, or Igea's Dolcezza, a new boucle' yarn in wool and polyamide and Cleopatra and Ottavia, both by Ilaria.
Wintery editions of viscose were also quite popular, especially at Igea, where some of their summer viscose yarns were mixed with merino wool.
The next cold season Tollegno will focus on extra fine merino wool with improved performance properties, like Racing and Wooltech (100% merino wool in different counts, suitable for active and sportswear) and the luxurious Sultano (merino wool and silk).
One of the most interesting innovations at Pitti this season was Zegna Baruffa's H2DRY, a new technical treatment developed by the company that enriches wool with high performance qualities. H2DRY fabrics are highly perspirant, elastic and virtually impossible to crease. Their qualities remain unchanged with time or after frequent use and many washes, and they don't need particular care or attention. Zegna introduced two new yarns developed with the H2DRY treatment: Re­Active H2DRY (superfine wool­17.5 micron) and K­Wool H2DRY (extrafine wool 19.5 micron).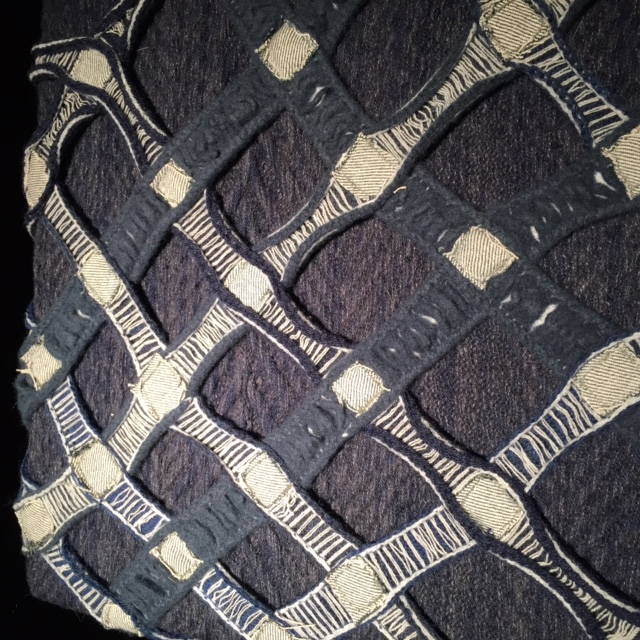 Some of the spinners made an extra effort to advertise sustainable and ecological processes in their production: Cariaggi with their natural dyed range, launched last season, and Manifattura Sesia's Natural Bio collection, launched a year ago. Filmar promoted their "Cotton For Life" initiative, in partnership with Alexbank and the Government of Egypt, to support local growers with sustainable industrial processes and training on modern agricultural methodologies. The aim of the initiative is to improve the livelihood of the local communities (25% of the Egyptian workforce is involved in the textile industry) and to reduce the environmental impact of cotton plantations.
Tollegno 1900 were also proud to announce a new partnership with Beaufront, a well-established Tasmanian company that have been producing top quality merino wool for over a century. Once again, the aim of this partnership is sustainability and traceability. Beaufront will be Tollegno's suppliers for two years with their entire production of wool (roughly 190,000 kg per year).
GENERAL TRENDS
Cables, cables, cables
The importance of artisanal skills is reflected in the gauge of the fabrics, chunky and hand crafted. Cables form traditional patterns with a new, extra lightweight. They are big and puffy, yet extremely lightweight.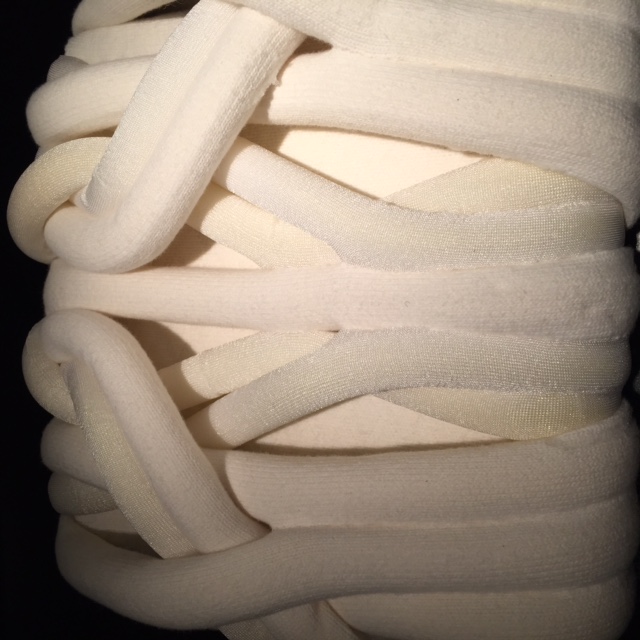 A new sense of history
Luxury will be defined by history; the value of a product is intrinsic to its story. Nothing is thrown away, but is passed on from generation to generation. Mended rugs become a metaphor that describe this love and respect for material objects and the traditions that keep them alive. These are not simply relics, or stale heirlooms, but ever changing objects that adapt and evolve with time. Mending, fixing is what keep these items alive, luxurious and extremely appealing.
Pixelated crafts
Traditional patterns and fabric constructions are reinterpreted through digital software. The constraints of the analogue become the possibilities of the digital; the rigidity of the digital becomes the freedom of the analogue. There is a notion of digital handcrafting.