20th May 2016, Manchester
The news this week on Knitting Industry
News wise, it's been a busy ten days or so here at Knitting Industry and as usual there has been bad news and good news for the industry.
In the US, Delta Apparel, a leading producer of lifestyle basic and branded active wear apparel, has announced the closure of its textile manufacturing operation in Maiden, NC, as part of the company's manufacturing realignment strategy.
During the past two years, the company says it has been expanding its manufacturing capacity and improving its flexibility to focus on process improvement and cost reduction. Now it is initiating a manufacturing realignment that will result in the closure of its textile plant in Maiden and the transition of production to its Honduran textile facility. Read the full story here – Delta Apparel announces closure of North Carolina manufacturing plant.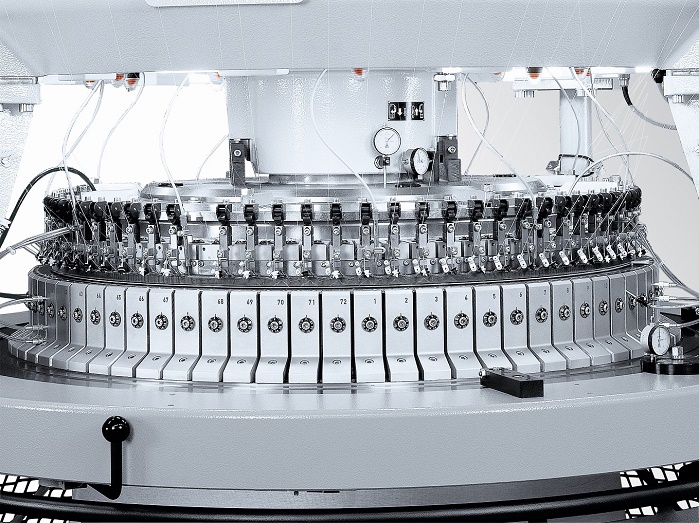 Meanwhile in Scotland there is more bad news for the Borders town of Hawick. Knitwear manufacturer Peter Scott is considering ending production at its headquarters in Hawick after 138 years, with up to 50 jobs at risk of being cut.
According to the company, the option is being considered because the previous restructuring programme and ongoing sales performance had failed to produce the projected financial results. It said trading remains difficult, and income has not increased enough to maintain staffing levels. Read more here - Scottish knitwear manufacturer Peter Scott considers ending production.
Good news
But there is also some good news around for the industry too.
German company Mayer & Cie., a leading international manufacturer of circular knitting machines, has reported the highest order entry in around 30 years. By the end of the year, the company will have manufactured around 1500 machines, almost all of them for international customers. By far the largest number will be shipped to China, followed by orders for India and Turkey, the company reports.
"Looking at our order entry since 1 January 2016, the current level is one that we last reached in the boom years at the end of the 1990s," said Wolfgang Müller, Sales Director at Mayer & Cie. Read the full story here – Order entry reaches record level at Mayer & Cie.
Elsewhere in Europe meanwhile, ACIMIT, the industry association for the Italian textile machinery manufacturers has reported that domestic orders for Italian textile machinery are up in 1Q 2016. In foreign markets, orders have instead dropped off only slightly.
"The recovery on the domestic market compared to the minimum recorded a year ago is highly encouraging. Abroad, only a few markets have performed well," commented Raffaella Carabelli, President of ACIMIT. Read the full story here - Domestic orders for Italian textile machinery are up in 1Q 2016.
And just in case you missed it a few weeks ago - Tunisia's knitters are open for business - Elizia Volkmann reports from Tunis. After the terrorist attacks at the Bardo Museum and on Sousse beach last year, Tunisia's economy suffered a massive body blow at a time of fragility following the 2011 revolution that ousted dictator Ben Ali. According to a report by API (Agence de Promotion de l'industrie et de l'innovation) it has shown a fall in exports from 1,168 Million Tunisian Dinars (511 million Euros) in 2008 down to 1,137 MTDN (498 million Euros) in 2012.
However, Tunisia's textile industry is coming out fighting looking to conquer new territories and become more visible in the market. Read Elizia's report here - Tunisia's knitters are open for business.
Industry events
New company awarded contract to organise ITMA 2019
In the world of exhibitions, CEMATEX, the European Committee of Textile Machinery Manufacturers, has announced that it has awarded a contract to a new company, ITMA Services, to organise its ITMA 2019 show, which is scheduled to take place from 20-26 Jun 2019 in Barcelona, Spain.
ITMA Services NV is headquartered in Brussels and has a subsidiary office, ITMA Services Pte Ltd, in Singapore. Read more - New company awarded contract to organise ITMA 2019
New opportunities
Messe Frankfurt's leading technical textiles show Techtextil, once again highlighted the opportunities available to manufacturers of knitted products last week in Atlanta, Georgia, when Techtextil North America was held alongside the sewn products show Texprocess Americas and the JEC Americas composites event.
Organisers said that the combined Techtextil/Texprocess exhibitions alone enjoyed a 13% growth in square footage this year with a total of 519 exhibitors, and over 7000 visitors pre-registered.
Read all about the show here - New opportunities for knitters at North American technical textiles show
If you want to get your news published on Knitting Industry just drop us an emailk at [email protected].
Billy Hunter
Editor