Flat Knitting
The sky's the limit for Steiger's new Vega 3.130
At a pre-ITMA 2019 press conference held by Swissmem in Lucerne, the new Steiger Vega 3.130 compact knitting machine for technical fabrics was introduced.
1st April 2019
Knitting Industry
| Lucerne
Steiger Vega 3.130. © Steiger
At a pre-ITMA 2019 press conference held by Swissmem in Lucerne on March 29th and 30th, the new Steiger Vega 3.130 compact knitting machine specifically designed for technical fabrics was introduced.
Steiger, which is now part of the Cixing Group – the world's largest manufacturer of flat knitting machines – celebrates its 70th anniversary in 2019 and is still manufacturing at its plant in Vionnaz, Switzerland, as well as in China. The anniversary is one of a number being marked by Swissmem member companies, who between them can draw on a staggering 4,011 years of combined textile machinery know-how.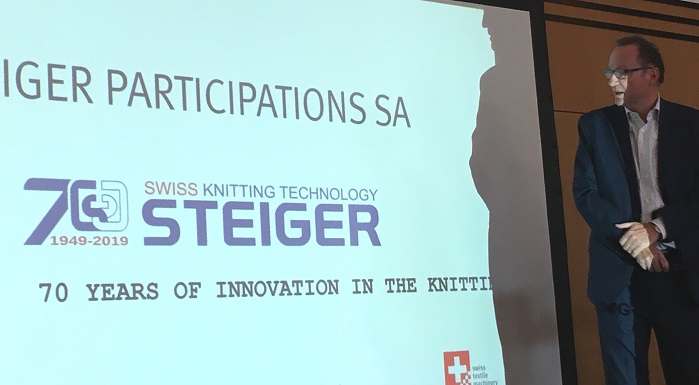 Steiger celebrates its 70th anniversary in 2019. © Knitting Industry
Steiger, explained sales and marketing manager Carlo Corradi, has recently been experiencing success in the field of knitted preforms for composites, and in one project with the Technical University of Dresden, for example, has successfully developed shaped truck component parts for Volvo. It is also working with a notable luggage brand on a range of the first knitted composite suitcases.
Two impressive projects within Switzerland have seen the development of the 3D-knitted shells to support a five-ton concrete structure as part of the award winning KnitCandela project and Steiger has also been involved in the design of composites parts for the cockpit and seat covers of the Solar Stratos – the world's first commercial two-seater solar plane.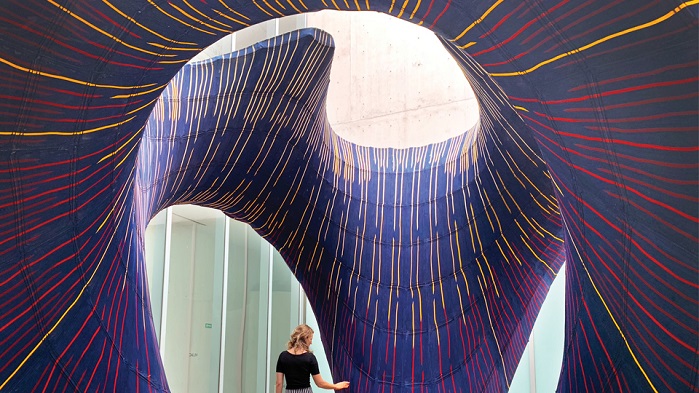 The formwork is made of a knitted textile: KnitCandela. © Philippe Block
The Vega 3.130, being dedicated for the production of technical knitting, has warp and weft insertion for inlay applications of high performance yarns and a specific cam-box for semi-rigid yarns, as well as adapted sinker kinetics.
The distance between the needle-beds can be specifically adjusted and set and other key features include a special take-down for 3D products and a new system of clamp and scissors with a selectable carriage inversion ramp for optimised production.
Following its success with these and other projects, Steiger is now opening a new business called Stitchlab, dedicated to reinforcements.
Central to developments, said Corradi, will be the new Model+ software for machine programming, enabling the highest level of automatisation to be achieved while being the easiest system possible for users.
"Our target has been that even those with no experience of the machines at all should be able to quickly get to grips with it," Corradi said. "The aim is to avoid prototyping through simulation and we have a huge library that developers can draw on."
Steiger will be in Hall 8, stand 540 at ITMA 2019 this June.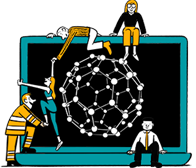 Business intelligence for the fibre, textiles and apparel industries: technologies, innovations, markets, investments, trade policy, sourcing, strategy...
Find out more