ThreadSol, a technology leader in material management solutions for the clothing industry, has announced partnership with the Thai Garment Manufacturers Association (TGMA) to introduce innovative tech into the Thailand Ready Made Garment (RMG) sector.
The TGMA was established on 15 August 1973 with the objective of promoting and supporting the Thai apparel industry in terms of research, development, production, trade and other activities associated with the Thai garment industry.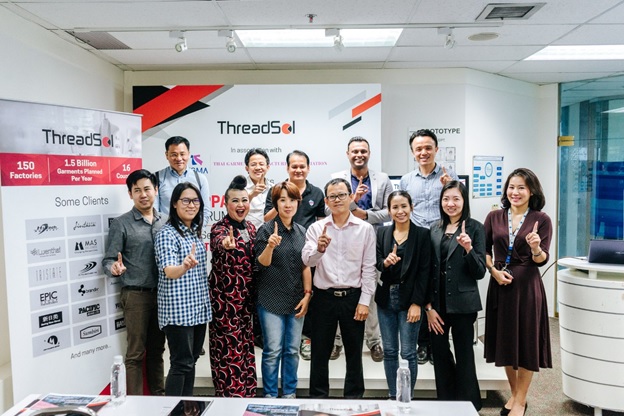 ThreadSol is a technology pioneer for the apparel industry using Artificial Intelligence (AI) and Big Data. Headquartered in Singapore, ThreadSol provides software solutions for apparel manufacturers and brands. These AI and Big Data driven solutions are aimed at boosting top-line and bottom-line for the apparel industry. Clients of ThreadSol technology include MAS Holdings, Brandix, Tristate, Luen Thai, Beximco, and Hirdaramani Group.
As a first step, ThreadSol and TGMA jointly organised a seminar for Thai garment manufacturers on 18 May – Apparel Tech Up Forum Thailand 2018. The theme of the seminar was Digitisation of the Thai Garment Industry. The seminar was led by Saurav Ujjain, Business Head, SEA for ThreadSol. He talked about the emerging global sourcing trends and how technology like Artificial Intelligence, Big Data and IoT based mobility can aid manufacturers in reducing costs and boosting revenue.
"The driving force behind all ThreadSol products has been technology disruption for the apparel industry. Technology that is being actively used in all spheres of life like Artificial Intelligence and Big Data analytics need to be made available for the apparel industry. We are very excited to partner with TGMA to front a common stance - technology for apparel," commented Saurav Ujjain.
"Today the market is increasingly competitive. We need to be prepared to adapt to the changes for instance, fashion trends, cost, and technology. ThreadSol is providing a genius solution which can help manufacturers save cost for raw material purchasing at least 10%. This information will give our members new ideas," said Khun Raweewan Metsiritrakul, VP of TGMA.
ThreadSol solutions for garment manufacturers concentrate on the biggest investment of the fabric manufacturer. The two solutions work in the fabric cutting and fabric procurement. intelloCut is an AI based fabric planning system. It impacts top line and enables manufacturers to cut more and ship more with the same fabric. intelloBuy is a Big Data enabled fabric estimation system, which impacts bottom line and enables manufacturers to buy less fabric at the booking stage.
Further reading
This article is also appears in...