26th October 2012, Brescia
Tinarelli C15 packs a punch at FIMAST
Italian boarding and packaging machine manufacturer Tinarelli aired its latest offering for the hosiery sector at last month's FIMAST exhibition in Brescia. The Zola Predosa (Bologna) based company showed its C15 Hanger-packs packaging machine for knee-highs, leggings and tights to a fascinated audience and says it was delighted with the response it got.
The C15 is available in 3 different configurations, which can also be combined:
Machine feed with hand product folding (direct loading of the folded product on the cardboard-hanger, for difficult to pack products)
Hand product feed with automatic product folding
Linked o a boarding machine with automatic product folding with the possibility to stack 2 – 3 pairs of knee-highs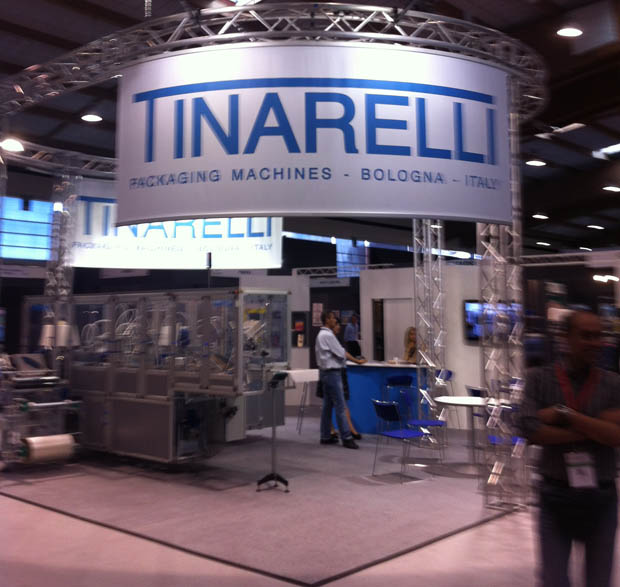 Other features include:
Front hanger-pack closure allowing front-hanger or back-hanger presentation
Hot melt glue or label package closure (made by label printer or pre-printed label applicator)
Fast and easy size change
Max speed is 15 hanger-packs per minute (depending on the product to be packed)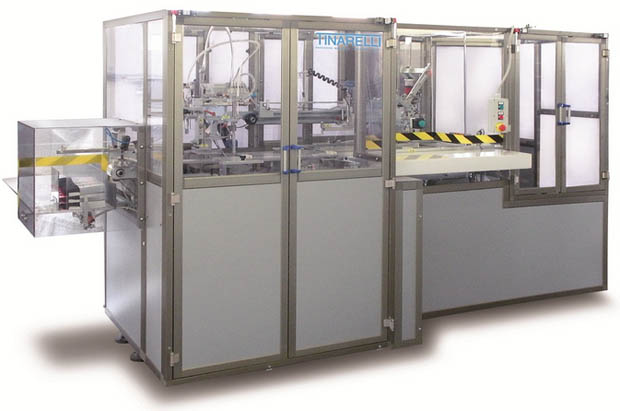 According to Tinarelli owner Elena Tinarelli the C15 sells well with the best markets currently being Turkey and the Middle East where packaging automation is gaining momentum.
Watch the C15 Hanger-packs packaging machine movie
The company originally sold the bulk of its production in Italy to the hosiery sector but now any business done with the larger Italian companies, results in the shipment of machines to countries such as Serbia. Groups such as Golden Lady and Calzedonia have moved their production to Serbia and neighbouring countries in recent years.
However, strong exports mean that 70% of Tinarelli's business still comes from the hosiery sector although the company also sells packaging machines into the cosmetics industry. France is the company's best market in this sector.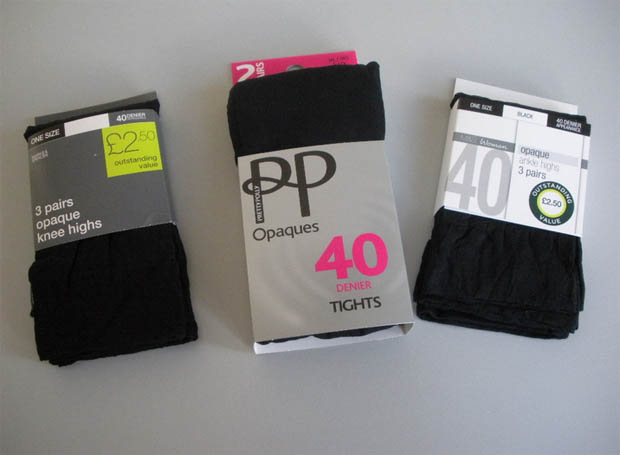 "Whatever the market, our desire is to be at the cutting edge of technology and we are constantly monitoring market trends and evolving to meet the needs of the packaging commodity sector. Our extensive knowledge means that our packaging machines are designed to provide customers with the highest standards of quality and reliability," says Elena Tinarelli.
IM2 folding and bagging machine
The IM2 folding and bagging machine for tights and knee-highs is another strong seller for Tinarelli. The high-performance machine aims to satisfy all the needs of the market. Machine features include:
The machine can be loaded automatically (when linked to a boarding machine) and/or manually by the operator
Folding and inner board introduction is made by mechanical movement
Electronically programmable folding length
Double boards-feeding magazine
Bag construction from an open film reel
Possibility to cut the flaps corners
Film reel double magazine
Bag closure by label
Quick and easy format change
Possibility to print on bag front or label application
Possibility to apply a label plastic-hook on the bag
Maximum machine speed - 12 bags / min (according to conditions)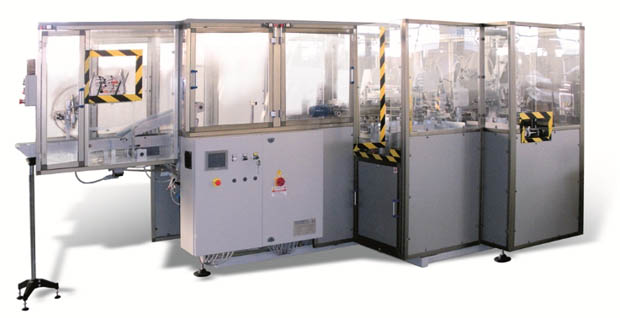 Tinarelli srl began manufacturing machines for the textiles sector in 1988 and is now a market leader in the design and manufacture of packaging machinery.
The company aims to offer unrivalled expertise in the field of packaging equipment and machinery and says its experienced team of technicians and constant collaboration with customers has enabled it to optimise various automatic packaging processes. In recent years it has developed bespoke, innovative and unique solutions to meet the precise needs of its customers.
"Our continuous investment in both technology and human resources make Tinarelli the ideal partner for the development, design and production of customised systems to meet the requirements of each customer wishing to automate its packing operation," concludes Elena Tinarelli.
Tinarelli launched a new website just a few weeks ago. Details of its complete machine range can be found at www.tinarellisrl.com.
This article is also appears in...