3rd December 2015, Saint-André-lez-Lille
Tissu Premier confirms its role as key regional fabric show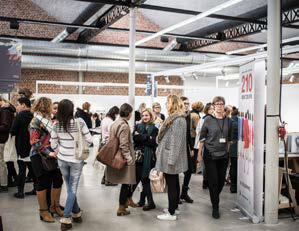 For more than 30 years, this Lille-based event Tissu Premier has been bringing together fabric manufacturers and putting them in contact with European chains and the distribution sector.
In the former spinning mill in Saint André-lez-Lille, 76 exhibitors presented their latest collections to nearly 1,000 visitors last month. The show that takes the form of fashion circuit offered a wealth of prints, yarn died fabrics, knitted fabrics, silks, designs, woollens and textiles accessories.
"We come to Tissu Premier to buy fabrics for high summer 2016. It is an efficient event, we never have to wait to be served," said Maud Vermesch, a buyer for Grain de Malice. "Its location means that buyers from the northern central buying offices come as a team and this allows us to meet all our contacts, including those that we don't usually see in our own premises."
Visitors and exhibitors
Despite the declined number of visitors and exhibitors this year, regular exhibitors reported a positive feedback, including Sprintex, Gallus, Quick Code, Caffisi, Domotex, Tiss et Teint, Velysam, and Can Kumascilik, while new exhibitors, such as La Box à Motifs, were able to make contacts with major clients from Holland, Belgium and the Lille region.
As well as the testimony from buyers who came to discuss collections, whether they work in the short term, medium term or the long term, there were also more visitors who came with a very specific idea in mind, organisers report. One of these was a womenswear designer for the La Redoute group. "We are looking for environmentally-friendly local suppliers to make capsule collections as our customers are increasingly interested in the quality and the origin of the products."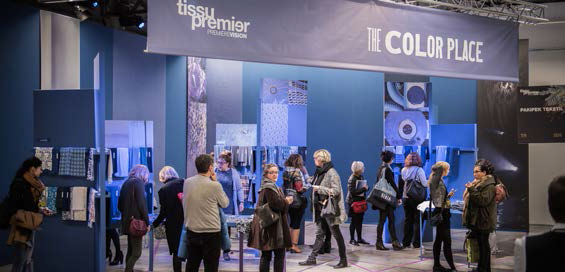 Another buyer from a major womenswear chain from the Beaumanoir group explained what drives the brand's search for new materials: "The need to stand out, in a global fashion system where the same dress can be found in the same window of the same chain in all the big cities in the world."
Autumn-Winter 16/17 trends
Highly anticipated at the show was the presentation by the Première Vision fashion team on the trends for Autumn-Winter 16/17. These had been presented at Première Vision Fabrics in September and then updated thanks to the survey carried out with 308 exhibitors, each representative of the various specialities, namely shirting, drapery, woollens, silks, lace, printing, knitted fabric, technical fabric, relax cotton and jeanswear.
This survey deciphers the preferences of international buyers among the collections of fabrics and designs for the menswear, womenswear, casual, sport and indoor markets. "The level of vocabulary and the movement of the fabric were particularly well described," said a designer from La Redoute.
Finally, for labels who work in the longer term, the Promostyl style bureau presented four potential trends to explore for summer 2017. These will be confirmed during the next show that takes place from 25-26 May 2016.
This article is also appears in...